New Zealand-based For Site International has introduced the SharpGrade and SharpBlade to transform skid steers into laser-guided grading machines.
SharpGrade
The SharpGrade Leveller is designed with a QuadRod linkage system that the company says is more rigid and accurate than a center pivot system. Other features include adjustable hitch plate; HardiLube bushes, which eliminate the need for greasing; underslung wheel pivot to reduce wheel scuffing when turning and reversing direction; twin pivoting blades; curved moldboard; twin parabolic mirrors; graduated receiver poles for easy, quick height adjustment; and integrated manual control for operating off the base machine's joystick buttons.
The SharpGrade has retracting front wheels to allow the dozer blade to perform quick rough grading before doing the final grade with wheels down. The retractable wheels also allow for easier transport.
Machine control options for the grader include a standard dual grade laser control system; adjustable grade height receivers so the operator can adjust grade height from the cab; trisonic, which senses height off a curb or stringline; a 3DS GPS control system with 3D contouring using GPS technology; or TPS (Robotic Total Station), which the company says is the most accurate 3D technology.
For Site's clip-on TurfGrader option allows power raking and leveling on grade in one pass in 2D and 3D laser control with the SharpGrade. It can also be operated manually. The rake is 7 feet wide, and its height can be adjusted from the cab.
Other options for the SharpGrade include clip-on, front-mounted scarifiers to break up compacted surfaces while grading; quick-release laser poles; and Direct Connect, which integrates blade control with buttons on the skid steer's joysticks.
The SharpGrade is available in four model series:
Heavy Duty – with widths of 7 and 8 feet for skid steers with horsepower ranges of 75 to 120.
Medium – 6 feet 6 inches wide; 60 to 75 hp.
Compact – 6 feet wide; 30 to 60 hp.
Junior – 5 feet wide; 20 to 40 hp.
SharpBlade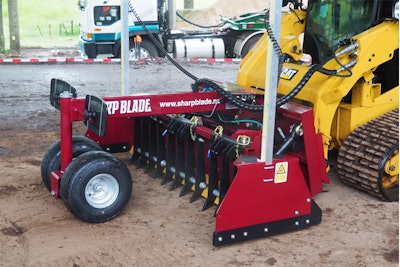 The SharpBlade Leveller's Universal Series has a 7-foot width and can fit skid steers ranging from 75 to 90 horsepower.
Its QuadGrade Control System allows operators to adjust grade height from the cab; it automatically self-tunes to the base machine; and has integrated manual override from a screen module inside the cab. GPS and TPS 3D machine control options are available.
The SharpBlade has close-coupled wheels for maneuvering around obstacles. Like the SharpGrade, it has HardiLube bushes, underslung wheel pivot, QuadRod linkage, graduated receiver poles and twin parabolic mirrors.
It also has a pivoting rear blade to reduce material packing between blades and improve accuracy, the company says. Direct Connect joystick control is an available option, as well as clip-on scarifiers and Sonic Tracker, which tracks a stringline for contour profiles such as curbs.