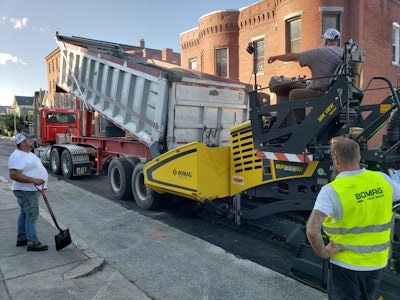 The new 6-foot pavers in BOMAG's BF 300 Series—the tracked BF 300 C-2 and wheeled BF 300 P-2—are designed with features commonly found on larger pavers, the company says.
Those features include hydraulically variable paving widths, from 5.6 to 11.2 feet. Paving width can be further extended with screed extensions for a max width of 16.4 feet. BOMAG says the screeds' quick coupler wedge-and-socket system allows for fast extension. And if you have a tighter paving job, the company offers reduction skids that can pave as narrow as 2.3 feet.
The screed features BOMAG's MagmaLife, which heats to paving temperatures within 20 minutes and uniformly distributes heat to the screed bottom for mat quality. It can pave up to 10-inch mats.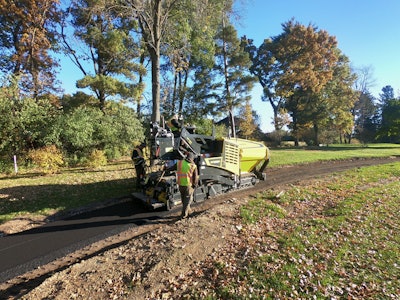 Operators can shift the operator's console left and right and swivel the seat up to a 23.6-inch overhang for a better view of the paver's hopper, side and screed. The console's switches have been placed for a more intuitive feel to help new operators learn to operate the machine, the company says.
The tracked BF 300 C-2 model has a 10-ton hopper capacity. A hydraulically folding front gate and hopper wings that can be controlled individually clear asphalt from the hopper.
It runs on a 74-horsepower Tier 4 Final diesel engine that requires no diesel particulate filter or diesel exhaust fluid. The machine's Ecomode can reduce fuel consumption by 20 percent, according to BOMAG.
Other features include a Load Control System to lock the screed into position for a set duration after paver restart to eliminate bumps in the mat; left and right independently controlled slat conveyor assemblies; and demand-drive hydraulics that deliver exact power for machine functions and reduce noise, the company says.
The paver can be transported with a flat-bed trailer without permits. A fully automatic central lubrication system is optional, and the paver can also be equipped with eight LED working lights.