The Wirtgen outdoor Booth at the recent Bauma trade show in Munich was chock full of new iron for contractors in the paving business. It was also the first joint trade show with John Deere, and the Deere folks brought a dozen or so U.S. sourced construction machines to the booth, not necessarily to sell in Europe but to test the waters and show the Europeans what the brand was all about. Deere, which previously had no paving equipment of its own, bought Wirtgen for $5.2 billion in 2017.
New cold recycler
In the Wirtgen display contractors saw a new W 380 CRi cold recycler designed to meet the needs of the aging global road network and offering a way to rehabilitate roads quickly and economically while reusing the paving material in an environmentally friendly way.
The cold recycling process grinds up and reuses the surface and base materials of a deteriorating road and mixes it into a homogeneous material with binding agents such as cement, bitumen emulsion or foamed bitumen.
With working widths of 3,200, 3,500 and 3,800 millimeters (126, 138 and 150 inches) and a recycling depth between 100 and 300 millimeters (4 to 12 inches) in most applications the W 380 Cri can feed up to 800 tons per hour of material to a paver via its swivel mounted, height adjustable discharge conveyor at the rear.
Slipform concrete pavers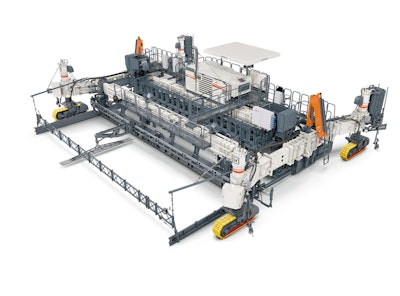 Wirtgen's new SP124i and SP124 slipform concrete pavers have a working width of 12 meters with four steerable and slewing crawler units and an optional slew drive steering system with a steering angle of up to 260 degrees. This maneuverability allows you to pave a surface adjacent to a building and turn almost on the spot without wasting time on repositioning. The higher steering angle is achieved by equipping all four crawler units with slew drive as standard. These are turned in 90 degrees during transport.
The new pavers are powered by Cummins diesel engines with 321 kilowatts (420 horsepower) and can lay down concrete pavements from 4.5- to 12-meters wide (14.5 to 39.3 feet) and up to 450 millimeters (17.7 inches) thick. Options include a self-loading dowel bar inserter with fully automated dowel magazine, tie bar and side tie bar inserter or trough systems.