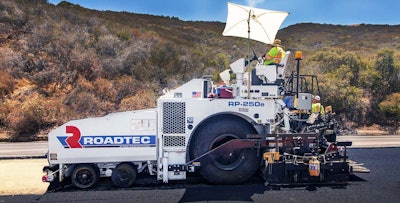 Roadtec's new wheeled 10-foot RP-250e asphalt paver is designed to provide the same pushing power as a tracked paver, the company says.
To achieve this, Roadtec gave the heavy-duty paver a 250-horsepower engine and large diamond-tread, high-flotation drive tires. The paver also has an adjustable frame-raise feature for weight distribution and tractive effort.
The RP-250e comes with the same features as Roadtec's other pavers. Those include the company's antisegregation design of its feed tunnel, feed tunnel discharge and rear augers.
The auger assembly can be hydraulically raised and lowered to eliminate segregation in certain mixes. The feature also helps during loading and unloading and with constructing "supers," the company says.
The feed system is controlled by sonic feed sensors on each side. Each auger is driven by its own motor. Roadtec also designed the auger chain case as narrowly as possible to further eliminate centerline segregation.
The conveyor opening is 13 inches high for better throughput and has bolt-in wear-resistant liners. The conveyors are independently driven, with the space between them kept to a minimum to also reduce segregation.
The paver's Delta Plate at the front wall of the tunnel prevents mix from rolling forward under the paver, and it removes mix from the conveyors.
The seats and controls slide out past the side of the machine for increased visibility. The entire assembly also pivots so operators can see down the side, the screed and tunnel.
The paver is equipped with Sauer Danfoss Series 90 hydraulic pumps for propel and material feed. The pumps are designed for easy service and keep the hydraulic circuit cool. Roadtec says the frame is completely fabricated, welded and assembled by the company.