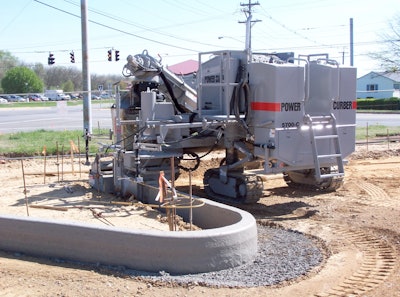 When it comes to curb and gutter concrete slipform pavers, one word tends to crop up.
"It's very unusual to go into a sales call and walk out without having spoken about 'stringless,'" says Wade Bowman, Wirtgen product manager for concrete slipform paving. "Even if the contractor doesn't think he's ready for it quite yet, he's thinking about it."
Though paving contractors might be thinking about it, that doesn't necessarily mean they're ready to cut the stringline and go to 3D control.
"We've gotten more requests and quotes, but we haven't really gotten that many actual orders," says Tim Messinger, Curb Fox president. "It's a very expensive add-on."
For larger paving machines, 3D control accounts for a smaller percentage of the overall machine price, but not so for curb and gutter pavers. Adding stringless control can potentially cost as much as the machine itself, Bowman says.
Some smaller manufacturers have steered away from adding stringless systems.
"We do not want to add the additional cost for GPS," says Joe Angeles, MBW international sales manager. "We try to keep it affordable."
But contractors who take the leap and learn to use the stringless systems efficiently can eventually save money and increase productivity and accuracy, Bowman says.
"They don't have to haul all the stringline gear around, and that's a real hassle," Bowman says. "And especially with the tight labor market, it's tough to find people who want to go out and pound pins in and yank pins out at the end of the day."
Manufacturers say they see no signs of prices for 3D systems for curb and gutter pavers dropping significantly any time soon. But luckily for contractors, manufacturers of curb and gutter pavers offer plenty of options for those who want to go stringless, those who prefer the stringline and those who haven't made up their minds.

Wirtgen SP15i/SP25i
Wirtgen has integrated its own 3D stringless control, called AutoPilot 2.0, for its curb and gutter slipform pavers. The system allows the operator to either import an existing 3D model or use the company's Field Rover survey pole to create a virtual stringline for the machine to follow.
"The cost per foot can go down once the contractor gets good with this," Bowman says. "Depending on the job, the system will pay for itself over time as long as they're efficient with it."
The pavers are also equipped to use aftermarket 3D systems. The systems can be plugged into an interface box, allowing contractors who have already set up aftermarket 3D control on their equipment to continue using that provider. Operators can also continue using stringline if they choose.
The SP 15i is Wirtgen's smallest slipform paver, with a maximum paving width of 6 feet, max curb/barrier height of 4 feet 3 inches and a 28,500-pound operating weight. Next in the company lineup is the SP 25i, which can pave up to 12 feet wide and up to 6.5 feet high. It has a max operating weight of 44,000 pounds. It offers both inset and offset paving.
Both pavers can pour on the left or right side and are designed for easy mold attachment and removal. Bowman says the pavers are equipped with high-end components and undergo a state-of-the-art manufacturing process.
He says he's often asked if Wirtgen is new to the slipform business, but he explains that though the company's machines were introduced to North America in 2010, they have been in operation for decades internationally.
---
Curb Fox 5000-T
About eight years ago, Curb Fox decided to manufacture a track curb and gutter paver after hearing concerns from its customers.
"In the U.S., the curb and gutter contractor is expected to go in there on just about any type of grade condition and get his job done," Messinger says. "In most of the country, a curb machine really has to be a track machine."
The company's 5000-T, weighing in at 8,000 pounds, is the smallest all-track paver on the market, allowing it to operate in any subgrade conditions, according to Messinger. The company still makes rubber-tire models for areas where the grade is smooth and compacted.
The 5000-T has the same automatic control systems as larger pavers, Messinger says. The company integrates an electronic-over-hydraulic control system that causes the paver to rise and lower to the proper elevation and adjust for turns. It can also be equipped with aftermarket 3D stringless systems.
The paver can slipform sections up to 10 feet wide and barriers up to 42 inches high. It can pave a zero-clearance sidewalk of up to 7 feet wide. Messinger says the zero-clearance ability is being requested more often, especially in cities where sidewalks need to be rebuilt in narrow areas with obstructions on both sides.
Another perk for the 5000-T is it can be hauled behind a medium-sized pickup without the need for a lowboy trailer.
Messinger says Curb Fox strives to keep its machines simple.
"A certain part of the market wants the technology and others do not," he says. "The simpler side fits our niche better."
---
MBW
Simplicity is also the focus at MBW. Angeles says that at times over the years the company has discussed adding features, but those discussions typically end up with the question: "Do we want to keep adding costs?"
"The more things and gadgets you add to it, the more difficult it becomes," he says. "We just want to make it simple and affordable for the contractor."
Though its pavers have automatic grade adjustment and steering to follow a stringline, the machines are not equipped for stringless 3D control. And there are no intentions to add it.
"It's really catered to the smaller contractors who don't want to do the bigger jobs," Angeles says. "This is more for shopping malls, gas stations and neighborhoods."
MBW has three models that are based on a modular system in which larger components are added to meet the contractor's needs. The C101 is the main unit with a 12-inch hopper able to slipform curbs to 18 inches high and 12 inches wide. It can be easily converted into a C101-18 model, with an 18-inch hopper for paving up to 18 inches wide and high, and into a CG200, with hoppers of 24 to 48 inches for paving up to 4 feet wide and 18 inches high. The models range in operating weight from 2,590 to 3,395 pounds.
The pavers can be easily transported with no need for permits. Their rubber tires are foam-filled to reduce bounce, eliminate flats and provide good traction, he says.
---
Power Curbers 5700-C
Power Curbers has used Topcon and Leica 3D stringless systems for years on its pavers and recently announced that its 5700-C curb and gutter machine is now also compatible with Trimble's PCS900 automated guidance system.
The company has seen an increase in its pavers leaving the factory 3D ready, says Daniel Milam, Power Curbers marketing coordinator. "Some of those are expected to begin stringless pours right away, but other customers are simply leaving the option open in case they want to take that step in the future," he says.
Contractors using the 3D stringless system have been pleased, he says. "Most companies using the technology report significant time and labor savings to the point that the technology can pay for itself rapidly."
The company says its goal with 3D is to allow contractors as much flexibility as possible. "We didn't want to dictate to the customer that they had to accept a singular supplier that Power Curbers has designated," says Chief Operating Officer Stephen Bullock.
The 5700-C can work in tight spots, including parking lot corners, islands and cul-de-sacs. It can also do barrier, sidewalk and irrigation ditch work.
It has a maximum paving height of 5 feet and width of 7 feet in the offset position and 10 feet wide in the center pour position. Those widths can be extended with the company's Max package. The paver has an operating weight of 24,700 pounds and can be towed without the need for a lowboy trailer.
---
GOMACO Xtreme GT-3600
GOMACO unveiled its newest curb and gutter paver, the Xtreme GT-3600, at this year's World of Concrete.
GOMACO equipped the GT-3600 with its G-plus radius software with slew drives and smart-sensor hydraulics for All-Track Steering and All-Track Positioning. The system controls each of the three tracks for increased rotating ability – up to 90 degrees – and tight-radius paving when using stringline or a 3D guidance system. The Xtreme can pour a 24-inch radius.
The operator inputs the size of the radius into the controller, and the paver automatically does the rest of the work, including setting track angles and individual variable track speeds. As the paver slipforms around the radius, the individual track-speed control delivers smooth travel, the company says. The G-plus system also achieves the same smooth paving while interfacing with the major 3D guidance systems.
The smart hydraulics also come into play when telescoping and side shifting the mold system during offset paving, and the G-plus can deliver repeatable mold offset. The trimmer head and mold have independent adjustments for raising and lowering.
The G-plus system is also integrated into the paver's new Tier 4 Final engine, automatically setting the hydraulic fan to the jobsite conditions. GOMACO increased the engine's fuel efficiency and added enough fuel capacity to run all day without interruption.
The operator platform is designed to reduce vibration. A wireless remote-control option is available so the operator can move around the machine during operations.
---
Miller Formless M-1000
Miller Formless says its M-100 can pour a 24-inch radius or a sidewalk up to 5 feet wide. Its MFS Control System includes sensors and handheld remote and is 3D ready.
The compact paver features four tracks with independent steering, giving it the ability for quick turnaround and maneuvering. It has three vibrators, a heavy-duty sectional auger and a high-volume washdown system.
The M-1000 can be ordered for left or right side pouring, and it is designed to give the operator visibility over the entire slipform process. It has a transport width of 8 feet 6 inches and an operating weight of 21,000 pounds.
Options include an umbrella assembly, auxiliary 12-volt work LED lighting kit, trimmer with carbide teeth, high-pressure water pump and telematics.
---
Curb-Tec CT-3000
Curb-Tec calls the CT-3000 its flagship curb machine. The 1,050-pound paver can slipform an 18-inch paving width and a 16-inch curb height.
It features a hydraulic system that enables the operator to raise or lower the jack through rough places and a rear wheel power system in which the paver runs on its own power at the push of a button.
The paver has a 1/3-cubic-yard hopper with removable door for wheelbarrow access. It runs on a 25-horsepower Kohler gas engine. Its reverse-auger quickly frees jams, and a lift-off hopper makes it easy to access the auger for cleaning, the company says. The base machine extrudes curbing up to 13 by 13 inches, with available custom widths of over 18 inches by 30 inches.