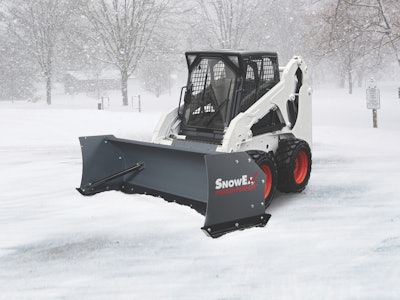 SnowEx has introduced new snow pushers for skid steers, compact track loaders, wheel loaders, backhoes and tractors.
The latest Power Pusher snow pushers are available in 8- and 10-foot-wide models and feature new steel trip-edges that SnowEx says deliver "maximum scraping performance" and cleaner scrapes of the pavement.
The trip-edges use four extension springs and two outer double ribs at the trip springs to handle heavy loads and stresses, SnowEx says. The pushers feature a 63-degree angle of attack and large carrying capacities.
The pushers also feature the following:
Six vertical support ribs for maximum bucket impact strength and structural integrity.
10-gauge steel moldboards
Side support posts to prevent bending from hitting curbs or other obstacles.
High-quality industrial paint that is both salt- and UV-resistant.