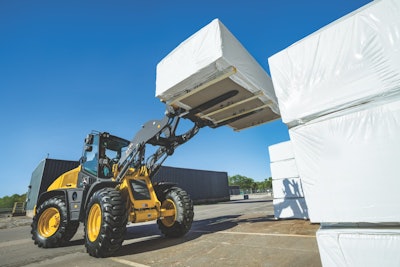 John Deere says that it's 344L compact wheel loader is now available with a high-lift option for jobs that require further reach and increased height.
Designed for dumping and stacking in construction, agricultural material handling, landscaping and snow removal tasks, the 344L High-Lift is provides operators with increased hinge pin height and dump clearance, says Deere marketing manager for compact wheel loaders Grant Van Tine.
The 344L High-Lift has a maximum hinge pin height of 13 feet, 2 inches, an additional 12 inches of reach compared to the standard 344L.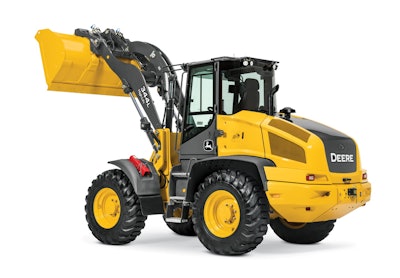 "It's important to provide our customers with increasingly versatile compact construction equipment to enable them to work with the variety of trucks, trailers, wagons, bins or hoppers they may encounter on the jobsite," Van Tine adds.
Like the standard 344L, the 344L High-Lift configuration is powered by a 103-horsepower engine and features Deere's Articulation-Plus steering system, which delivers faster movement and higher lifting capacities. The 344L also has a tighter turning radius, improved stability and additional supported lift capacity when compared to the K-Series model.
Deere says the 344L High-Lift has a full-turn tipping load of 10,362 pounds when equipped with a quick coupler and bucket.