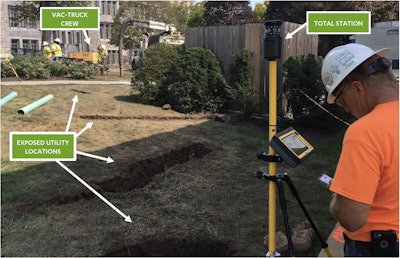 Frustrated with utility hits and thinking 3D modeling might offer useful insights, Pepper Construction has developed a 10-step process to avoid striking utilities.
Now with more than 25 projects with zero utility hits completed using its new Underground Utility Damage Prevention (UUDP) process, Pepper is spreading the word about the tactic. It has posted two blogs on its website that detail the process and team members are speaking at conferences and association meetings.
Dave Murphy, Pepper Indiana safety director, says the company has a strong desire to do something to change the status quo of utility hits. "At Pepper we've never held anything related to safety as proprietary," he says.
Why are there utility hits?
While Pepper did have utility location processes in place, it was still seeing utility hits. Two years ago, the company met with its trade partners – subcontractors, engineers, owners, vendors, locate companies, even some competitors – and delved into the issues surrounding utility strikes.
Murphy says the issues could be summed up in three broad categories: poor communication, lack of process consistency and a culture of complacency.
"Just the idea of having that meeting was unique," says Mike Alder, director of virtual construction at Pepper Indiana.
That first meeting is reflected in what now is Step One in the UUDP: have a project kick-off meeting. "The idea is to talk through the scope of the underground work," Alder says, identifying where more information is needed and who is responsible for what.
Underground visibility
The problems are many when crossing utilities: Calling 811 is always the first step but "you often have poor or no documentation," Murphy says. "And utility locating is not an exact science."
Piling these potential inaccuracies on top of production pressures is a set up for failure, and increases the possibility for utility hits, Murphy says. Clearly something else was needed to give visibility to what was underground.
Enter BIM (building information modeling) and its 3D modeling process. "It just made sense to look at virtual construction and view it from a clash detection standpoint," Murphy says.
"We put together visuals all the time," Murphy writes in one of the Pepper blog posts, 'but we had not yet seriously considered BIM as an avenue to help us improve digging underground."
Introducing BIM to the underground process would require disruption of established methods, but Pepper was confident that it could overcome its trade partner objections. It had already done so years before when BIM was first incorporated into the structural building process.
Additional steps
Prior to developing the UUDP, Pepper was already gathering all site utility as-built information, performing utility locates and potholing. The company eventually hammered out an additional seven steps to the process:
An underground utility kick-off meeting. Team members review a "pothole intent drawing" that overlays the new utilities with the known existing utilities and the new building footprint. Under focus: areas where more information needs to be collected. The agenda also goes into each step in the process and everyone's roles and responsibilities for executing them.
Incorporating underground utility milestones into the master schedule. These emphasize the importance of going through the UUDP process. If the team is thrown a scheduling curve ball, the plan is reevaluated but the process remains the same.
Surveying utilities exposed during potholing. "We want to make sure we're getting eyes on all utilities that we'll be crossing or potentially impacting," Alder says. This can include lines in parallel to the dig site since it can't be assumed they were installed in a straight line.
Capturing an aerial photo. Pepper first considered using Google Earth aerial views as a visual aid for the 3D model. It opted instead to use current drone photos taken after potholing and with locate paint marks on the ground. Using a drone photo has also enabled the team to identify inaccurate paint marks.
Developing a 3D model and coordinate. Using a total station, Pepper captures and documents the location, elevation, size and type of existing utilities. This information is then used to build a 3D model. After the 3D model of existing utilities is built, Pepper then overlays it with the model for new utilities and other building elements below ground, looking for clashes.
Distribute 3D models and visuals to the field. "The original goal was to get better information into the hands of the guys in the field," Alder says, but it has also helped highlight areas where more information is needed. "If you don't have enough information to model something, there's a good chance you don't have enough information to confidently build it," he says.
Maintaining an as-built model to give to the client. This gives the best information possible to both the project owner and any future contractors.
Reaction
After using the new process on five projects, Pepper went back to its trade partners to ask if they should continue using it. The answer was a resounding yes.
"Our partners found that this really wasn't a hinderance," Murphy says. "It helps them plan better and be more efficient when they get on the job because they are working with confidence rather than skepticism."
Pepper's experience over a two-year span has given it enough data to determine the additional processes cost an average of $9,877 per project. These added costs include an estimated 25 percent increase in potholing along with utility surveys, BIM-modeling labor and drone surveys, which are about $500 each.
On the other side of the ledger, by using UUDP Pepper has avoided a per-project minimum of $12,000 in direct costs associated with a utility strike. These costs include downtime, cost to repair, root cause investigation and fines for utility strikes.
More important, on UUDP projects there were zero injuries or lives lost, zero unexposed underground utility strikes and all the projects uncovered and avoided issues, including undocumented utilities.
"Once they go through the process, contractors see the value, and that their risk profile has been altered significantly," Murphy says.
The firm has now made using UUDP mandatory on its projects, with allowances for jobs where the full process is not warranted. But Alder notes: "It is becoming less frequent that we see a job where it's not warranted."
Pepper is continuing to evaluate UUDP. Before using the UUDP process, for example, work used to start right after potholing. Now several things have to happen before work can begin, including creating the 3D model. The company is looking into technologies such as GIS (Geographic Information System) that can possibly help this workflow, and they'd like to get the UUDP process started sooner during design.
Well-established methods are also vital in the process. "More contractors are owning their own vac trucks now," Murphy says. Pepper has both directly hired vac truck services and used their subcontractors to pothole.
What about smaller contractors?
There does need to be buy-in on this process from owners, GCs and construction managers. "There are significant hurdles if you're the only one in the game," Alder says. "It's not that expensive, but it's not free either. But there are ways that you can be creative and make it happen."
What's really key, Alder says, is an open mind and a willingness to fail. "There's a lot of moving parts and you can't expect perfection out of the box," he says. "And just using the kick-off meeting with all the players will reduce your risk significantly."
Requiring vac truck use on all utility crossings takes off another chunk of the risk. "You don't have to do the whole package to reduce your risk," Alder adds.
"We've seen some great results and have no doubt shifted the paradigm on underground work on our projects," Alder says. "The foundation has been laid and the best is yet to come."