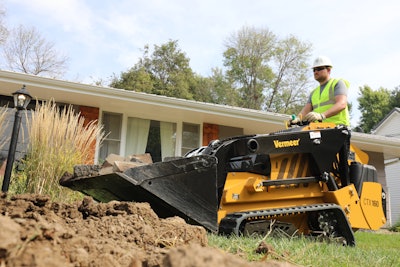 Vermeer debuted its latest addition to its line of mini skid steers, the CTX160, during the 2019 GIE+EXPO in Louisville, Kentucky.
According to Brett Newendorp, landscape marketing manager with Vermeer, customers wanted the ability to lift more with their machines but wanted a similar footprint as the CTX100.
In response, Vermeer created the CTX160, which has 60 percent more operating capacity than the CTX100 and is only 1 ½ inch wider and less than six inches longer than the CTX100. The CTX160 has a rated operating capacity of 1,600 pounds with a width of 42 inches. This width allows it to still fit through a standard gate.
To achieve this additional operating capacity, Vermeer moved the machine's weight down and more towards the center. The mini skid steer is powered by a 40-horsepower turbocharged Kohler KDI diesel engine that does not require a diesel particulate filter (DPF).
This mini skid steer model weighs 4,000 pounds and has a 9-inch rubber track undercarriage, providing optimal traction when working in harsh environments. After hearing customers desired an ability to maneuver quicker, Vermeer added new ground drive motors in the CTX160 that are more responsive. Operators can now move back and forth and side to side with much more ease.
The operator platform has been updated as well with a much better ride, according to Newendorp. The chariot-style ride-on platform has an integrated operator presence system that disengages the loader's ground drive and attachment motion when the operator steps off the machine.
The control station on the CTX160 includes a single, pilot-operated joystick for smooth functionality. It has a dual auxiliary system so the operator can switch between high flow for ground-engaging attachments and low flow for optimal control.
Vermeer has also increased the skid steer's hydraulic flow to 16.7 gallons per minute. The machine has a universal mounting plate that fits a wide range of Vermeer-approved attachments.
The CTX160 has a vertical lift design providing a better center of gravity for the machine. It has a hinge-pin dump height of 88.75 inches, allowing it to have enough clearance when dumping material into a trailer or truck.
With this added power and maneuverability, professional landscapers can still work in tight residential spaces and no longer have to split pallets and can run larger attachments.
"What makes the mini skid steer loader versatile and unique among tool carriers is its ability to efficiently maneuver where larger loaders can't," Newendorp says. "We designed the CTX160 to give contractors a class-leading ROC in a small footprint so they get the best of both worlds. Also, it helps operators stay confident in their equipment when it is built with quality and durability in mind."
Newendorp says as landscape sites become smaller and landscape contractors continually have to work in more confined spaces, mini skid steers are being added to fleets and becoming mainstays in the industry.
Not only are mini skid steers ideal for working in cramped backyards, but they also help landscapers make the most of the labor they have, boosting their efficiency.
Newendorp says all of Vermeer's products are designed with the customer in mind and they always want to understand what their customers' problems are and work provide the solution with their machines.
The Vermeer CTX160 is backed by a 3-year/3,000-hour limited warranty on the loader arms.
Newendorp says one of the main elements that sets Vermeer apart is its service, thanks to its dealer network. For more information about the CTX160, visit Vermeer.com or contact your local Vermeer dealer.