Power Curbers will roll out the next generation of its most popular curb and gutter concrete slipform paver in January, with an eye toward making it easier for contractors to go to stringless 3D paving.
The new Power Curber 5700-D, which replaces the 5700-C, will come ready to be quickly connected to any of the three major aftermarket players in 3D stringless systems: Leica, Topcon and Trimble. The paver will do this through the company's new SlipSmart controls, which are designed for simplicity and precision and interface with the aftermarket 3D systems.
Contractors who aren't ready to cut the string need not fear. The 5700-D is "primarily designed to work with stringline," says marketing coordinator Daniel Milam.
The company is making the 3D stringless an easier alternative, offering contractors as much choice as possible for choosing an aftermarket system.
The 5700-D, like its predecessor, can operate in tight spots, including parking lot corners, islands and cul-de-sacs. It can also do barrier, sidewalk and irrigation ditch work and similar slipform paving tasks. The new model remains compact and simple and is designed for easy operation, productivity and versatility, the company says.
New features
New features on the 5700-D are as follows:
"All up" jog switch that raises or lowers all crawler posts simultaneously
New vibrator master scaling knob that allows the operator to increase or decrease vibration across all vibrators while individual vibrator adjustments remain relative to each other
Improved cross-slope control
Auto-calibration for the radius steer sensor
Fine scaling of speed pots
Engine display that replaces individual gauges
Easy-pivot conveyor
Wires that are etched with descriptive labels matching machine schematics
Cold air dam between engine and console to keep the console and operator cooler
Improved wand-activated high-pressure water system
Redesigned door latches, including a single, lower latch to access the engine compartment
Check the specs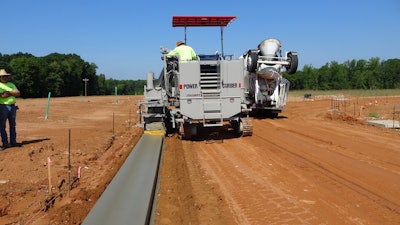 The 5700-D maintains similar specs as the 5700-C. It has a max paving width of 7 feet in the offset position and 10 feet in the center pour position. Its max barrier/parapet height is 5 feet tall, and 8 feet tall with the Max package.
It is powered by a 130-horsepower Cummins turbocharged Tier 4 Final Diesel engine. The fuel tank holds 66 gallons and the hydraulic tank, 50 gallons.
The max width of the trimmer cutter, which is equipped with carbide teeth, is 42 inches but can be expanded to 78 inches with optional extensions.
Max paving speed is 50 feet per minute, and 35 feet per minute with the Max package. Minimum turning radius is 2 feet.
The 5700-D can be hauled with a lowboy trailer. It weighs 26,000 pounds—which varies, depending on the configuration—and its standard dimensions are 20 feet long, 8.5 feet wide, and 10 feet 7 inches high with exhaust stack and 8 feet 1 inch high without stack.