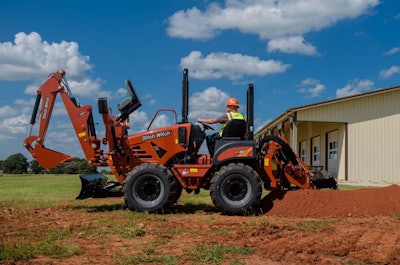 Ditch Witch has redesigned its RT80 ride-on trencher for fitting into narrower spaces on urban and rural jobsites where larger trenchers can't go.
The mid-sized trencher can also be moved from job to job easier with a modular design for quickly changing between tracks and tires in the field. It can be transported with a standard drop-deck trailer when it's equipped with tracks.
The new RT80 has a width of 6.5 feet. The company says that gives it plenty of work room, as the standard residential lane is 11 feet. Its uses include heavy-duty trenching, vibratory plowing and microtrenching.
The trencher runs on a 74.5-horsepower Tier 4 Final Deutz diesel engine. It delivers a best-in-class static load rating of 35,407 pounds and a wide-axle rating of 39,000 pounds, the company says.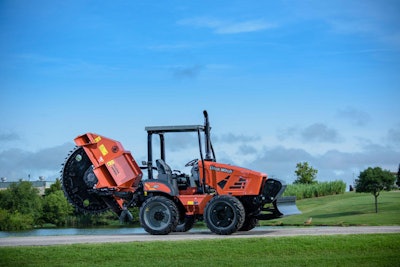 Other features include a three-speed, shift-on-the-fly ground drive system that allows operators to select the correct range without stopping work, and an advanced cruise-control system that senses engine load and automatically adjusts ground drive speed to changing soil conditions.
Ditch Witch said it also added a new high seat that rotates 90 degrees with the operator for a more comfortable, simplified operation. Operators also get dial controls for ground drive and attachment speeds.