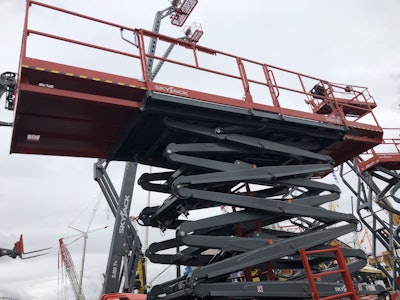 Skyjack has unveiled its tallest scissor lift, the rough-terrain SJ9263 RT, which has a platform height of 63 feet.
Barry Greenaway, senior product manager at Skyjack, says the company's goal in developing the new SJ9263 was to make it cost-effective for rental customers to move up from a 50-foot scissor, which often involves switching to a boom.
"What we really wanted to focus on is a nominal cost increase from a 50-type model that a rental company can really make money with, not as a specialist machine but as a general-purpose large RT machine segment," he says.
The new model is the flagship of Skyjack's rough-terrain (RT) lineup, which also includes the SJ9233 RT, SJ9243 RT and SJ9253 RT. The last two numbers on the model names indicate platform height.
The models comply with new ANSI standards that took effect June 1 for all new aerial lifts. The standards require machines to cut off when platforms are overloaded and before over-tilting. They also require scissor lifts to be rated for wind and outdoor and indoor use.
"This is an entirely new machine from the ground up," Greenaway said during the unveiling of the new scissor lift at ConExpo 2020. "We wanted to build a new machine around that standard as opposed to trying to patch up the old machines to meet the new standard."
The scissor's platform has a capacity of 1,200 pounds. The lift's standard platform dimensions are 14 feet 2 inches long and 6 feet 3 inches wide. It can be extended to 23 feet 4 inches long with a dual extension option and can accommodate four workers.
The lift is powered by a 24.8-horsepower Kubota dual-fuel engine. The lift also has a two-speed hydraulic motor and a computer-controlled hydraulic pump. Greenaway says the hydraulic system is more efficient. Drive speeds are 3 mph stowed and .6 mph raised, and gradeability is 30 percent.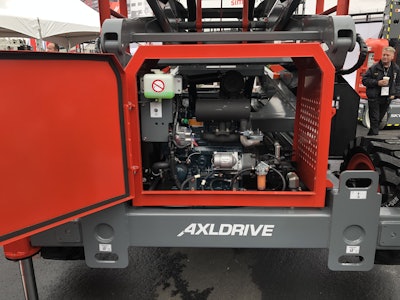 Skyjack also upgraded the lift's axle-based drive system. Greenaway says the upgrade will result in less service required over the machine's life because there are no hydraulic wheel motors to replace and no fittings and hoses exposed to possible damage.
The new axle system also improves traction on rough terrain. The operator can flip a switch to lock the rear differential. "If you have a wheel in loose terrain, I'm not really losing traction," he says. "The machine still makes forward progress."
"It's also a much heavier-duty axle system than we had previously," he adds. "The axles on this are basically the same as what we have on our smaller telehandlers and our 45-foot booms."
Skyjack's scissors come standard with an onboard display for troubleshooting, rather than a handheld display. "It will give really detailed, plain language information on how to send the technician to the right point to repair any issues," he says. "The only other way of doing that is having a separate handheld unit. That's not something we wanted to have on our machines. We don't want any special tools required to service, which is why this is standard on board. It basically does the same thing as those handheld units."
The lift comes standard with solid tires. "This takes the abuse, has much deeper tread lugs than a foam-filled tire," he says. "We intend this to be a life-of-the-machine component."
Skyjack also offers a variety of accessories and options for the SJ9263 RT.