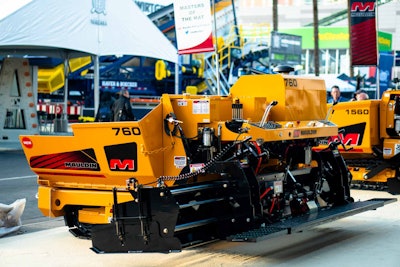 Mauldin based the platform of its new 760 gravity-fed paver on its 690 model but with some differences.
For one, the Freedom Screed that comes with the paver is electrically heated. A 12-kilowatt mounted generator delivers heat through six heating elements. The screed's temperature can be controlled from a new 5-inch screen on the dash panel. The Freedom Screed with Automatic Extension delivers paving widths of 8 to 13 feet.
Mauldin also gave the paver a 49-horsepower Kubota engine that meets Tier 4 Final emissions standards. Two electronic speeds are offered, for high-torque paving or high-speed travel.
The 760 comes standard with steel tracks. Poly pads are optional. It can be equipped as a wheeled paver with rubber tires.
The paver with screed weighs 11,700 pounds. Hopper capacity is 6 tons. Max paving speed is 115 feet per minute, and max paving depth is 6 inches. Travel speed is 280 feet per minute.
To read more about the latest paving equipment, check out Equipment World's 2020 Buyer's Guide for Asphalt Pavers and Compactors.