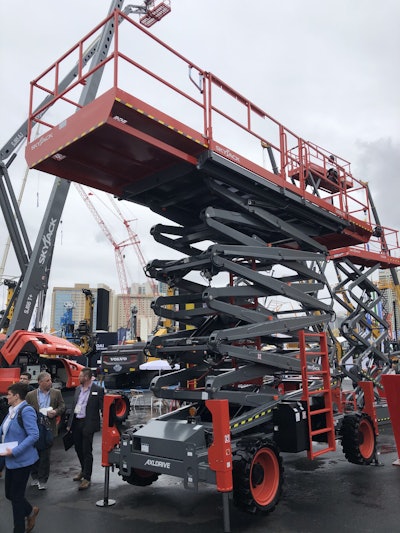 Contractors who use telescopic-boom, articulated-boom or scissor-lift aerial platforms now face a multitude of changes in how the machines are operated and who can operate them.
That's because new national safety standards governing aerial work platforms took effect June 1, an industry milestone that has been discussed and delayed for several years. The standards are published by the American National Standards Institute (ANSI). The standards do not affect truck- or trailer-mounted booms or telehandlers. Aerial lifts built before June 1, are grandfathered in.
Though the standards are voluntary, the U.S. Occupational Safety and Health Administration can refer to them when there is an accident or if inspectors see a violation of OSHA rules. Aerial-industry members also point to the potential liability should an accident occur and the industry's "best practice" standards were not followed.
"They would point back to the standards being best practice and you chose not to follow them," says Rick Smith, JLG senior director of global product training. "Anytime, if there's an injury or a fatality, certainly the lawyers are going to be looking at that."
Standards for everyone
The question for contractors then becomes whether to gamble on keeping things business-as-usual or to comply. Even if they don't comply, they will likely run up against the new standards. That's because the ANSI changes affect not just contractors but all manufacturers of aerial work platforms, as well as dealers that rent, sell and maintain them.
"It really affects the entire industry, every stakeholder, from the manufacturer to the occupant," says Tony Groat, North American manager for the International Powered Access Federation.
The standards even change the name of the devices. When you go to rent an AWP, you might hear your rental dealer saying, "Mewps."
Though that sounds like something you got vaccinated against, you'll learn they're actually sounding out the acronym "MEWP." That stands for "mobile elevating work platform," what the devices are now called under the new standards.
A contractor could also unknowingly rent an aerial platform that has the new ANSI design standards and find it unexpectedly cutting off when performing tasks previously done with no problem.
"If an operator is used to driving a (Genie) GS1930 scissor lift manufactured in 2017 and they get on a lift that's manufactured in late 2019 or 2020, they're going to be in for a surprise because a lot of things are going to be changed on this equipment," says Genie senior trainer Scott Owyen.
They might also find larger contractors requiring ANSI-compliant lifts on their jobs.
"My anticipation is that a lot of the major contractors are going to come out and say we want new-standards machines on our jobsites," says Chad Hislop, Genie senior product manager. "And as that switches, we're going to see the fleets change over to machines that are up to the new standards."
And then there's just the overall sense of doing the right thing. Do you want to be that contractor who doesn't meet the latest safety practices?
If your answer is no, then here's what you need to do to get ready for the new ANSI standards.
Get trained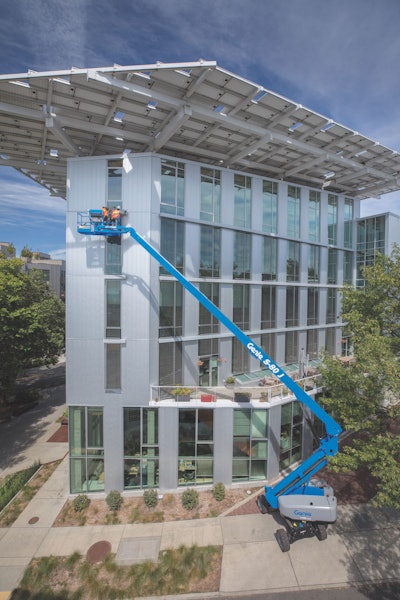 If you're a contractor, all of your aerial lift operators need to be trained to the new standards.
The standards not only require operators to be trained, but their supervisors, as well. To comply, the training must be based on the new standards. Training that does not include the new standards would not qualify.
For operators, the training includes general-knowledge and practical-application components. The general-knowledge portion, which takes three hours or so, can be instructor-led or completed online. Operators must also demonstrate proficiency in operating the aerial lifts, which takes about 5 hours, but can be longer depending on the size of the class and how many different MEWP types a candidate is seeking certification for. The practical application can be completed at a rental dealer, a manufacturer or trainer's location, or in the field if a trainer is available to come out.
Supervisors of anyone operating an aerial lift must undergo the same classroom or online training as an operator, but they are not required to undergo the hands-on component.
A contractor could also send someone to a train-the-trainer course. The trained person could then conduct training for the contractor's operators and supervisors.
The training covers such topics as selecting the proper aerial lift for the job, potential hazards and ways to protect against those hazards. Operators also need to know that any occupant in an aerial work platform must be instructed in basic work safety procedures. The operator must provide them with a talk on such matters as fall protection, how their actions can affect the lift's stability, and safety accessories they will use.
At least one of the occupants must be taught how to operate the controls in an emergency. "It's a detailed, not quick, discussion that has to take place before they can go up in the air," Owyen says.
Details on training courses can be found on manufacturers' websites, the IPAF website and through rental dealers. After completing the training, certificates are issued. Those who complete the training courses also receive a wallet-sized card they can show inspectors to prove they have been trained.
Groat cautioned those seeking training to be certain that it meets the new ANSI standards.
"I have seen training that claims to be OSHA-approved – and OSHA doesn't approve anything," he says. "Just because someone states they meet the training requirements is not a guarantee it actually does. Ensure you are getting training from a source you can depend upon and do some verification on their training before you invest your time and money."
What goes up, must come down … safely
Contractors who use telescopic-boom, articulated-boom or scissor-lift aerial platforms need to develop a safe-use program – including a rescue plan – and incorporate that program into the jobsite every day.
Smith, of JLG, believes the safe-use program will be the most challenging part for contractors to implement because it makes aerial-lift safety planning and discussions a daily habit. But it will also provide the most impact on improving safety.
"Every day we focus on how we're going to do it safely that day – I think that's going to make a huge difference," he says. "The behavior of the people is what makes the biggest difference in safety."
The comprehensive safe-use program called for under the new standards must be documented and all personnel trained on it before operations can begin. The program must include a site risk assessment to identify hazards, implement hazard controls, alert all those affected on the jobsite about the hazards, among other issues.
One major change for contractors under ANSI will be the need to develop a written rescue plan and train personnel on it.
"If someone is catapulted out of a boom and is hanging there, most folks won't know what to do," Owyen says in explaining the rationale for the rescue plan. "And the longer that individual hangs there, the more in danger they are of suspension trauma and potentially even death."
After 15 minutes, blood begins to pool in the legs, which can lead to suspension trauma. Death can occur in about 30 minutes.
The rescue plan must limit the time a properly restrained worker can be suspended in the air. ANSI requires that the fallen worker be reached for rescue within 6 minutes, Owyen says.
The rescue plan consists of three components: self-rescue, assisted rescue and technical rescue.
"Everybody must receive training that explains procedures for if they fall and await rescue or if they witness another worker's fall," Owyen says. That includes how a worker can rescue himself if he is hanging in the air. He notes that self-rescue devices and trauma-suspension straps can protect workers.
For assisted rescue, the plan must cover how co-workers can help in a rescue. The quickest way is to make sure workers are trained on the aerial lift's ground controls to bring the lift safely down. If those controls aren't working, they should know how to use the auxiliary controls, which are often powered by a separate motor. The worksite might need backup aerial platforms for potential platform-to-platform rescue.
The plan must also consider the technical rescue, for when emergency services have to be called. It should address whether the nearby fire department has a tall enough ladder truck to handle a rescue at the work platform heights, and if not, what steps need to be taken to ensure a worker can be rescued at that height. Owyen notes that many ladder trucks extend up to 100 to 160 feet, while some aerial lifts can go as high as 180 feet.
"The bottom line is," he says, "if you're going to send them up, you must have several methods of ensuring that they are able to come back down safely."
Selecting the proper lift
The responsibility for safety under the new standards does not fall entirely on operators and employers. Manufacturers must equip aerial lifts with technology to prevent certain safety risks. Those changes will also affect the types of aerial lifts contractors choose for each project.
Currently, operators are responsible for making sure the platform does not exceed its capacity, typically 500 pounds. Often platforms are overloaded, as two workers, tools and materials can easily exceed capacity.
"We see it all the time where you get two large operators jumping on a 500-pound machine," says JLG's Smith. "They think nothing of the fact that they're already at 460 pounds, and they want to bring a stack of pipe and a bunch of tools with them."
But with the load-sensing technology, the lifts will automatically shut down if rated platform capacity is exceeded. "I think people are certainly going to think their machine is not functioning properly when it really is," Smith adds.
On the plus side for contractors, manufacturers are boosting platform capacity on their new aerial lifts, some up to 900 pounds.
Scissor lift platforms must also have load-sensing to prevent overloading. Another big change for scissor lifts is that those built to the ANSI standards must be rated for indoor or outdoor use to account for wind instability.
Before, a scissor lift could be used either indoors or outdoors to its full height. But under ANSI, when accounting for wind, some models that could previously be used outdoors will likely become indoor-only. Models rated for outdoor use will have to be limited to a safe height at a wind rating of 28 mph.
Other changes for scissors-lift platforms include toe guards on all platform entrances, swing gates instead of chain or other flexible gates, higher guardrails and a reduction in some models' raise and lower speeds.
Although new standards governing aerial work platforms are voluntary, the major manufacturers have been complying, introducing new models that meet the standards.
"I think you'd be in a very tough liability situation if you weren't producing to the new standard with the standards sitting out there," says Chad Hislop, senior product manager. "I don't expect any major manufacturer to not comply. That would be very surprising to me."
Get ready for new technology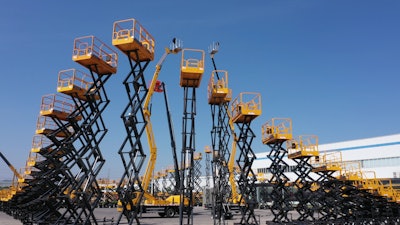 All of this new technology means contractors will have to ask themselves a lot more questions about the right aerial lift for each job, beyond just how high it will go. Those questions include when, where and how it will be used, how much weight will be in the platform and whether you will be on level or rough terrain.
For a while, this might be confusing as there will be a mix in rental fleets of ANSI-compliant machines and older machines that are grandfathered in. New machines built to the standards should have ANSI A92.20 noted on the serial number plate.
"As we start building new machines to the new standards, they're going to be trickling in," Smith says. "So they're going to have some machines that are new standards and some that are old standards. You might have two (JLG) 800S boom lifts, and they're going to operate differently.
"That can be addressed through the familiarization process that's part of the training. It's always been required, but I think it's going to be more important as we move ahead that the operators take the time to familiarize with the new machine."
Will contractors comply?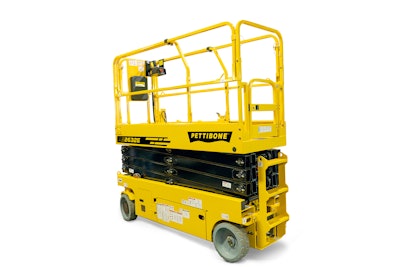 Whether you comply with the standards is entirely up to you, as they are voluntary. Ignoring them, however, could be a costly and dangerous mistake.
OSHA says it does not enforce ANSI standards; however, it can issue penalties through its General Duty Clause that could refer back to the new standards.
The clause says, "each employer shall furnish to each of his employees employment and a place of employment which are free from recognized hazards that are causing or are likely to cause death or serious physical harm."
"If you have an accident and OSHA gets involved," Smith says, "OSHA is going to look at did you follow industry best practices, which is the ANSI standards. And if you didn't, you could get cited under the General Duty Clause."
In an email response to a question about enforcement, OSHA spokesperson Kimberly Darby writes: "In the absence of an OSHA standard, the agency may issue a citation under Section 5(a)(1) (the General Duty Clause) of the Occupational Safety and Health Act, and may reference ANSI standards for feasible means of abatement."
Groat, of the International Powered Access Federation, says that in an accident, OSHA inspectors will first ask to see the training program for your workers. He notes, too, that failure to follow the standards could place a contractor in legal jeopardy.
"I will guarantee you every attorney is going to have that in their hands," Groat says of the standards.
Want to learn more?
The new ANSI standards and links to purchase them are as follows:
ANSI/SAIA A92.22-2020: Safe Use of Mobile Elevating Work Platforms (MEWPs)
ANSI/SAIA A92.24-2018: Training Requirements for the Use, Operation, Inspection, Testing and Maintenance of Mobile Elevating Work Platforms (MEWPs)
ANSI/SAIA A92.20-2020: Design, Calculations, Safety Requirements and Test Methods for Mobile Elevating Work Platforms (MEWPs)
Here are some websites to check out for more information on the ANSI training: