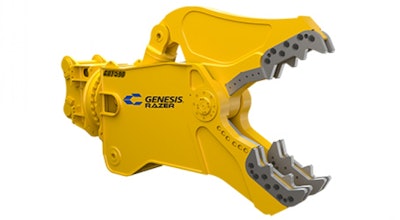 Genesis' new GDT 590 Razer demolition tool expands the company's range of concrete processors and demolition shears to excavators weighing 120,000 pounds and up.
The GDT 590 features a 52-inch jaw opening, 64.5-inch jaw depth and over 12-foot reach from the attachment mounting pivot (boom or stick) forward. It can be used for such tasks as general and bridge demolition, concrete recycling and C&D processing. The GDTs can also cut through structural steel, rebar, aluminum, wire and copper.
Genesis says it gave the Razer a lightweight design for fitting on most standard and high-reach excavators. It weighs 15,100 pounds including the mounting bracket. The company also offers three other GDT models for excavators that weigh at least 45,000, 66,000 or 90,000 pounds.
GDT features include crushing teeth that can be reversed front to back and replaced, an upper jaw that passes through the lower jaw so materials can pass through and not jam, and a short, flat-top head with bolt-on bracket for easy mounting.
The crushing teeth and their locations can also be customized to the project. The apex on the four-way indexable cutting blades draws material deeper into the jaw for more efficient cutting, the company says.
Check out the video clip below of a GDT 190 on a six-story hotel demolition project in New Orleans by Lloyd D. Nabors Demolition: