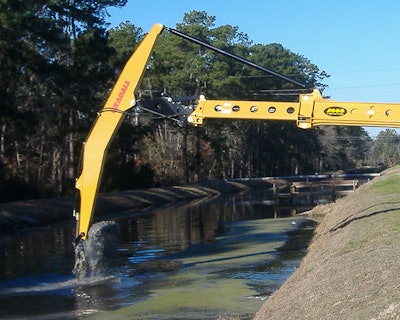 The Gradall Telestick provides a 50-foot boom extension for the company's truck-mounted excavators, which can reach highway speeds when traveling to and from jobsite.
The device can aid in canal and culvert cleaning, grading and shaping ditch edges and storm cleanup when equipped with bucket or grapple. The Telestick provides a 50-foot extension for Gradall's XL 5000V Series truck-mounted excavators and 45 feet of extra length for the XL 4000V Series. It can also be used on the XL 5200V crawler models as show in the photo below:
The boom extension can tilt 220 degrees for working on slopes, under bridges or in tunnels. The boom movement is powered by a load-sensing hydraulic system. Linkage is with a standard boom-end bucket adapter and two pins. Installation is possible in half an hour and does not require any lifting of the Telestick, the company says.