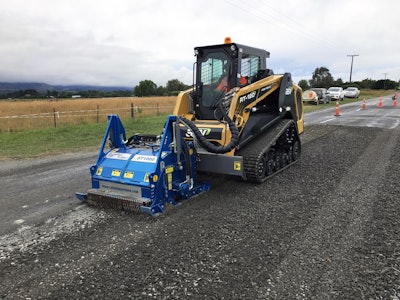 Loegering Power Attachments, a subsidiary of ASV, has combined milling and stabilizing functions into one tool for compact track loaders and skid steers.
The unique drum design on the ST Series attachments, which consist of the ST1000 and ST600 models, allows both functions, Loegering says. The attachments mill to a depth of 9 inches. Independent level control on both sides enables the attachments to follow the contour of the pavement.
They also feature a large mixing chamber for combining binders into cut pavement, and a dust-suppression system. Ports are built into the cutter box for spraying stabilizer fluid or binding.
The ST1000 is 39 inches wide, and the company says it is one of the largest milling attachments on the market for CTLs and skid steers. It matches with ASV's RT-120 Posi-Track loader. It can be used for such jobs as parking lots without the expense of a larger dedicated piece of equipment, Loegering says.
The 24-inch-wide ST600 is for smaller, low-flow machines, such as ASV's RT-75 Posi-Track loader. It is geared toward narrow roads, small parking lots and paved paths.
The attachments feature joystick controls with four buttons. Remote control is optional.
The devices have a 1-inch-thick frame, which reduces bouncing and keeps the tool firmly planted to the ground, the company says. Cutting tools can be replaced with a quick-change tooling system.
A dual direct hydraulic drive eliminates the need for gearboxes or pulleys, for reduced maintenance. Other features to reduce maintenance include interchangeable wear strips on skid plates and sealed bearings. The attachments' floating turntable has only two grease fittings.