Nearly five months after announcing plans to tie up with Nikola Motor Company – a
deal that ultimately unraveled
amid an investor's report claiming widespread fraud that preceded Trevor Milton stepping down from the company he founded – General Motors said Wednesday it plans to collaborate with Navistar on a fuel cell electric vehicle (FCEV).
International RH Series FCEV test vehicles are expected to begin a pilot phase with J.B. Hunt Transport by the end of next year, and Navistar plans to make its first production models commercially available in model year 2024.
The integrated solution has a target range of more than 500 miles with a hydrogen fueling time of less than 15 minutes.
"Hydrogen fuel cells offer great promise for heavy duty trucks in applications requiring a higher density of energy, fast refueling and additional range," said Navistar President and CEO Persio Lisboa.
The International RH Series FCEV will get its energy from two GM Hydrotec fuel cell power cubes, each containing 300-plus hydrogen fuel cells and thermal and power management systems. The combined propulsion system within the RH Series FCEV will feature more power density for short-range travel, better short-burst kilowatt output and a per-mile cost expected to be comparable to diesel in certain market segments, Lisboa said.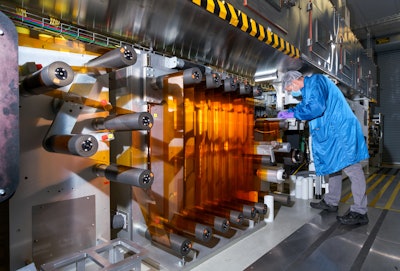 Under the partnership agreement, OneH2 will supply its hydrogen fueling solution, which includes hydrogen production, storage, delivery and safety. Navistar is taking a minority stake in OneH2. Through its affiliates, OneH2 plans to kickstart a hydrogen heavy truck refueling infrastructure by incorporating more than 2,000 International RH Series FCEVs into existing truck fleets in the near term.
In November, Nikola and GM salvaged a supplier agreement and announced plans to jointly work on the integration of GM's Hydrotec fuel-cell technology into Nikola's Class 7 and Class 8 trucks. GM plans to engineer its fuel cell system to specifications mutually agreed upon by both companies, and GM and Nikola will discuss the scope of services that GM would provide for the integration of the fuel cell system into Nikola's vehicles.
Other hydrogen players
Cummins has more than 2,000 fuel cells in operation, which includes trucks in Europe and buses in China. The OEM last year was awarded nearly $7 million from the U.S. Department of Energy (DOE) to enable more fuel cell development and accelerate the ongoing effort to drive down cost parity in a challenging field dominated by diesel.
Cummins acquired fuel cell and hydrogen production company Hydrogenics in 2019 and acquired hydrogen storage manufacturer NPROXX in 2020.
Navistar has also forged an H2 partnership with Cummins, and last year the two companies announced plans to work together on the development of a Class 8 truck powered by hydrogen fuel cells. The project will be funded in part through DOE funding. The powertrain will also be integrated into an International RH Series but uses two Hydrogenics HyPM HD90 power modules, made up of HD45 fuel cell stacks connected in series. The prototype fuel cell Class 8 truck will ultimately be integrated into Werner Enterprises' fleet of more than 7,700 tractors and operated in real-world local and/or regional delivery operation out of Fontana, California.
On the heavier side of its lineup, Hino expects to offer various zero emissions solutions some time this year, including a Hino XL Series Class 8 tractor powered by Toyota's Fuel Cell system – the first partnership for the two companies in the U.S.
Toyota brought its first fuel cell Mirai passenger car to the U.S. in 2015, and has sold more than 6,000 units as of the end of last year. Toyota three years ago kicked off a pilot with a Class 8 truck equipped with two Mirai fuel cell stacks, hauling freight from the ports and warehouses within the Los Angeles basin.
Kenworth's T680 FCEV – an ongoing development between Kenworth and Toyota Motor North America R&D – earlier this year became one of the first Class 8 truck equipped with electric powertrains to climb Colorado's famous and challenging Pikes Peak Highway.
Electrified government
The push for green energy is heating up. President Joe Biden this week announced a plan to replace gas-powered federal fleet vehicles with EVs.
"The federal government also owns an enormous fleet of vehicles, which we're going to replace with clean electric vehicles made right here in America, by American workers," Biden said as he signed an executive order to expand the "Buy American" act, which requires a minimum amount of of an items components – currently 50% – to be made in the U.S. to qualify for a federal contract.
Such a move could be a boon for the likes of GM – with International and Nikola along for the ride – as its Global Propulsion Systems Pontiac Engineering Center is in Pontiac, Michigan.
According to the U.S. General Services Administration (GSA), federal fleet is comprised of roughly 650,000 vehicles, including about 100,000 medium-duty and 40,000 heavy-duty trucks.
Hydrogen holdout
Tesla – the grandfather of automotive battery electrics – has gone all-in on battery power, eschewing the idea of hydrogen-enabled propulsions since the release of its first generation sports car.
"... even back in the early Roadster days, even before we had the Roadster out," Tesla CEO Elon Musk recalled, "people were saying that somehow hydrogen is going to be a better means of energy storage in a car than batteries. And it was like, this is just really not the case."
Musk said the business case for hydrogen doesn't make any more sense in a heavy truck than it does the company's four-wheeled vehicles, despite the efforts in that direction by some of the trucking segment's biggest players.
"We're extremely confident that we could do long-range trucking with batteries. The math works out," he said. "If you could just like take, say, the watt-hours per kilogram of currently available cells, and say, 'OK, how much – what weight would you need to go, let's say, 500 miles? And to what degree does that affect your payload?' If you do it right, you basically have no effect on your payload, or almost nothing, and you can have a long-range truck."
Tesla's Automotive President Jerome Guillen, a former general manager at Freightliner and business innovation director for Daimler, noted that an increase in the regionalization of trucking is a "perfect" fit for the company's pending all electric Semi.
"We do not see any issues with creating a compelling long-range truck with batteries," Musk added. "The problem is [battery] cell supply. Cell supply is the only thing."