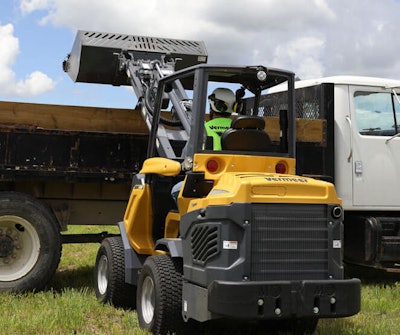 Vermeer
One year into a partnership centered around compact articulated loaders, Vermeer has taken its agreement with MultiOne to the "next level," purchasing a minority equity share in the Italian OEM.
Under the expanded agreement, MultiOne will continue to manufacture Vermeer-branded compact articulated loaders to be sold within Vermeer's dealer network. However, while the previous agreement was limited to North America and the Caribbean, Vermeer will now sell these MultiOne-built loaders at its locations around the world.
Outside of North America, MultiOne will continue to provide blue, MultiOne-branded loaders through its existing distribution partners.
"We are excited to take our partnership with MultiOne to this next level," says Doug Hundt, president of Vermeer Industrial Solutions. "The demand for compact loaders is growing worldwide, and this puts Vermeer in a great position with a lineup of proven products, attachments and dealers to help our customers reduce their labor needs and get more important work done."
Vermeer currently sells three articulated loaders built by MultiOne: the 2,711-pound ATX530, 3,902-pound ATX720 and the 4,254-pound ATX850. Key features are the loaders' telescopic boom, compact size and lift-to-weight ratio, according to the company.
The loaders have a multifunction joystick that uses electric-over-hydraulic toggles to control the telescopic boom, auxiliary hydraulic controls and the dynamic blocking system. The dynamic blocking system diverts oil flow between the left and right side hydraulic wheel motors, helping ensure optimal traction.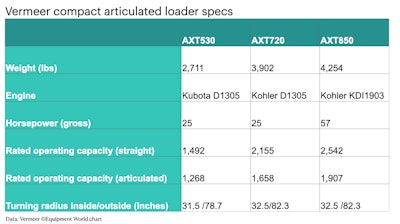 Each wheel has a hydrostatic direct-drive motor, allowing hydraulic oil to flow freely to each wheel and reducing ground disturbance during turns. Available attachments include a combo bucket, power rake, rotary sweeper, leveler and brush grapple.
MultiOne will continue under the leadership of Fiorenza Carraro and Stefano Zanini, with global holdings company, Lifco, taking on majority ownership. Its main operations and manufacturing will remain headquartered in Vicenza, Italy.