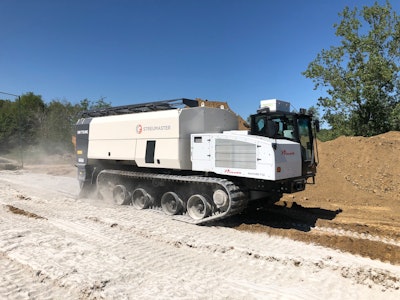 Prinoth and Streumaster have teamed up to create the largest off-road lime spreader on the market for soil stabilization, the companies say.
A 13-cubic-meter (460-cubic-foot) Streumaster spreader has been mounted to a Prinoth T12 chassis on rubber tracks.
"This size so far is the largest on the market on rubber tracks," Prinoth says.
To tackle the engineering feat, Streumaster, a Wirtgen Group partner, made the spreader wider and lower than its wheeled models for transport and stability. Prinoth moved the cab on the T12 forward to maintain stability at the lower height. The tracked spreader is about 10 feet high and under 9 feet wide.
The crawler carrier provides low ground pressure, which helps when working on soils that don't have enough bearing capacity for wheeled spreaders, and higher lime volumes, making it 60% more productive than competitive models, says Prinoth Director of Sales Doug Little.
The new tracked lime spreader "will help customers stabilize soil all over the world with quicker cycle times," Little says.
The spreader is being offered through Prinoth and Wirtgen dealers.