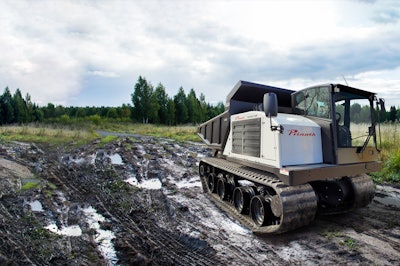 Prinoth
Prinoth's new Panther T14R rotating crawler carrier offers up to 15% more payload-to-weight than competitors and 5% more speed than its predecessor, according to the company.
"Maximizing payload and reducing the vehicle's weight is part of the strategy of Prinoth crawler carriers," says Patrick Hebert, Prinoth product manager. The payload-to-weight increase was accomplished by using high-strength steels and extensive laboratory and field tests, he says.
The speed increases were the result of transmission calibrations and adjustments, in addition to improving the transition between high torque and high speed throughout the entire duty cycle, Prinoth says.
Powered by a Cat C7.1 engine, the crawler carrier also features a drive-direction reset for reduced-effort turnarounds.
"Once the operator reaches a site to dump his load he needs to rotate the upper portion against the lower portion of the vehicle 180 degrees," Hebert explains. "The drive-direction reset allows you to reset the vehicle's forward and reverse direction and get back to the natural way of using the vehicle with one safe, easy and intuitive action on the transmission lever."
Improved settings of the hydrostatic drive motor optimize high travel speed and responsiveness under high-torque demand, says Prinoth.
The cab features visibility gains and a new in-cab display. New warning systems allow operators to take on challenging conditions. Controls include anti-stall, auto-calibration and auto-centering. Buyers can opt for a Bluetooth radio USB, engine block and hydraulic oil heaters and engine coolant heater.
With a ground clearance of 20 inches, the T14R has a dump box payload of 29,100 pounds and a heaped capacity of 8.5 cubic yards.