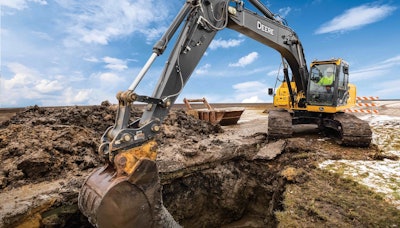 John Deere
John Deere has chosen two of its most popular excavator models – the 210G and 350G – to receive its top-of-the-line SmartGrade technology option, expanding the range of grade-control choices for contractors.
"These models are popular in underground and site development applications, and this precision technology provides the most value for customers in these segments," says Justin Steger, solutions marketing manager, Deere.
Using GNSS positioning technology, SmartGrade accurately guides the horizontal and vertical position of the boom and bucket to a precise 3D design target. Operators can then concentrate on controlling the arm while the system raises and lowers the boom to maintain grade, Deere says.
The selectable bucket control feature automatically maintains the user-defined bucket angle throughout the grading process. Using SmartGrade's over-dig protect feature limits the bucket's cutting edge from going below the target design surface and prevents moving too much material, according to Deere.
Virtual protective cube
With SmartGrade operators can set parameters that amount to a virtual protective cube: limits are set in two different ways using Deere's Virtual Front, Ceiling, Floor, Wall and Swing features.
Virtual Front hydraulically limits and automatically stops the bucket's cutting edge from contacting the front part of the machine.
While not involving the machines' hydraulics, Virtual Ceiling, Floor, Wall and Swing sound alerts if the machine approaches the pre-set limits determined by the operator or other personnel. Whether using hydraulics or sounding alarms, these limits are designed to help an operator concentrate on what they are there to do. All of these limits can be adjusted and turned on and off.
Design file updates can be sent to the machine via wireless data transfer. In addition, using Deere's SmartGrade Remote Support, dealers can remotely monitor and support the machine.
Additional technology choices
SmartGrade delivers the highest level of technology Deere currently offers on its excavators. The other choices include SmartGrade-Ready with 2D, 3D Grade Guidance, and 2D Grade Guidance. With four levels of technology, contractors can chose the one that makes sense for their operations, Deere says. And upgrade kits are available for each option.
"There isn't a one-size-fits-all solution, and contractors need options to pair the right technology with their business needs," Steger says. "This is where customers really benefit from the flexibility of our grade management path."
Here's an overview of Deere's three additional technology options:
SmartGrade-Ready with 2D: Uses a 2D system with semi-automated functions that do not need GNSS technology or 3D design plans. The excavators are pre-wired for the SmartGrade system, allowing later upgrades. This also includes the selectable bucket control feature that's available on the full SmartGrade system.
3D Grade Guidance: Provides horizontal and vertical bucket position using GNSS technology and can also use 3D design plans.
2D Grade Guidance: Provides bucket tooth and cutting-edge elevation information relative to a benchmark.
Whatever grade management technology a customer choses, the functions are integrated into the G-Series excavator controls, Steger says. All technology options give users the ability to adjust the grade offset and point of bucket focus (left-center-right). Operators can benchmark in 2D mode and record a point in 3D mode.