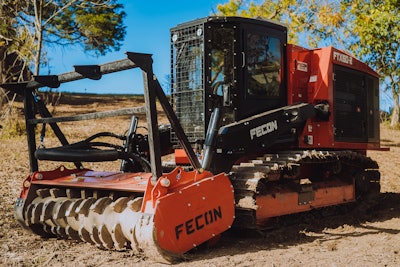 Fecon has redesigned its FTX150-2 Mulching Tractor with more power and cab space.
The company says the upgraded tracked machine can handle any forestry mulching tasks, from large right-of-way maintenance to lot clearing.
The new 155-horsepower Cummins Tier 4 Final engine has 15 more horsepower than the previous mulcher model. It also features the Fecon Power Management system, which automatically monitors and matches engine power to the task. The engine compartment is designed to be more open for easier access. The larger cooler keeps heat down in high-duty cycle, and its wider fins prevent clogging, Fecon says.
The cab is also more open. Fecon says it improved operator visibility, added a standard rearview camera, and a 7-inch touchscreen display for controlling all machine functions. The screen also displays the remote fuse panel, integrated time clocks and a high-flow counter for keeping track of the cutting head's operating hours.
The operator can adjust hydraulic flow to the attachment from the cab with pre-sets. Other cab features include keyless operation and automatic climate control.
The mulcher maintains its 60 gallons per minute of hydraulic flow to the attachment through a dedicated circuit. Fecon Green biodegradable fluid helps prevent damage to sensitive locations, the company says.
Fecon says the mulcher is composed of high-strength steel, and pin-on attachments provide safety and durability.
To see the FTX15-2 in action, watch the video below: