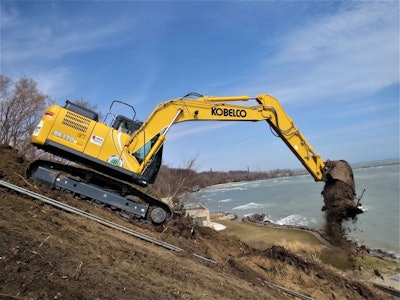 Kobelco
Kobelco Construction Machinery will lay off 75% of its workforce on May 1st at its Moore, South Carolina, excavator plant, according to several media reports.
"Kobelco Japan made a decision to run out of current engines we have on site and will suspend production until the engine issue has been resolved," Ralph Wabnitz, Kobelco general manager said in an AP report.
The layoff will include 102 of the plant's 131 employees, said the report.
[Related: Kobelco to Use Yanmar, Isuzu to Fill Engine Void]
The move follows the company's announcement in February that it would temporarily suspend U.S. excavator production at the plant due to engine supply problems.
Kobelco engine supplier Hino Motors informed KCM in January that its 2021 EPA emission certifications had not been obtained on four engine models, adding there was "no clear outlook" on its future supply schedule.
"The plant will stay open until a decision about the future of this facility is made," Wabnitz said in the AP report. "The suspension of production was not a local decision, rather a decision made by our headquarters in Japan."
AP further reported that David Britt, Spartanburg County councilman, reached out to state and federal officials in an effort to help Hino obtain its engine certification, an effort he said was complicated by Covid-19 restrictions. "It is terribly unfortunate to Kobelco and their associates for this to happen at a time when their sales are sky high and their workforce is growing rapidly," Britt is quoted as saying.
In February, KCM said it was considering alternative engine suppliers and that production of its SK170LC, SK210LC, SK260LC, SK300LC, SK350LC, SK390LC, and SK500LC models would be suspended once the current inventory with certified engines had run out.
The AP report reiterated that Kobelco was looking for another engine supplier.
In the previous statement, KCM said the four Hino engines are also used in machines imported to the U.S., including six excavator models (SK210HLC, SK230SRLC, SK270SRLC, SK380SRLC, SK500LC, and SK850LC) and five crawler crane models (CK850G, CK1100G, CK1200G, CK1600G, and CK2750G). The machines are imported to the U.S. from two factories in Japan. Imports are suspended until these models can be equipped with 2021 U.S. EPA emissions-certified engines.
At the time, Kobelco also said its dealers would continue to sell excavator inventory with EPA-certified engines, including remaining inventory of the affected models, compact excavators, 7- to 13-ton excavators and the CK3300G crawler crane. Product support activities will also continue.