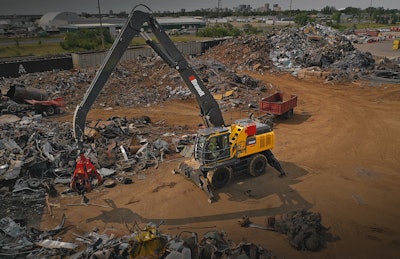 Brandt
Saying it is the only material handler on the market designed, built and supported in North America, Brandt debuted its BMH40A at ConExpo-Con/Agg 2023.
"The industry has been looking for a heavy lifter that delivers world-class productivity with the round-the-clock support that you typically only get from an onshore-manufactured product," says Jason Klassen, Brandt senior vice president sales, manufactured products. "The fact that it is built on proven John Deere components is a huge bonus that means increased uptime and exceptional reliability from the machine."
The straight boom and dipper-style arm are optimized for productivity in scrap, says the company. Longevity is increased using steel hydraulic lines whenever possible.
The 40-ton-class machine weighs 85,400 pounds and has a maximum reach of 52 feet. It uses a 223-horsepower John Deere Power Tech 6.8-liter engine and dual variable displacement hydraulic pumps with a combined flow rate of 62.3 gallons per minute.
The BMH40A uses an Energy Recovery System that counteracts 90 percent of the boom and arm weight, helping reduce fuel consumption when lifting. In addition, a nitrogen-charged cylinder assists boom operating, reducing fuel consumption up to 20 percent.
A 20-kilowatt generator, with an electrical supply line to the end of the stick, comes standard on every BMH40A. A quick-connect magnet electrical plug is protected to prevent damage. Rotary arm encoders are designed to prevent the grapple from hitting the cab when working.