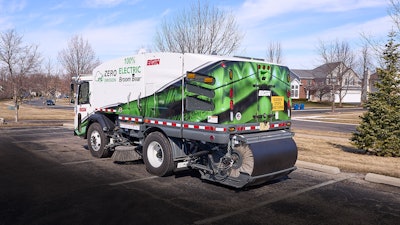 Elgin
Elgin Sweeper's truck-mounted Electric Broom Bear uses an all-electric chassis to deliver the same performance as the standard Broom Bear models.
Offering zero emissions, noise reduction and lower maintenance costs, the Electric Broom Bear has enough lithium-ion battery capacity (396 kilowatt hours, 700 volts) to handle extended shifts. The unit was introduced during ConExpo-Con/Agg 2023.
Using a standard SAE J1772 CCS charging port, the unit is compatible with Level 2 or Level 3 chargers. Level 2 AC charging can be accomplished overnight; Level 3 enables fast charging.
Specifically designed for vocational use, the electric chassis offers the same payload capacity as the standard Broom Bear. Although the chassis is designed by Battle Motors (formerly Crane Carrier), customers also have the option to use other electric chassis OEMs provided they meet Elgin's performance and aftermarket support requirements.
Using the main broom and two side brooms, the Electric Broom Bear has a maximum 120-inch sweep path. The 60-inch-long main broom is 34 inches in diameter; each side broom has a diameter of 46 inches.
Elgin's Broom Bear line also includes the single-engine Broom Bear and Hybrid Broom Bear, both available with either a diesel or compressed natural gas engine. The Electric Broom Bear is designed to pick up the same debris and have the same loading rate as the other two models.