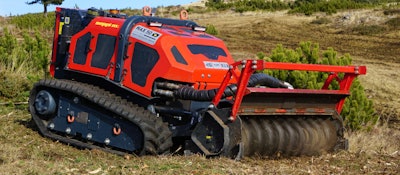 Seppi M
Clear hard-to-reach areas and grades up to 55 degrees with the new Max 50 le remote-controlled crawler carrier from Seppi M.
The Max 50 le can tear through wood and brush up to 5.9 inches in diameter when paired with Seppi M's Microforst rc radio-controlled forestry mulcher. A stone/soil crusher, the Microsoil rc, or a flail mulcher for grass and light brush will be released in the future, the company says.
[Watch it in action in the video at the end of this article.]
An operator can control the carrier from up to 525 feet with its remote control. The controller also displays critical machine data, including fuel, rpm and speed.
The 49-horsepower Perkins 3-cylinder turbo diesel engine and separate four-pump hydraulic system ensure control of the track and tools in all conditions, the company says. For optimal stability, the tracks can be extended by 9.8 inches on each side for a total width of 71 inches.
Self-tensioning automatically adjusts the individual track tensions based on ground conditions to prevent the tracks from slipping or breaking. The large surface area and high-profile tracks also help maintain grip on slopes.
Available in a 49- or 61-inch working width, the Microforst rc mulching head is made of AR400 wear-resistant steel, tungsten-carbide-tipped hammers. Seppi M says the exposed rotor design works in tandem with counter-cutters to produce a consistent mulching result.
Optional features include biodegradable oil, tracks with spikes and a winch for vehicle recovery.
Check out Seppi M's video of the Max 50 le in action below: