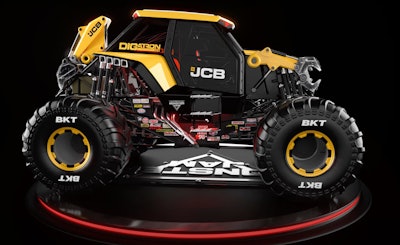 Monster Jam
JCB has announced its sponsorship of Monster Jam, the traveling monster-truck show, and with it unveiled its own truck to compete, DIGatron, inspired by a backhoe design.
The company, which claims invention of the backhoe loader, unleashed its equipment design team to work with Feld Motor Sports to produce the 1,500-horsepower DIGatron. The monster truck is 10.5 feet tall, 17 feet long and weighs 12,000 pounds.
The truck generates its massive horsepower with "a supercharger that forces air and fuel into the engine," JCB says. "It is powered by methanol fuel, consumed at the rates of three gallons a minute from a specially constructed safety cell."
The truck was inspired by a backhoe loader, and its red seat matches the color of the seats in the JCB's first backhoes.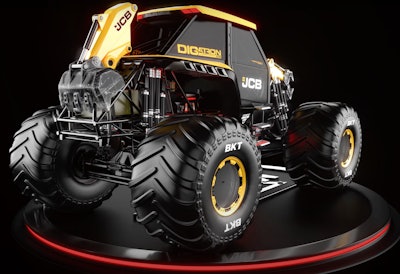 DIGatron will make its Monster Jam debut in January at the Alamodome in San Antonio, the city where JCB has planned to build its largest U.S. factory.
The truck will be driven by 2023 World Finals Champion Tristan England.
JCB has signed a multi-year contract to be Monster Jam's "Official Heavy Equipment Partner." The U.K.-based company, whose North American headquarters are in Savannah, Georgia, sees the partnership as a way to connect with its dealerships and customers each year. It will provide equipment like its 457 wheel loader for building Monster Jam tracks.
"The Monster Jam and JCB partnership brings together two longstanding family businesses that are both committed to providing the highest value to our customers, including performance and innovation," says Juliette Feld Grossman, chief operating officer of Feld Entertainment, which produces and presents Monster Jam shows.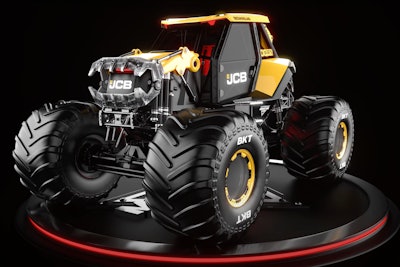 Says Alice Bamford, daughter of JCB Chairman Anthony Bamford, "Our son, Otis, is the original Monster Jam fan in our family, and it is through his eyes that we realized how incredible it could be to join forces with another family business like Feld Entertainment as both companies share the same values of innovation, dedication, passion and attention to detail. We are thrilled about the hours of entertainment that JCB DIGatron, with Tristan at the wheel, will bring to children, families and our customers across North America!"
See a more closeup view of DIGatron in this video by Monster Jam: