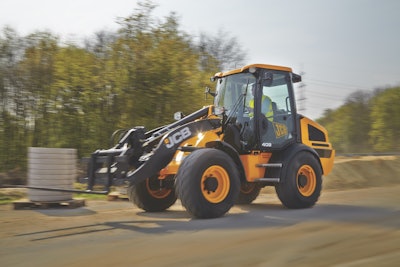 JCB
Equipment manufacturers have been busy improving what works well on compact wheel loaders while also attending to some of the more problematic features.
Visibility has been improved with more glass, better operator positioning and sloping hoods. Bucket breakout force and dump height have also increased.
Top speeds now are in the 20 to 25 mph range. Volvo even gives its L45H and L50H an optional high-speed drive that ups the top speed to 31.2 mph.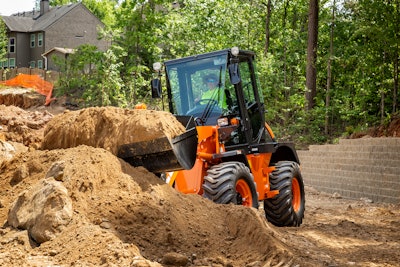 Today's compact wheel loaders "have higher hydraulic flows, greater attachment versatility, modernized operating stations with better comfort and ergonomics, and enhanced technology such as ride control and rearview cameras," says Mike Winfield, product and applications manager, Hitachi Loaders America.
Customers can still choose between Z-bar and parallel-lift, also known as toolcarrier, linkages. Both had strengths, but also some weaknesses. The weaknesses have been addressed in the newer designs. Current versions of parallel linkages have increased performance specs, and Z-bar linkages now enable better visibility.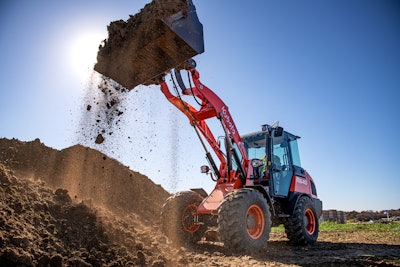 The Kubota R540 and R640 have Z-bar linkages for greater breakout and lift but also have delta-shaped loader arms for an improved view of the coupler and attachment. A full-size right-side window gives excellent visibility to the right front tire. Switches have been moved from the steering column to the right side of the cab to the relocated console.
"Everything is neatly located on the right side at the operator's fingertips while also creating a more spacious cab," says Patrick Baker, Kubota Construction Equipment product manager.
Adding versatility
Winfield says compact wheel loaders' greater lift capacity, greater attachment versatility, higher lifting ability and better machine stability make them good candidates for many applications once thought suited only for skid steers and compact track loaders.
"Auxiliary hydraulics are standard on all Yanmar models of compact wheel loaders," says Frank Gangi, product manager. "Hydraulic quick couplers make it quick and easy to swap out attachments, and inching pedals provide driving and stopping sensitivity when operating at high rpm."
Yanmar has three models under 90 horsepower with hydraulic specs ranging from 14.8 gallons per minute at 3,000 psi for the V4-7 to 30 gpm at 2,610 psi for the V10 with High Flow.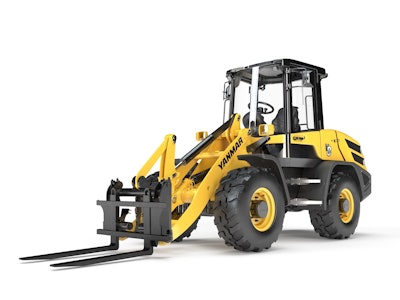 Lee Padgett, product manager, Takeuchi, says auxiliary hydraulics and advanced machine controls allow the use of tree spades, power rakes, mulchers, mowers, trenchers and breakers.
"Customers can outfit compact wheel loaders with many of the same attachments formerly reserved for skid steers and compact track loaders," says Padgett. "Compact wheel loaders still appeal to most people for the same reason they always have, the ability to carry heavier loads at higher speeds. It's just that now they can accomplish more tasks and are often versatile enough to do the work of multiple machines while still excelling at their core functionality."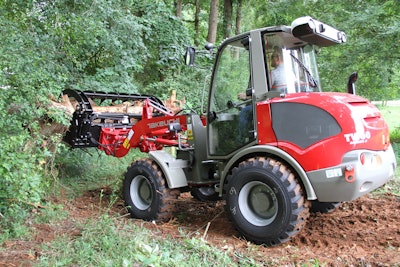 John Bostwick and Stewart Gordon, territory sales managers for Tobroco-Giant, say the inherent features of compact wheel loaders make them ideal for handling attachments. Compared to other compact equipment of equivalent horsepower, compact wheel loaders typically have higher ground speeds and higher tipping loads.
"Our models that fit through a 36-inch gate provide double the tipping load of a compact track loader or skid steer of that width," says Gordon. "They also have better visibility and lower ground disruption."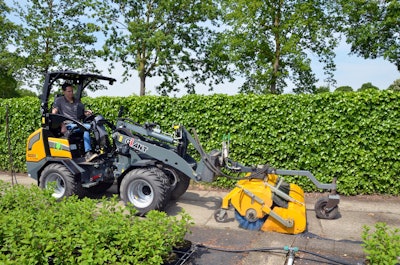 Giant's compact wheel loaders have various linkages, each intended to optimize performance for a particular model. "No one linkage works best for all applications, so we match the linkage to each model's intended use," says Bostwick. He also says weak hydraulic performance is a thing of the past for many models. "You can have 30 gpm on a 75-horsepower wheel loader now."
Bostwick says maintenance costs are usually much lower for compact wheel loaders than for compact track loaders and skid steers, "which are fighting against themselves on every turn."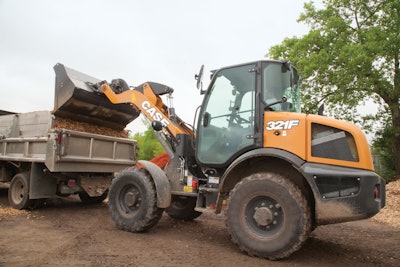 Ryan Anderson, product marketing manager, New Holland, says there are still clear lines dividing equipment types and applications. "Skid-steer and compact track loaders are still best for high-demand hydraulic attachments," he says. "Lift-and-carry operations are best left to compact wheel loaders. If the yard is big enough to accommodate one, a compact wheel loader is a better choice for loader applications."
New Holland has three models. The W50C ZB has 58 horsepower with Z-bar linkage; the W50C TC is the same model with parallel linkage lift arms. The W80C HS is a 74-horsepower Z-bar machine with a high-speed option that reaches 21 mph.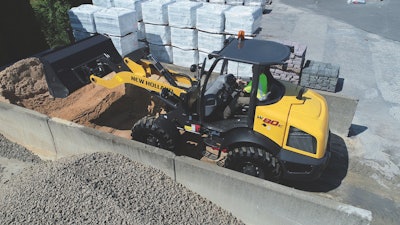 Scott Britton, Cat product application specialist, says skid steers and CTLs will often have the option to upgrade both hydraulic flow and pressure; whereas, with the compact wheel loader, the option is for greater flow only, if it exists. "And skid steers and compact track loaders offer better attachment control just by virtue of their design."
Some features are beneficial regardless of application. John Deere's 304L and 204L are at or just under 8 feet in overall height to improve access in tight spaces. They have fewer features than the other two models in the Deere lineup, the 244L and 324L, but still accept a wide range of the more than 100 attachments the company offers. The 244L and 324L have a 23 mph top speed and optional high-flow hydraulics up to 29 gpm (244L) and 35 gpm (324L). A high-lift option on the 324L adds 17 inches to the height to hinge pin.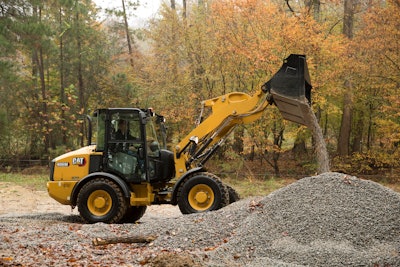 Deere's Articulation Plus feature is available on the 244L and 324L. "Articulation Plus automatically adds 10 degrees of rear-wheel steer to the 30 degrees of articulation as the steering approaches full lock while retaining full tipping load capacity," says Luke Gribble, Deere solutions marketing manager.
Ethan Clowes, JCB product manager, backhoes, wheel loaders and side dumpers, points to features on the smallest model in its lineup, the 407. Like all JCB wheel loaders, the 407 meets Tier 4 Final with a diesel oxidation catalyst and no diesel particulate filter. Telematics are included. A common configuration includes a standard front axle and limited-slip rear differential. The 407 is rated for 7,700 pounds of towing capacity. A high-speed option increases travel speed to over 18 mph.
"Choosing the right machine, spec'd the right way, comes down to ROI," says Clowes. "Understand your operation. Understand the abilities of each machine. Then match the machine to the job."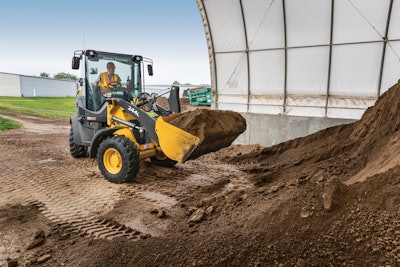 Breakout force
Compact wheel loaders are popular in Europe in the way skid steers are in the U.S. As demand for compact wheel loaders in North America grows, several European OEMs are looking to break into the market.
Harry Fleegel is operations manager for TNE Distributing in Minnesota. The company started bringing Cast loaders over from Italy in late 2016.
Why Cast?
"Body panels are steel, not plastic," he says. "Compared to many other brands, they have bigger engines and better service access. Pin height is higher and tires are bigger with 13- and 14-inch sizes."
He says Cast has been eager to work with TNE to develop machines for the U.S. market with such features as a universal mini-skid attachment plate, common hydraulic attachments and multi-function joysticks. TNE offers nine models of Cast compact wheel loaders. All have joysticks, but other features and engine power increase as you move up the line.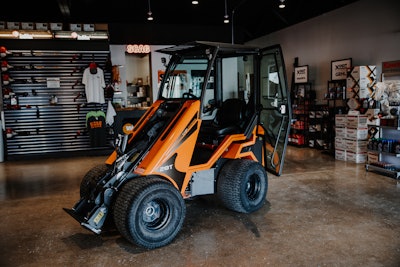 Netherlands-based Tobroco-Giant was founded in 1996 by Toine Brock, who is still the company's owner and director. The company's Giant imports to the U.S. market began in 2016.
Chris Sleurink is the CEO of miniloaders.com, the North America distributor of the Knikmops Km100 Tele from Belgium. The imported machine gets rebranded here as Intrepid. Sleurink and his father began importing them in 2018.
The Km100 Tele has an operating weight of 2,800 pounds and a single-speed drive capable of 11 mph. Hydraulics are 7.4 gpm at 2,600 psi. Sleurink says the Km100 Tele is well-suited to the North American market, but they will consider bringing in additional models from Knikmops' 19-model line to meet market demands.
Mecalac has four categories of compact wheel loaders: articulated, 4WS, swing (the linkage assembly swivels 90 degrees left and right; these are also 4WS) and telescopic for a total of 12 models under 90 horsepower. Peter Bigwood, general manager, Mecalac North America, says having four categories addresses the unique needs of customers by emphasizing different aspects of performance. Bigwood says the 75-horsepower AS900 Tele offers the most balanced performance with bucket capacities to 1.6 cubic yards, three-mode 4WS, swing bucket and telescoping boom.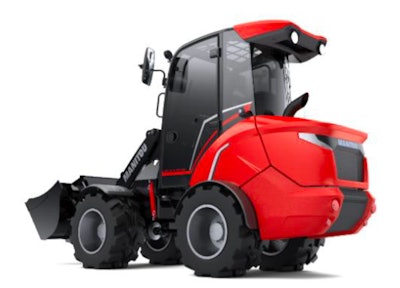 French-based Manitou Group, which also owns Gehl and Mustang by Manitou brands, recently announced it was bringing a revamped and expanded line of articulated compact wheel loaders to North America. At a recent unveiling of its new products, the company offered a sneak peak of the MLA2, MLA 3, MLA 4 and MLA 5 compact loaders, which are being manufactured in Europe.
The machines get a new design, with a narrower width for working on tight jobsites. They will be equipped with a short arm for greater capacity or a long arm for increased lifting height. The company says they will be able to perform material-handling as well as earthmoving tasks. They will be available in canopy or integrated cabin configurations and are expected to arrive at U.S. dealerships by the end of this year.
Electric emergence
"Customers today can choose between traditional diesel-powered models and new electric models," says Darren Ashton, product manager for compact loaders, Volvo CE North America. "This wasn't the case just a few years ago."
Ashton says electric models offer comparable and even greater power and performance compared to diesel machines but with less noise and vibration and no local emissions. "This opens up opportunities where diesel-powered toolcarriers were never considered."
Diesel continues to provide the lower upfront cost, but O&O costs "can be quickly offset thanks to significantly lower maintenance needs with electric models such as the Volvo L25," he says.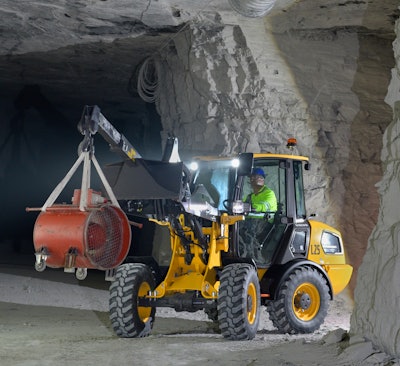 Giant offers the electric G2200E. It comes with a 260-ampere-hour, 48-volt lithium-ion battery; options include 390 Ah and 520 Ah batteries. There are two electric motors, a 6.5-kilowatt motor for the drivetrain and a 12 kW motor for the working hydraulics. Power is regenerated during braking and on trailing throttle, as when descending a hill.
Two models are offered. The G2200E standard has a 111.2-inch lift pin height and 3,200-pound tipping load. The G2200E X-tra has a 96.5-inch pin height and 4,530-pound tipping load.
Sleurink says Knikmops is developing an electric model, which may be brought to the U.S. as an Intrepid.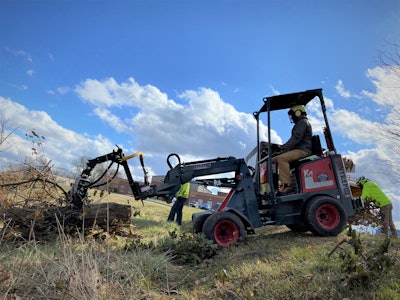 Fleegel says Cast has an electric model in Italy, the 800 Eco, which he can bring to the U.S. for a customer who wants one, but he has no immediate plans for stocking the machine.
What about telescopic booms?
Many European compact wheel loader models also are available with telescopic booms to enhance their productivity as both loaders and toolcarriers.
All Cast models have telescopic booms. Giant offers three models in North America: the D254SW Tele, the G3500 Tele Series and the G5000 Tele Series. The Knikmops Intrepid, the KM100, is telescopic.
Mecalac's three tele models are the AT900, AT1050 and AS900Tele. Bigwood points out that while tele models are extremely versatile, they are not ideal production machines.
"They're not designed to spend all day charging the pile," he says. "There are better machines for that."