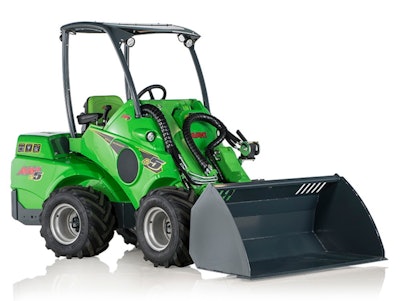 Avant
Avant Tecno has unveiled two new fully electric loader models, the Avant e527 and Avant e513, equipped with the company's proprietary battery technology.
The electric loader's 27kWh and 13kWh OptiTemp batteries are produced by Avant Tecno's new subsidiary, Avant Power.
Avant says the batteries have twice the capacity of other manufacturers' products and feature a unique thermal management system, giving users the same capacity in extreme temperatures as low as 22°F. The units offer the same power as the Avant 500 series with diesel engines.
"Avant Tecno has been doing research and development related to electric loaders since the 1990s, and our first fully electric loader was introduced in 1997. After working with electric loaders and batteries for decades, we realized that there was no battery pack in the world that would be perfectly optimized for compact loaders. That's why we decided to start making batteries ourselves," says Mikko Piepponen, chief operating officer at Avant Power Oy.
The e527 is capable of 6 hours of operation time on a single charge – or what Avant says is equivalent to a full day of work. The e513 offers 3 hours of operation time when fully charged.
The battery can be recharged in just 1.5 hours using the rapid charger. Standard charging using the built-in onboard charger takes 5 hours for the e513 and 10 hours for the e527.
The temperature control system is automatically switched on when the battery is plugged into a charger. When the workday starts and the loader is unplugged, the battery temperature is optimized for work and adjusted to the current weather conditions. In cold weather, the battery automatically pre-heats itself before use. During operation, the temperature management system maintains the operating temperature.
The OptiTemp system also makes the batteries extremely safe, Avant says, as the specially designed liquid inside the battery modules controls heat transfer from one cell to another to prevent the cells from overheating. The cells inside the battery are also protected by fuses and isolated from each other on several different levels.
"The cooperation with Avant Power, and the batteries they have developed, allow us to build the kind of electric loaders that the market has been longing for. Longer working time and more affordable pricing have been key issues with electric loaders until now. With the new e5 models, we intend to tackle them both," says Jani Käkelä, CEO of Avant Tecno.
The electric loaders launched at bauma 2022 and made their North American debut at ConExpo 2023.
Quick Specs
Avant e513
Voltage: 44V
Capacity: 13 kWh
Operation Time*: 3 hours
Lift Capacity: 1,984 lbs
Lift Height: 110 inches
Drive Speed: 6.2 mph
Auxiliary Hydraulics: 7.9 gpm
Avant e527
Voltage: 44V
Capacity: 27 kWh
Operation Time*: 6 hours
Lift Capacity: 1,984 lbs
Lift Height: 110 inches
Drive Speed: 6.2 mph
Auxiliary Hydraulics: 7.9 gpm