Wacker Neuson is bringing its first zero emission mini electric excavator to North America in 2024.
The 1.7 metric ton, battery-powered EZ17e mini excavator offers the same performance as the company's conventional diesel model, but with zero emissions and reduced maintenance.
With compact dimensions and a minimal-tail swing design, it is designed for working directly alongside walls and obstructions in tighter spaces or jobsites with emission and noise regulations that still require quality digging or breaking power.
"The key differences, no more fuel system, and no more diesel engine," said Jay Quatro, commercial product manager, Wacker Neuson
The EZ17e has been in production globally for over three years. Wacker Neuson expects to deliver its 1,000th unit in 2023.
"This is not a new machine for us," he said. "It's new for North America, but not new for the brand. The EZ17e is a proven design not only in a diesel version and with battery electric power."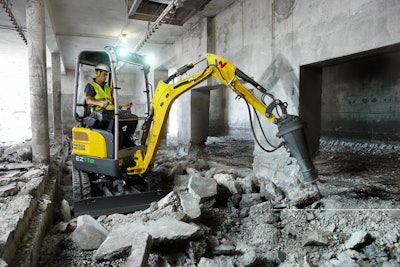 As the market for zero-emission machines continues to grow in North America, Wacker Neuson is making the transition to bring its existing and new electric machine offerings overseas.
"This is a long-term zero-emission strategy we have planned for the United States and Canada with not only existing products in Europe but new ones in the future," Quatro said, noting that the EZ17e is a natural addition to the zero-emission compaction and concrete vibration product the company already offers in the Americas.
He said Wacker Neuson will be expanding its line of electric products over the next few years.
The current line of electric machines includes two-wheel loaders, two excavators, three dumpers, and a pair of telehandlers.
Most of the electric machines made by the company are available in Europe and not yet in North America.
The preliminary model of the EZ17e debuted at Bauma in 2016 and was due to arrive here as early as 2019.
"Again, we have a proven track record already in other parts of the world, so we're excited to introduce this to North America," Quatro said.
He admits that currently, the cost of electric machines is about double the amount for a diesel machine, however, he expects that to change as technology improves and more electric machines enter the market.
Also, several states are introducing grants or other initiatives to encourage contractors to purchase and use zero-emission equipment. Quatro said there is an increasing demand in Canada.
Small but powerful
Even at full throttle, EZ17e is very quiet. A lack of noise does not mean a lack of power.
"It has all the same performance, as you have on the diesel version, EZ17, the same dig depth, same hydraulic breakout force," he said. "Running on a battery, there is no impact to the hydraulic system, no impact to breakout force, no impact the auxiliary, so you get the same performance that you see on our spec sheets and that our customers are already used to from the diesel version of the EZ 17."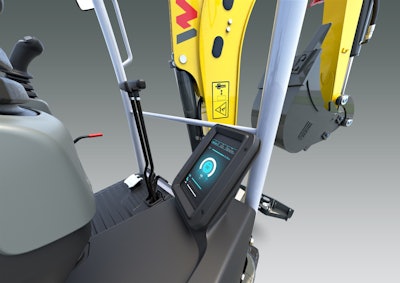 With intuitive operation via a joystick, jog dial, and keypad, the EZ17e has a maximum digging depth of 97.7 inches, a breakout force of 4,608 pounds, and the ability to run auxiliary attachments such as hydraulic breakers.
All the information an operator needs, such as battery power levels and oil level settings for the additional control circuits and even operating the quick coupler system, is available on an easy-to-read, 7-inch display.
The EZ17e has two travel speed options as standard for quick movement around a jobsite.
Other options include LED illumination fixtures and the hydraulically telescoped gear with a maximum outer width of 1,300 mm and retracted width of 990 mm. A foldable blade extension makes an individual adjustment to the jobsite conditions possible, and all the extension elements are on the machine.
All-day operation
The EZ17e scores points with customers with a long battery life thanks to an output of 23.4 kWh and a patented maintenance-free battery system that contributes to reduced service costs.
There is no additional charging equipment needed either. A simple single-phase 240-volt connection, typically available on most jobsites will charge the EZ17e in five to six hours.
According to Quatro, the EZ17e offers an all-day run time.
"The more demand or load you put on the machine that's going to affect runtime just like a diesel engine, the higher engine RPM is or more demand, increases the amount of fuel you burn," Quatro said. "If you are running every function, doing some heavy operation, maybe running a breaker or doing some heavy digging, as well as a lot of tracking back and forth, you might see maybe four hours of continuous runtime."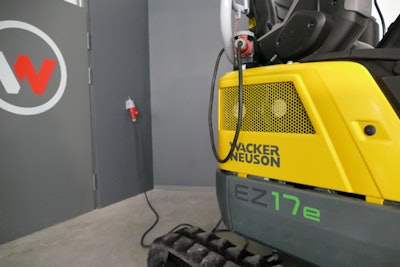 Comparatively, if the job requires more stationary work or simple trenching, he said they've seen that number go up to six to seven hours.
"It's an average across the work that you're doing," he said.
Quatro pointed out that for the most part, excavators this size are not generally running hard for a full eight-hour day.
"You're taking breaks, you're getting out of the machine to get into the trench to do some work and getting back in the machine," he said.
Like a diesel machine, the EZ17e has auto idle. The difference is that when idling, it's silent and off so it's not burning any "fuel" or battery power.
"As you stop the machine for five seconds to speak to somebody to look in the trench, do some work, you're no longer using up battery power," Quatro said.
Factoring in those idle times expands those four to seven hours of physical runtime to a full day's worth of work or beyond.
"That's why we say 'all-day' runtime," he said.
If that's still not enough for an operation, the machine will operate while tethered to a power source.
"You can plug it in at the end of the day if you need to and as long as you have a power source nearby, you continue to run the machine without depending solely on the battery itself," Quatro said.
In addition, he noted that there is no reduction in performance as the battery starts to go down in charge.
"When your battery is at 20% you still have full operation," he said. "Your operation ability doesn't degrade as the battery charge depletes, so you have full operation down to zero."
Quick Specs
Available in early 2024
Operating weight: 3,961.7 lbs. to 4,742 lbs.
Battery: 48V lithium-ion battery
Capacity: 23.4 kWh
Charge time: 5-6 hours
Run time: 4-7 hours
Dig depth: 97.7 inches
Breakout force: 4,608 lbs.