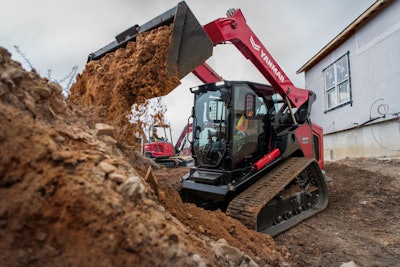 Yanmar
In the market for a new compact track loader?
There are plenty of options out there. To help you find the right CTL, we asked manufacturers to outline the most important features of their latest models.
Here is the elevator pitch from 10 major OEMs:
ASV/Yanmar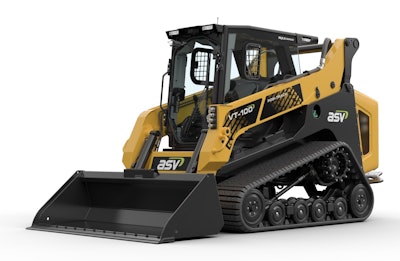 Yanmar acquired ASV in July 2020, and it is now a single business entity producing two distinct lines of CTLs, all manufactured at Yanmar Compact Equipment North America's facility in Minnesota.
"One channel, two brands," says Buck Storlie, product manager, Yanmar Compact Equipment North America.
He says the two lines share five important features:
Return to position – brings the boom and bucket back to an operator-preset position, such as when using forks to get pallets off a trailer.
Work tool positioner – sets the angle of the work tool, as with trenchers.
Self-leveling – both raise and lower.
Auto 2-speed – had been pushbutton control and can still be used that way, but the auto feature upshifts based on ground speed and downshifts in response to load.
Auto ride control – also adjustable to operator preference.
ASV rolled out the vertical-lift, 104-horsepower VT-100 and VT-100 Forestry at ConExpo 2023, bringing the total number of ASV models to 11. As with all ASV models, the VT-100 uses Posi-Track suspension and rubber tracks.
Yanmar had four models at ConExpo: TL100VS, TL80VS, TL75VS and TL65RS. The TL65RS is its only radial-lift model.
Each uses a traditional steel-embedded rubber track-type undercarriage with fully independent front and rear suspension. The range of rated operating capacity is 2,100 to 3,600 pounds at 35% of tipping load.
Availability of the TL100VS will begin in the third quarter of 2023; the others will enter production in October. "Offering these machines is part of Yanmar's drive to become a full-line compact equipment provider," says Storlie.
[Watch This: Yanmar vs. ASV CTLs – What's the Difference?]
Bobcat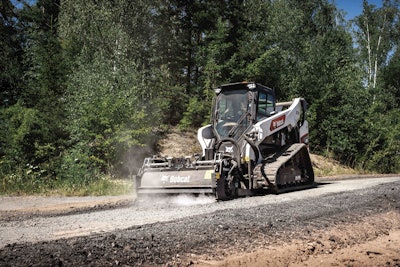 Recognizing that compact track loaders often function as platforms for attachments, Bobcat has launched a new heavy-duty brush cutter and expanded its line of milling planers, augers, breakers and grapples.
The brush cutter features a high-efficiency, direct-drive AP4 motor that maximizes hydraulic horsepower for cutting tall, thick vegetation and trees up to 10 inches in diameter. It is available in widths of 62, 74 and 86 inches.
Bobcat added two new cold planers designed for use with its Super Flow hydraulic systems on select CTLs. These planers are available in 24- and 48-inch widths. Bobcat also has a 40-inch planer that can run on High Flow hydraulics.
"The T86 is the most powerful compact track loader we've ever built," says Mike Fitzgerald, marketing manager, Bobcat Company. The T86 – and its skid steer version, the S86 – has three flow configurations available in one machine for running attachments:
Standard Flow is 23 gallons per minute and 3,500 psi;
High Flow is 36.6 gpm and 3,500 psi;
Super Flow is 42 gpm and 4,061 psi.
Bobcat's T7X is an all-electric compact track loader using electric actuators instead of hydraulics. It is touted for its quiet operation, responsiveness and instantaneous torque.
[Watch This: A Closer Look at the World's First All-Electric CTL: Bobcat's T7X]
Case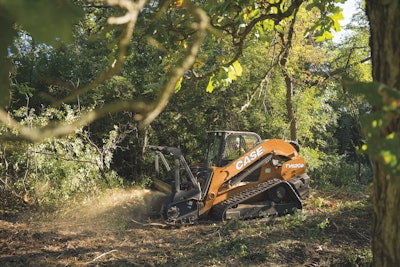 The TV620B is the largest of the six compact track loaders in the Case lineup. The 114-horsepower CTL has a 4,340-pound rated operating capacity at 35% of tipping load.
Standard features include adjustable electrohydraulic controls, high-flow hydraulics, auto ride control, one-way self-leveling, hydraulic coupler, auto-reversing fan and LED lights.
Jeff Jacobsmeyer, product manager, Case Construction Equipment, says the TV620B is "built to simplify heavy work such as cold planing, mulching, heavy material handling and loading high-sided trucks."
The TV620B features the Case SiteConnect Module for remote connectivity and software updates through the SiteManager app for iOS and Android. The SiteConnect Module also provides connectivity to the Case Uptime Center for collaborative fleet management among Case, the dealer and the owner.
There are six models of Case B Series compact track loaders of 74, 90 or 114 horsepower and operating weights from 8,270 to 16,100 pounds. All feature user-settable electrohydraulics controls whose settings can be stored by operator or attachment, a backup camera, wide-angle rearview mirror, and sloping hood and large side and front windows. Creep speed delivers full power to attachments while limiting ground speed.
[Related: Top-Selling Compact Track Loaders in 2023]
Caterpillar
Caterpillar has expanded the use of its GB120 and GB124 Smart Grader Blades to legacy D Series and D2 Series CTL models with the availability of a new external control kit, according to Kevin Coleman, senior product application specialist.
These Smart Grader Blades have always been compatible with current D3 models. The kit includes a third joystick for operating blade raise and lower, tilt, angle and wing functions.
Caterpillar also now has a 3D grade-control kit that uses existing connections to add automatic blade control to the Cat Smart Dozer Blade for the D3 Series CTLs. The 3D GPS/GNSS grade control allows operators to automatically grade planes, slopes, contours and complex profiles. The system provides vertical height and horizontal positioning guidance or, alternatively, controls the blade relative to a design loaded into the grade-control system.
The Cat Smart Dozer Blade comes with all the required hookups to install 3D grade-control components. Software updates and hardware are available to make existing D3 Series CTL models compatible with grade control.
D3 Series CTLs benefit from Caterpillar's new Smart Creep function when operating Cat cold planer and wheel saw attachments. The operator sets a maximum creep speed, starts the cut, and Smart Creep monitors the load on the attachment. Smart Creep automatically adjusts travel speed based on the load the tool senses while working. In the event the cutter stalls or jams, an auto-reverse feature quickly changes travel direction to clear the jam.
Caterpillar also offers the BH130 Smart Backhoe for D3 compact track loaders.
JCB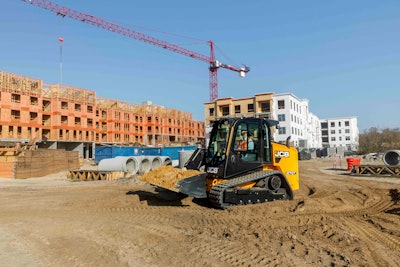 JCB debuted its new cabs earlier this year. A key feature is the new 7-inch touchscreen that shows engine rpm, travel speed, control mode, reverse camera in split screen or full screen, machine settings, job timer, language setting, fuel and fluid levels and myCHOICE controls.
Those myCHOICE joystick controls can be personalized for pattern (ISO or H-pattern), sensitivity, maximum speed forward and reverse, power management, joystick deadband and more.
"There are subtler improvements, as well," says Rebecca Yates, senior manager for product, JCB. "The door opening is slightly wider, and the grab handle has been repositioned, making entry and exit easier and safer."
JCB CTLs come with five years of the full LiveLink telematics package.
John Deere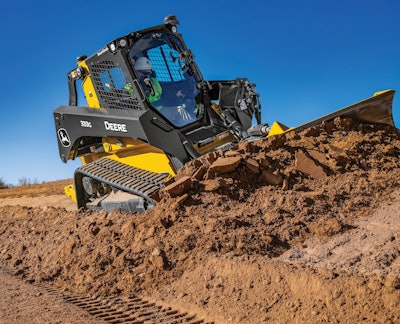 Select John Deere compact track loaders, including the 333G, have SmartGrade technology to increase productivity and precision.
SmartGrade integrates 3D plans and GNSS receivers on the machine, eliminating vulnerable masts and cables. This makes the CTLs easier to transport, have less ground pressure and easier to maneuver than many other grading options.
Business advantages from SmartGrade include making smaller contractors more competitive with larger firms with larger fleets and quickly making less-experienced operators more proficient. "Grade control systems work for you by eliminating the need for staking and grade checkers, enhancing both safety and productivity," says Luke Gribble, solutions marketing manager, John Deere.
Kubota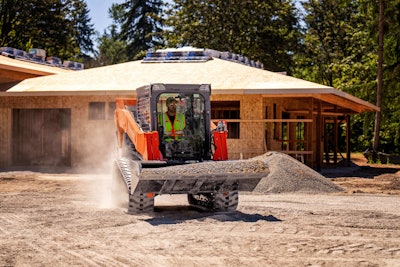 The new 74-horsepower SVL75-3 sits in the middle of Kubota's three-model CTL lineup, replacing the popular SVL75-2.
The SVL75-3 includes a number of new features and a host of features shared with other Kubota machines.
The SVL75-3 has an entirely new one-piece cab that significantly reduces noise as well as dust, dirt and water intrusion, the company says. There's a new 7-inch touchscreen with keyless start, display of all machine vitals and the display for the wide-angle (176-degree) backup camera.
Redesigned loader arms yield a hinge pin height almost 3 inches higher than the SVL75-2 while also improving rear visibility. The Advanced Multifunction Valve feature on the SVL65-2 is on the new machine, allowing enhanced, simultaneous machine and attachment operation.
The auto downshift feature on Kubota compact excavators has been incorporated into the SVL75-3. This function automatically shifts from high to low when executing a turn for a smoother ride and maximum torque when exiting the turn. The engine layout found on Kubota skid steers has been adopted on the SVL75-3. "With the radiator on top and the fuel tank moved to the rear, service access is greatly enhanced," says Jerry Corder, Kubota product manager, construction equipment.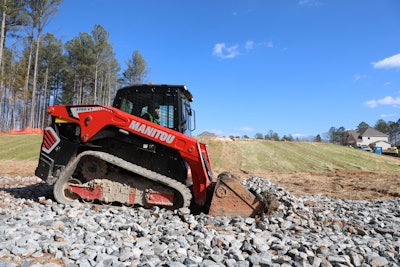 Manitou
Three all-new Manitou CTLs — the 2100 VT, 2300 VT and the 2750 VT — deliver improvements in safety, comfort, productivity, simplicity and serviceability over previous Manitou CTL models. All models are vertical lift and feature a new lift arm design meant to improve visibility.
The operator experience has also been improved with an update on Manitou's patented folding door — and the new cab further improves visibility with a new window and roof design. Breakout forces and tank capacities are increased for greater productivity and longer operating times — all with the same focus on lower total cost of ownership (TCO).
New Holland
New Holland Construction's newest model, the C330, will be at dealers beginning in October and will include several advances over previous models.
"We continue to improve the functionality of our 8-inch LCD screen," says Ryan Anderson, product marketing manager, New Holland Construction. "For example, auxiliary flow control is now managed from the display, as are security and operator codes."
The TerraGlide bogey-style track suspension system is coming over from the agriculture side of New Holland and will be in production in September. TerraGlide will be featured on its large C332, C337, C345 and C362 models.
As for alternative fuels, "there had been a mad dash of OEMs toward electrification," says Anderson. "Now there's also interest in methane, propane and hydrogen."
He says CNH Industrial, parent company of New Holland Construction, has been researching fuels companywide to find the best solution for its customers in the many markets it serves. As for construction, "there is a move to electrify the fleet," says Anderson.
Anderson says he's noticed a growth in "mom-n-pop"-style attachment manufacturers. Their products tend to be innovative and of high quality. One example is a rock picker designed to extract rocks from the ground with minimal soil disruption for minimal reworking.
Takeuchi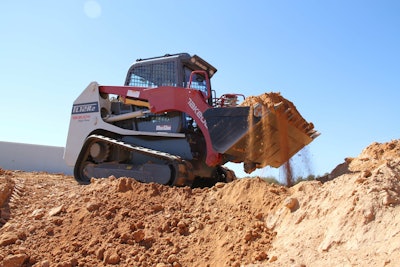 Takeuchi's newest CTL is the TL8R2. Its redesigned undercarriage features repositioned travel motors with internally routed drive lines and double- and triple-flange track rollers.
Options include high-flow auxiliary hydraulics of 33.8 gallons per minute at 3,045 psi (19.1 gpm is standard), load-sensing auto shift and creep mode. Work modes are Standard and Eco. Other features include LED lighting and high-torque spin turn.
"We've found that owners and operators really are looking for a more comfortable experience when using CTLs," says Lee Padgett, product manager, Takeuchi-US.
Takeuchi compact track loaders feature automotive-style interiors. Pressurized cabs are optional. Integrated electronic throttle and rocker switches control a variety of machine functions. Low-effort pilot controls and a 5.7-inch color screen with rearview camera monitor also improve the operator experience.
Wacker Neuson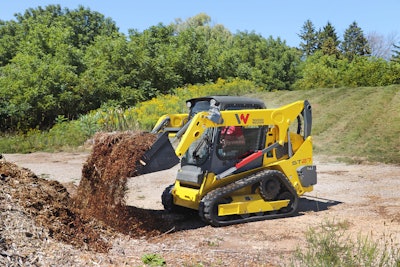 Wacker Neuson's newest model, the ST27, was introduced at ConExpo 2023. It is only 60 inches wide and 80 inches tall.
Despite its small size, the ST27 has a 1,890-pound rated operating capacity at 35% of tipping load. "This machine can easily access confined areas, yet with its high rated operating capacity, it can do more than many of its heavier competitors," says Doug Clark, product manager, compact equipment, Wacker Neuson.
The auto two-speed senses demand from the operator's joystick and will adjust the speed range to match the application and the operator's input. Top travel speed is 9.1 mph.
The vertical linkage features low-profile lift arms and a rear H-link positioned out of the operator's rearview vision. This design and the panoramic glass space provide excellent visibility, the company says.
The ST27 is offered as an EH joystick-only machine. All controls and switches are ergonomically placed.
All Wacker Neuson CTLs feature cabs that fully tip forward with the arms down for service access. The ST27 includes a cyclonic precleaner to extend the service life of air filter elements.
[Watch This: A Closer Look at Wacker Neuson's New Compact Equipment]