After a sneak preview in October, Kubota Tractor Corporation officially launched the new SVL75-3 compact track loader at ConExpo/Con-Agg 2023.
The new model is slated to arrive in dealerships by the first week of May.
You can see more of what OEMs released at ConExpo 2023 on our show page by clicking here.
In some ways, to replace its top-selling SVL75-2, Kubota has literally raised the bar with the introduction of the -3 series.
"With a wide range of performance and functionality improvements over its predecessor, and standard technology features included in the cab, operators are going to work faster and more efficiently on the jobsite," said Jerry Corder, Kubota product manager, construction equipment.
New features or options include a rearview camera, a 7-inch color touchscreen, a keyless start, a reversing fan, and much more.
"In changing this we've done far more than just slap some labels on it and add a dash to a machine," Corder said. "Outside of the fact that it's orange and has a roll-up door, pretty much everything has changed in this new iteration."
Elevated performance
The new CTL is powered by a 74.3-horsepower Kubota engine with higher maximum torque offering plenty of power for even the toughest tasks.
Corder noted that the cooling system management plant reduces the power requirement for the hydraulically driven cooling fan during high-load work. The fan optimizes efficiency by varying its speed to maintain water and oil temperatures. It will turn slower in cold temperatures allowing the engine to warm up faster.
Corder said the SVL75-3 incorporates several functions from other Kubota machines to increase overall efficiencies. For example, from the SVL65-2 it features an advanced multifunction valve. "This enables simultaneous function between the machine and attachments," Corder said. "It allows operators to run the auxiliary hydraulics, bucket, and loader arm functions at the same time with a lower risk of stalling."
Rather than bogging one or another down when engaged, he said, it prioritizes it all so that everything runs smoothly.
Corder added that the electronic travel torque management system is designed to enable operators to work faster and with more power by constantly monitoring the load to control hydraulic pump output accordingly.
Also, the SVL75-3 gets a boost of a couple of gallons per minute in hydraulic flow in standard and high-flow settings. For attachments, multifunction grips and 14-pin connectors are standard on high-flow models and an option on the standard loaders.
Speeds have been increased in both the low and high ranges. Operators can shift from low gear at 5.6 mph (0.9 mph faster than SVL75-2) to high gear at 8.6 mph (1.5 mph faster).
"You can do more work faster than you could before," Corder said.
From its compact excavator lineup, Kubota has added the advanced auto downshift system. "What this does is, without any input from the operator, when you enter a turn and you're in the high range, it automatically downshifts to the low range, giving you a smoother ride and maximum torque when you need to exit the turn," he said. "That's an automatic feature, which is really beneficial if you have a heavy load or you're carrying a load up high."
Operators also can change their travel response sensitivity with the choice of three track response settings: mild, normal, and quick.
"Depending again on operator preference and ground conditions, you can change how the tracks respond at the flick of a switch," Corder said.
According to Kubota, normal will act like the SVL75-2, and mild mode will restrict track response for working in tighter spots near an object. For those who want a faster response and like to get in there and go, they can kick it into the quick setting.
Workability
"We've redesigned the loader arms, both front and back so you have a higher hinge pin height, roughly 3 inches higher than the SVL75-2 in the front," Corder said. It reaches a hinge pin height of 122.7 inches making it easier to dump into any container or truck.
In addition, he said, the cross pipe was raised in the back, providing increased rear visibility outside the cab.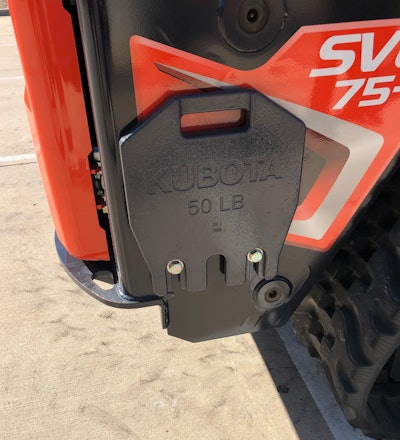 For even more weight to increase lift capacity, Kubota has added optional 50-pound ballasts on each side at the back of the SVL75-3.
According to Kubota, the machine offers 6,191 pounds of breakout force and has a working range that includes a rated operating capacity of 2,490 pounds at 35 percent or 3,557 pounds at 50 percent.
Corder noted that the SVL75-3 comes standard with a selectable bucket self-leveling function. "You can turn it on and off as you need to, depending on the preferences of the operator, or on the conditions that you're facing."
Corder added that the SVL75-3 has standard auxiliary coupler guards to keep those secure and protected.
Another option is high-flow hydraulics, which increases auxiliary hydraulic flow to 29.8 gallons per minute. The coupler manifold has both 1/2" and 3/4" couplers.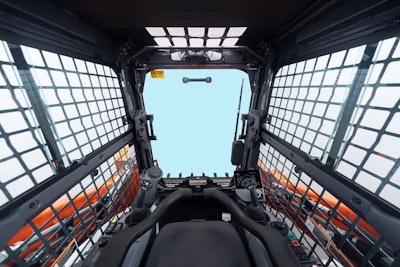 One-piece cab
Available as an open or closed cab, the SVL75-3's side-screen width of 36 inches provides ample room for a comfortable operating environment, Kubota says.
"This machine has an all-new cab," Corder said. "Instead of a two-piece cab, we've gone to a one-piece cab that is sealed to prevent dust, debris, water, dirt, and anything from entering. It also serves to insulate from sound, so it's not only a cleaner place to work but also a much quieter place to work."
Operators step into a wide entrance through a sliding front door that can be opened regardless of the position of the bucket or loader arms. Full machine operation is possible with the door open. The lights' shut-off on the machine can be delayed via timer so the operator can still see when exiting the cab when it's dark out.
"Inside the cab, we've completely redesigned the HVAC system," Corder said. "We've increased the number of vents and we've repositioned them so that you get more consistent cooling within the cab."
In addition, he said, the controls have been repositioned. "In the past, it was kind of hard to reach while you were operating the machine, so we've moved it not far, but just high enough so that you can see them with the lap bar down and you're able to operate and change things as you will."
For regular operation, the multifunction levers provide fingertip control of all major vehicle and attachment operations, letting you keep both hands always on the levers for operating efficiency. The levers are standard on high-flow models and available to be installed as a kit on standard-flow models.
Backlit controls and grip functions with better labels help most operators work in low light conditions and assist less experienced operators in learning where controls are.
"When you're in low light conditions, you don't have to memorize where the switches are to do the work, and if you're unfamiliar with it, it also allows you to see what you need at a glance," he said.
The big change in the cab is a 7-inch color LCD touchscreen with a jog dial positioned to the front right for easy visibility and access. First and foremost, the new standard rearview camera is displayed on the screen.
"It's a large display so that you can see the minute detail behind you more so than just the large obstacles," Corder said.
The 176-degree wide-angle camera is incorporated into the rear panel. "That gives you great side-to-side visibility from the cab and good top-to-bottom visibility so that when you're in a cab looking backward, you can see right off that back bumper any obstacles behind you," he said.
The touchscreen also shows all the vital engine functions such as battery charge, hydraulic oil and coolant temperature, auxiliary mode, and fuel level. Corder said it will display all the settings that operators will have switched on. The jog dial and switches are both intuitive and easy to use.
Also, standard on closed-cab units is an integrated Bluetooth radio that allows for Bluetooth streaming and hand-free calling via an in-cab microphone.
"Whatever you want to do, again to make that operator experience that much nicer," the product manager said.
The SVL75-3 is keyless. It's started by entering a 4-digit passcode on the touchscreen. Up to 51 user passcodes can be recorded.
Simplified maintenance
"If you're familiar with the SVL engine configurations in the past, this is quite a difference," Corder said. "We've borrowed this engine layout from our skid steers, which puts the radiator on top and moves the fuel tank onto the back door."
It opens the entire area up to provide operators full access to filters, fluid fill points, and the battery.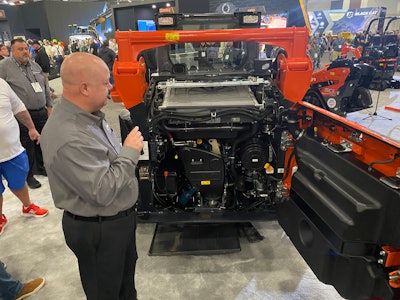 "Everything you need to do for routine service and maintenance is right at your fingertips," he said. "You don't have to move the radiator out of the way or any other such things to access it."
Radiator components are mounted on top of the engine compartment, making them easy to clean and maintain.
"We've added an optional reversing fan to this unit," Corder said. "With the radiator on top, the deck will collect debris, and so with the reversing fan in, it keeps it clear so that your engine cooling and airflow is unimpeded."
In addition, the one-piece sealed cab can be tilted up 56.5 inches without having to lift the boom, providing access to the hydraulic pumps, valves, lines, and hydraulic tank.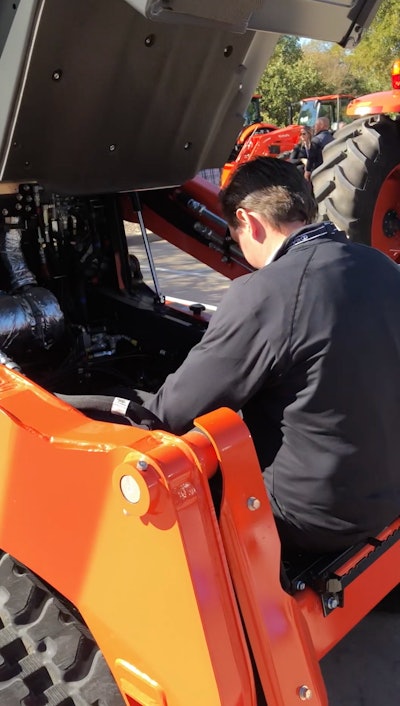 Corder said another of the borrowed concepts from other Kubota machines, in this case, the SVL97-2, is a standard engine pre-cleaner.
One option available is a lock for the fuel fill. "It seems like a minor thing, but in some parts of the country, it is very important to maintain the ability to keep it secure," he said.
Quick Specs
Engine: Kubota 74.3 horsepower
Rated operating capacity (35% of tipping load): 2,490 lbs.
Rated operating capacity (50% of tipping load): 3,557 lbs.
Bucket breakout force: 6,191 lbs.
Operating weight (Open Cab / Closed Cab. Including operator weight 165 lbs.): 9,190 lbs./ 9,420 lbs.