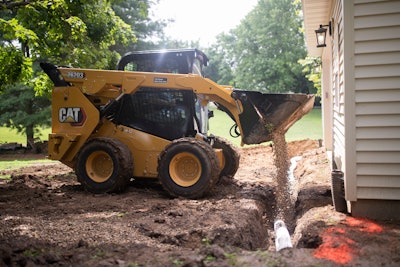 Caterpillar
Skid steers' loss of market share to compact track loaders has mostly stabilized, and while new models of skid steers aren't flooding the market, they do come along periodically and with significant advances.
In this report, we take a look at the new models on the market and improvements to existing skid steers, as well as offer tips for buyers and for finding the right attachments. We also check in on the supply of available new machines.
Bobcat's most powerful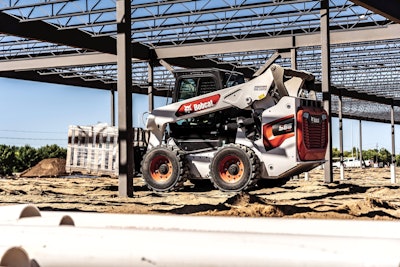 "In September 2022, we launched the S86, Bobcat's most powerful skid steer to date," says Jorge De Hoyos, senior product manager for loaders, Bobcat Company.
The S86 has 105 horsepower. It also has three hydraulic-flow options. Standard flow is 23 gallons per minute and 3,500 psi. High Flow is 36.6 gpm, also at 3,500 psi. The Super Flow options bumps flow to 42 gpm and pressure to 4,061 psi.
"It's the only loader offering three hydraulic-flow options in one machine," says De Hoyos, "setting a new industry benchmark."
To accommodate the increased heat load of high-powered attachments, the radiator and oil cooler of the S86 have been increased in size by 30%. The fan is twice as big and is reversible. The base machine includes a cab, dual-direction bucket positioning, the Power Bob-Tach system, automatic ride control, two-speed travel, a rearview camera and selectable joystick controls.
Deere's new 334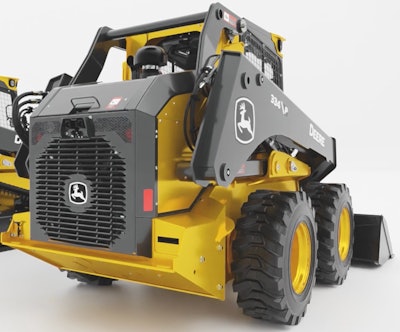 John Deere revealed its new 334 at ConExpo 2023. The 118-horsepower 334 is the first in the next generation of large-frame machines, which include the 330G and larger models. It is also the first skid steer to get the new Performance Tiering nomenclature Deere is bringing to its machines.
The 334 will be a P Tier model, which is nearest in performance to the G Series machines, says Luke Gribble, solutions marketing manager. Performance tiering includes G Tier, which is for basic models, and X Tier, which has advanced technology.
"Deere will continue to monitor the market to see if there's demand for either of those in the skid steer category," Gribble says of G and X tiers.
While there is no grade control or Smart Grade in P Tier, there are other enhanced features, such as rearview cameras.
The 330 will also receive a Tier designation and, except for the higher horsepower of the 334, it will share the 334's P Tier features including a new hydraulic system, an improved cab, a new touchscreen monitor and easier-to-use controls.
New Holland goes electrohydraulic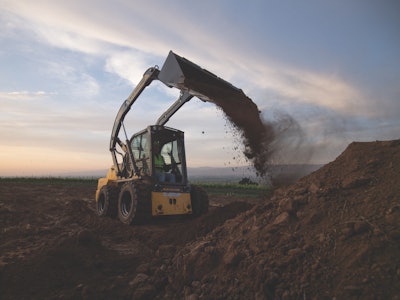 Ryan Anderson, product marketing manager, New Holland, says the relative lack of new skid steer models is simply a reflection of market economics.
"With CTLs selling around 85,000 units per year and skid steers around 30,000, it's easy to see why resources go largely to CTLs."
That said, there are continual improvements being made to existing skid steers. New Holland offers high-flow auxiliary hydraulics on models of 90 horsepower and greater. Electrohydraulic controls provide improved performance, and EZ EH controls can be adjusted for speed and sensitivity to meet operator preference and to best suit the application.
Since CTLs and skid steers share cabs, improvements to CTL cabs are shared with skid steers. Likewise, cameras have found their way into both types of machines.
Anderson says significant advances have been made by providers of wheels and tires for skid steers, such as run-flat designs and the bolt-on solid tires from Evolution Wheel.
Cat brings higher tech
Kevin Coleman, senior product application specialist, Cat, says Cat has long sought to bring tech to its skid steer loaders.
"An early example is having ISO controls, one hand for drive and one for loader controls, back when skid steers were still operated predominantly by foot pedals."
More recent developments include return-to-dig function and dual self-leveling. Work tool positioner allows the operator to select and set the desired working angle (tilt position) of any attachment. The attachment can then be returned to the pre-selected angle with the touch of a button. This provides better control and finish quality in applications where a repetitive attachment angle is desired for maximum productivity and consistency. Applications include fork operation, trenching, wheel saw cutting/trenching, bucket back drag angle and cold planer/milling.
Case's next generation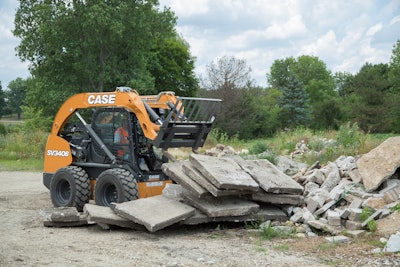 Case B Series next-generation loaders have been available since 2020. The line includes eight models of skid steers. There are vertical- and radial-lift models with three control options available when spec'ing a machine: standard mechanical, mechanical hand-and-foot and electrohydraulic.
Jeff Jacobsmeyer, product manager, Case Construction Equipment, says that while the B Series has enhanced performance features, "overall, we focused on delivering a more automotive-style experience to the operator."
Operator profiles can be set, stored and recalled to match performance to the operator or the job. The 8-inch LCD monitor offers an automotive-style display of standard and enhanced operational information. Fault codes include descriptive text in the display. Electrohydraulic control responsiveness can be set to low, moderate or aggressive; tilt, lift and drive speed can be set independently.
Creep Speed allows slow travel speed with full power available to hydraulic attachments. Economy mode and engine protection settings include engine shutdown, ignition timeout and engine protection features to extend the life of the engine, battery and other critical systems.
All Case B Series models now include Hydraulics on Demand, "which allows the operator to set the percentage of flow in each hydraulics system that is actually going to the attachment," says Jacobsmeyer. "It's no longer all-or-nothing."
JCB makes improvements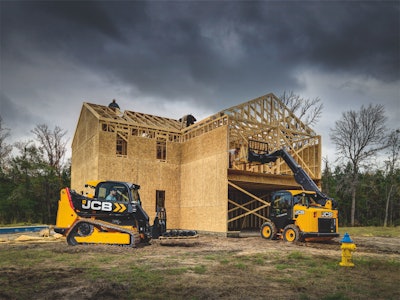 JCB has made a number of improvements to its skid steer and TeleSkid models.
Upgraded electronic and hydraulic control systems offer improved ease of use. New control levers are integrated to the seating pod, and the levers offer better feel and response.
A new door design improves rear visibility and provides easier ingress and egress. A 7-inch touchscreen display has language selection and machine functionality controls.
Getting the right attachments
Applications drive attachment choice, and attachments drive skid steer choice.
"The primary influence attachments have on machine choice is flow," says Jerry Corder, product manager, construction equipment, Kubota.
"But attachment weight also has a bearing on the machine. If you are using an especially heavy attachment, you will need a heavier machine or a counterweight to protect against nosing over or to ensure the unit can lift the attachment at all."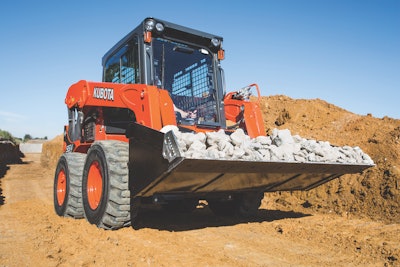 Case's Jacobsmeyer says, "We talk a lot about the profitability multiplier that attachments represent with skid steers. You significantly improve the utilization rate of that machine if there are more things you can do with it."
He suggests using hydraulic horsepower as a better measure of skid steer performance. Hydraulic horsepower is gallons per minute multiplied by psi and then divided by 1,714. A skid steer with 20 gpm and 3,500 psi would provide 40.8 hydraulic horsepower. It's a good way of comparing machines with dissimilar specs but similar overall hydraulic performance.
Gribble, with Deere, says it's important to anticipate needs because "you can't retrofit high-flow. If you think you'll need it, get the machine configured with it."
He also says it's important to know whether the stock controllers will interface with the intended attachments or whether a set of secondary controllers will be required. OEMs generally design attachments to work with both compact track and skid steer loaders; there are very few skid steer-only attachments. This simplifies the attachment selection process.
His final tip is for customers to ask their dealers what's trending. "Your dealer knows your market well and can help you spot opportunities."
Renting is also a good option, whether attachments or skid steers or both as a package. Beyond giving customers a way to meet short-term needs, renting helps them determine if specific attachments will get enough use to justify their purchase.
In general, says Anderson with New Holland, customers are pretty savvy about matching attachments and skid steer loaders, and OEMs have been working with attachment manufacturers to ensure compatibility. "We're about on par between the demands of attachments and the performance of skid steers."
Keith Hoskins, vice president and group head, skid steers and compact track loaders, JCB, says the 3TS TeleSkid offers unique benefits with attachments.
"Its side entry means no issue with large attachments restricting cab access. The JCB444 engine is capable of driving large attachments and the TeleSkid design offers superior lift height and reach."
Coleman says Cat's Smart Attachments have brought tool and machine integration to a new level.
The Smart Backhoe and Smart Grader Blade are well suited for skid steer use. Once attached, the tool and the host machine recognize each other and communicate so that the machine's joystick controls are configured for the specific actions needed for the specific Smart Attachment. With the Smart Backhoe, for example, the in-cab controls convert from skid steer to backhoe controls; the operator can select between backhoe and excavator control patterns.
Cat's cold planer and wheel saw attachments include a variant of Smart Technology to include creep speed, which further refines operation by automatically adjusting travel speed to accommodate changes in load. "It's like adaptive cruise control," says Coleman.
What's the supply situation?
Anderson says the roughly 30,000 unit sales per year of skid steers seems sustainable.
"Agriculture, snow removal and asphalt paving will continue to support sales."
He says availability has mostly rebounded from the effects of the pandemic, but full recovery won't likely happen until late 2023.
Corder notes that ongoing supply chain issues "continue to affect product availability across the industry, which has prompted some purchasers to opt for skid steers when a track loader could not be sourced."
Jacobsmeyer says that while the decline in skid steer sales of the past several years has leveled off, the industry trend still favors CTLs.
"That said, there will always be applications where skid steers make more sense, notably operation on paved and improved surfaces. The wear and tear of those environments is less costly on a rubber-tired machine than it is on rubber tracks and an entire undercarriage system."