While most closely resembling a track loader, Doosan Bobcat's concept all-electric and autonomous RogueX is in a category all its own.
Having produced the all-electric T7X compact track loader and revealed the upcoming S7X all-electric skid steer, the company gave customers a peek at its take on the next evolution of compact equipment at ConExpo 2023.
"This is a concept machine that combines the best worlds of autonomy, connectivity and electrification together in one package," said Joel Honeyman, Bobcat vice president of global innovation.
You can see more of what OEMs had at ConExpo 2023 on our show page by clicking here.
As a research and development project, the RogueX was built as a proving ground to advance the Bobcat innovation roadmap, evaluate customer opinions and test the limits of machine functionality. It was developed in collaboration with Moog Inc., a developer of motion control components and systems, and Viridi, a developer of lithium-ion battery systems for industrial applications.
RogueX is in the early research and development stage at Bobcat. No details on future commercialization were available.
"After our successful development of building an all-electric loader [the Bobcat T7X], we wanted to think bigger, broader and take a leap far into the future," said Matt Sagaser, director of innovation accelerated at Bobcat. "Our dedicated innovation team took a bold approach and designed a machine that breaks all the rules. RogueX sets a framework for what is possible, and our team is just getting started on what is next."
This concept machine explores the capabilities of electric power, autonomous operation and dual lift-arm geometry. Outside of its electric-drive motors and lack of hydraulics, the difference from any traditional loader is the RogueX's lack of an operator station or cab. The machine explores the idea of operating where humans cannot go to tackle more work in more places than ever from a remote position.
"If we remove the operator station from a vehicle to create a whole new machine, that opens up all new possibilities in design," Honeyman said. "It's a clean sheet; now we can do whatever we want."
Bobcat's engineering design team was presented with the challenge of developing a machine with no operator cab, utilizing the latest electric and autonomous technology it has immersed itself in the past two years.
"We combined those aspects to create a different work machine that can remotely or autonomously. Because of that, it became this all-electric RogueX, which created a whole new lift arm geometry and design that is really the secret sauce behind this vehicle," Honeyman said.
With no operator station, the designers had more geometry to work with for lift capabilities. The RogueX has the unique status of having both a radial and vertical path with its rocking H lift arm.
"The lift arm actually goes out and comes back, which means we can lift vertically, or we can lift on a radial path, on the same machine," he said. "You just can't do that today with anything else because everything is fixed."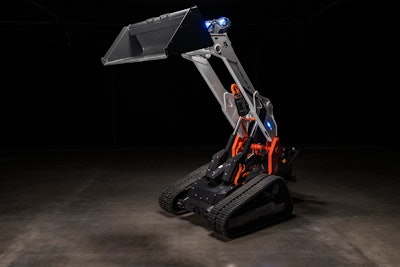 Honeyman said the RogueX has more reach than any other loader on the market because of the geometry available with no operator station in the way. It can raise 12 inches higher and has an additional 24 inches of reach compared to current Bobcat machines.
"This is a further out there vehicle to kind of test the limits of what this technology can be," he said, acknowledging that as a concept, it is not likely ready for contractors in its current state.
"We haven't taken it out to customers, and I don't know that the current version would be a production version," Honeyman said. "I view this more like an automotive concept prototype."
He compared the unveiling of the RogueX to a prototype car unveiling at the annual Detroit Auto Show.
'When you look out there, and you'd see these cool concepts and a few years later you're like, wow, that didn't go to production, but what you found was, there were certain aspects of the concept vehicle that did go into production," Honeyman said. "We would view it that way, as there might be some aspects of the RogueX that the customers gravitate to, and we decide to commercialize those pieces."
Bobcat intends to engage customers and see what design aspects are important to them and try and incorporate those into future version of the design.
"This is a type of a smaller platform, a cabless concept that definitely could be a work vehicle but we're just trying to sort through and we're gaining a lot of feedback at this stage just to see what makes sense," Honeyman said.
Variants of the RogueX will be built internally at Bobcat to start gathering feedback.
"At this point, it's a concept machine to test several different variables and see what people have to say about it," he said.
Remote or autonomous?
Like its predecessors, the RogueX is an all-electric machine driven by a lithium-ion battery, an electric drive system and no hydraulics.
"The RogueX was conceived with consideration for the worksite of the future and how a customer's needs may evolve – with a focus on ease of use, remote operations, autonomous functionality, sustainable operations and features that allow operators to accomplish more with one machine," Honeyman said.
Before the development of the RogueX, Bobcat had done quite a bit of work with autonomy on its existing product lines.
"We haven't commercialized it but we're well down the path," he said.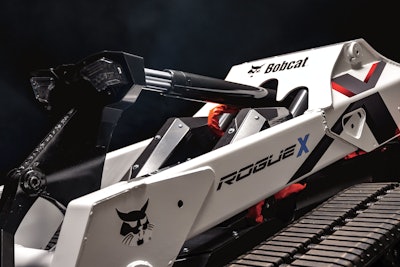 To make it a viable product the RogueX likely will need some autonomous functionality. The difference, according to Honeyman, will be in the overall approach.
For example, some other manufacturers and start-ups working with autonomy have demonstrated machines moving dirt from point A to point B.
"That's easy to do and that's not a real job," he said. "People don't just move dirt from Point A to Point B. When it comes to a loader, you might be below grade, you might be doing finish grading work or lift and carry jobs."
Honeyman acknowledges that autonomy for more advanced functions such as grading is further out there compared to lift and carry and other basic things that are more straightforward applications. Those are the options Bobcat is working on.
"We're taking a more practical approach to it rather than again, the start-up world, where they're trying to do everything, which is not realistic because every job site is different," Honeyman said. "There are a lot of factors to consider when you start talking about some of that work."
Bobcat intends to add the technology to assist the operator to be more efficient while they're still in the cab.
"That's really what our mission is," Honeyman said. "We hear this a lot, I've got a new crew person, how do I make them efficient in a loader or excavator on day one? We believe that's part of autonomy." He said in a variety of machines, including the RogueX, those types of features are being built in with Bobcat MaxControl serving as the building block of the autonomous platform.
Through its research on MaxControl, Bobcat found there are a certain number of operators and applications where they just don't want to get keep getting in and out of the cab of the machine, if they're doing active work, or they're the only person on the site.
Honeyman noted that with a loader, an easy example is the installation of a fence, where an operator must drill a hole, get out, put a post in, and keep going. If the machine is autonomous and drills the holes autonomously or via remote, the operator doesn't have to keep getting in and out of the machine.
"It was more of an accidental innovation when it came that way and we did our customer research," Honeyman said. "Now we've incorporated MaxControl in every development platform. It just gives people a different flavor for how they operate the machine. You can't do everything with a remote control but that's not what we're trying to replace. You can do a lot of things with it and supplement if you're the only person on a site."
Another piece of the autonomy puzzle is radar object detection. In 2021, Bobcat formed a strategic equity investment with Lawrence, Kansas-based Ainstein AI, a startup radar technologies company.
The resulting technology using a combination of mmWave radar (a sensing technology for the detection of objects and providing the range, velocity, and angle of these objects), sensor fusion, and artificial intelligence is slated to be released in 2023 or 2024.
Honeyman said the technology will enable obstacle avoidance solutions and technologies that supports autonomous operations.
"Once you add these together, suddenly I can turn it on, and I can do some automated things or assist the operator," Honeyman said. "That's the path we're going down."
"If we added in these other features where it could go lift, dig, and dump and come back to a site on its own, now it has real power to have that potential," he said.
The RogueX was one of Bobcat's examples of how it intends to use that technology.
What's next?
With an available fleet of battery-powered excavators and all-electric machines and now potentially this unique cabless machine, Honeyman often receives the inevitable question, what's next? Are hydraulics a thing of the past?
"If you look at our electric (battery—powered) excavators, those all still have hydraulics on them," he said. "I think it's more of when we look at the technology, what can we optimize and what has an advantage."
According to Honeyman, making an excavator all-electric, simply wouldn't be as compelling.
"We discovered in our process, it was more compelling to do that on the loader aspect because there were so many other things a loader does," he said. "For us to optimize that platform just made a lot more sense compared to an excavator."
He admits that Bobcat is working on other types of platforms to apply the technology to.
"We're keeping all of our options open at this point," Honeyman said. "It must be an optimized platform."
From his perspective, the benefits are far more than being environmental or serving any political agenda as some customers and blogs have assessed. To those customers, he offers the challenge.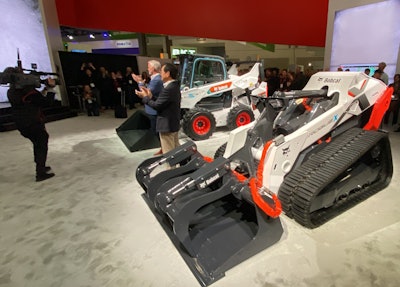 "Drive one of the machines and feel the instant power," he said. "We've filmed customers talking about their preconceptions, then again after they've tried and the response is often 'I didn't know, this is amazing."
Having the option to pursue all-electric in some platforms has enabled Bobcat to do a lot of things going forward.
"What I would say is, we've learned how to apply electrification to the applications of the equipment," Honeyman said. "It's easy to say, we'll just take your loader and take the engine out and put a battery in it. However, if you haven't optimized the platform, the runtime may not be there, you're going to introduce all kinds of other issues and there might not be hardly any advantages for the customer."
Bobcat is taking the opportunity to determine, how to optimize the platform, knowing there is going to be an electric, hydrogen, or whatever style power plant inside the machine.
"That's what our approach is and there are numerous other concept vehicles I can't talk about, that we're working on that are really cool aspects of bringing those things together," Honeyman said. "We're excited because we've unlocked this first part, and now it's opening up all these other doors for us to be able to explore some different types of solutions."