John Deere
Technology has enabled many features that save costs when running an excavator, by reducing fuel consumption and machine wear-and-tear. But there are so many variations among brands, the choices can be confusing.
So for this report, we spoke with manufacturers to help sift through the many offerings. They offer tips to help you find the right features on your new excavator, as well as make the most of your existing machines. We also highlight the latest excavators on the market.
So many work modes
There are several work modes, auto-idle and auto-shutdown settings on the market, but there is little standardization.
Delay intervals on auto-idle and auto-shutdown may be user-settable or may be factory set; some machines have auto-idle but no auto-shutdown.
Many machines have three work modes; some have four or more. Some work modes can be tailored to the needs of specific attachments.
Work modes are sophisticated. Many will reduce engine speed, but most also affect hydraulic operation.
"If the operator merely reduces engine rpm, that does not equal the effects of running in a work mode," says Dave Donneral, Kobelco Construction Machinery U.S.A. Inc.
"The machine is designed to run at maximum efficiency in each mode setting. By changing only the throttle setting, you are disrupting the machine's calibration, so you are not running at the efficiency level the work mode would provide."
The diversity of features is exemplified on JCB excavators. The Load and General modes each have three speed settings. There are also High and High Plus settings. (High Plus delivers about 10% more power for 10 seconds.)
Faced with so many choices, what's an operator's best course of action?
"Set it and forget it," says Chris Lucas, JCB excavator product manager.
He says operators quickly learn which mode is best for the task. He adds that the performance in any given mode isn't so narrow as to be restrictive but is actually quite forgiving.
There's auto idle and also Below Idle, which drops engine speed 200 to 250 RPM, and to as low as 900 RPM when the left arm pad is raised, as it would be when the operator is exiting the cab. This reduces both fuel consumption and noise.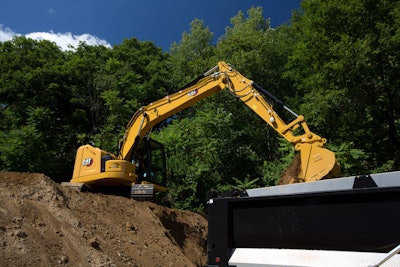 In addition to Eco and Power modes, Cat excavators offer Smart mode, which monitors hydraulic and engine load and stick position to automatically deliver optimal performance.
Brian Stellbrink, Cat market professional, excavators, says Smart mode provides a wide range of responsiveness. It is almost instantaneous in moving up in Power mode but slower to go down to Eco, although it is always looking for opportunities to do so.
"Smart mode automatically provides optimal fuel efficiency and performance without input from the operator," he says.
Mike Fitzgerald, marketing manager for Doosan Bobcat North America, points to Bobcat excavators' depth-check system as another cost-saving feature. "The Bobcat depth-check system is easy to use and delivers accurate dig-depth measurement for precision performance." This eliminates over-digging and the costs of backfilling and compacting, as well as under-digging and the costs of manual labor to finalize the depth or grade.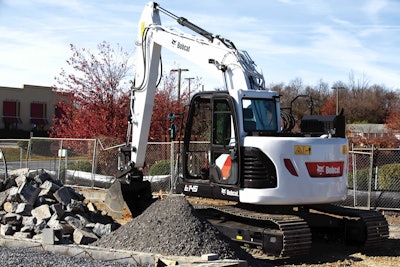 Don't forget to save money
Staying mindful of the many cost-saving features of a new excavator can be challenging.
"A new machine comes with a lot of information," says Michael Bennett, product portfolio manager, LBX Link-Belt.
"Some things may get overlooked or forgotten by the customer when the machine is put to use. Operators need to be educated about features initially and then reminded periodically."
Reports are that many operators are reluctant to use such features. They fail to appreciate that for many applications, maximum power is not optimum power.
Jim Joy, product manager, LiuGong, says the tendency of operators to want full power, full time isn't universally true. He points to three types of operators as examples:
"Owner-operators tend to employ operating economies, especially for tasks such as backfilling and placing pipe where full power is clearly not needed." Owner-operators see the benefit of using modes on the bottom line and need no further incentive.
"Dedicated operators who are assigned to one machine also tend to use modes more often." Their performance can easily be monitored through telematics, so accountability is high. This makes individual incentives to use the features an option, but owners may find the level of telematics programming necessary to acquire that information and the in-house resources needed to manage it are not justified.
"Operators that move between machines are the hardest to track and are the ones most likely to go full power all the time," Joy says. Group incentives can help, but in the end, it can be hard to break these operators of their wasteful operating habits.
David Caldwell, national product manager, Takeuchi-U.S., says that communication is key.
"You simply can't expect operators to always think with profitability in mind; you need to instill that goal in their minds. Talk about your expectations and priorities. If you don't tell operators what you want and expect, they will do things their way, which may include habits you don't want or need on your jobsite."
Caldwell also notes that a highly skilled operator's productivity in full power mode may more than offset any efficiencies gained in Eco mode. "A skilled operator has a feel for the machine and will take smooth, precise cuts, allowing the machine to work at its maximum potential without stalling out or pushing the hydraulics over relief. Every time the bucket stops in the material instead of moving continuously, there's a waste of time, money and fuel."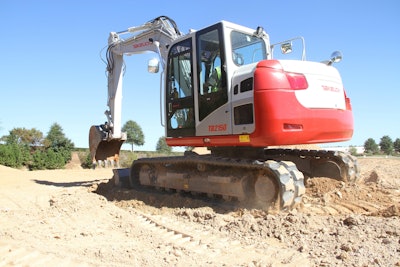 When providing a reason for operators to take advantage of modes and other cost-saving measures, it may help to look beyond compensation, says Bart DeHaven, director of sales, Kato-CES.
"Everybody's motivated by something. For a lot of people, that's appreciation."
S.S. Kim, mid-size excavator product manager, Volvo CE North America, says to "ask your operators to just try different modes for a specified period of time and then be honest with themselves and with you. Can they work as effectively in a more fuel-efficient mode as in full power?"
Show them the math on fuel if you have that available and explain how their operating decision affects the profitability of the company and, ultimately, the value and quality of their work experience.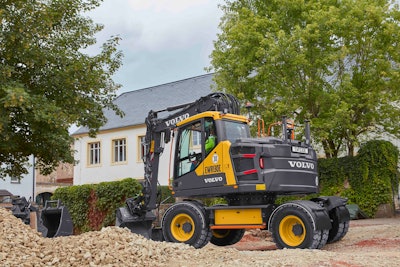 Wheeled savings
Several OEMs offer wheeled excavators. Their main appeal is higher travel speeds and roadability but not all are used in this way, and the diversity of tires and wheels reflects this. Options include wide singles for soft underfoot conditions, dual wheels for better roading, and solid and foam-filled tires for areas with debris, rocks or other tire hazards. Tread patterns also vary.
As with tracked models, the drive systems on wheeled models can be high-cost items with corresponding opportunities for savings. With wheeled models, most of those savings come from proper tire management. It bears emphasizing that this starts with proper inflation, but there are many other tools.
"Don't turn the steering wheel when the machine is not in motion," says Joy, "and don't spin the tires when stuck. Get another machine to help with extraction."
"And tire quality matters," he adds. "Your fixed costs – labor for mounting, shop supplies, downtime – will be fixed, so why not apply those costs to tires that will give you the best performance and service life?"
Stellbrink says the right choice of wheels and tires makes a difference, and those choices are aided by a wide range of options. "And use outriggers when possible to take stress off the tires while digging."
PM savings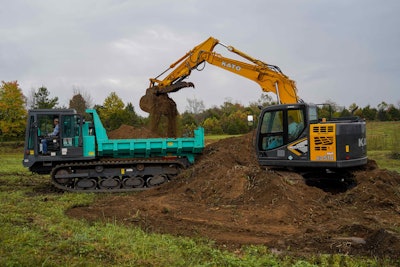 Preventive maintenance intervals have been extended several times over the years. Tighter tolerances, better filters, more efficient cooling systems and more robust oils and other fluids have enabled this. Depending on the size of the excavator, engine oil intervals of 500 hours and hydraulic intervals of 5,000 hours are becoming common.
Is there room for further extensions of intervals?
"Whether we're at a sweet spot or a ceiling, these hours seem about right," says Justin Steger, solutions marketing manager, John Deere. "Many customers are observing more conservative intervals as it is, such as 250 to 300 hours on engine oil."
He says the maintenance interval is one thing, "but the key thing is fluid condition, which is what maintenance intervals are supposed to manage."
Deere is among the many OEMs offering fluid sampling and strongly encouraging customers to use it; some OEMs require it to maintain warranty coverage.
"Pull the samples regularly. It's easy to monitor sampling to ensure it's getting done," Steger says.
Most OEMs provide sampling ports to make pulling samples as easy as possible.
"We are one of the ones who have not extended PM intervals," says Kato's DeHaven. He says machines last longer with conservative PM intervals and regular close inspection.
"Longer service life of the machine more than offsets any additional costs associated with more frequent servicing." He emphasizes that PM intervals are system-specific (engine oil, hydraulic oil, fuel system, etc.). "Air and fuel filters are commonly overlooked and are critical to the performance and longevity of the machine, especially given the sophistication of today's fuel injection systems."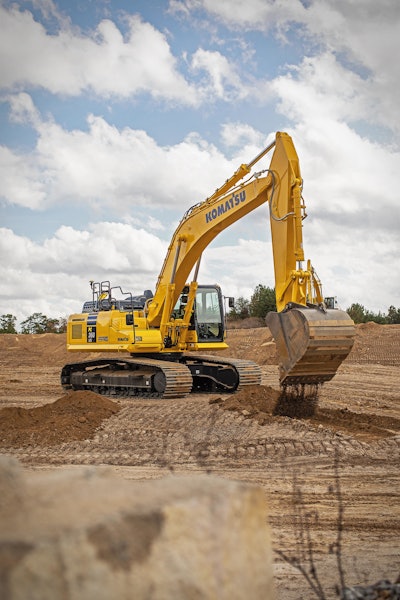 Kurt Moncini, product manager, Komatsu, says following the OEM's PM guidance is not just about intervals but also about products. "Make sure the products you use meet the manufacturer's specs."
He also warns against over-greasing because excess grease can hide problems. Komatsu's Smart Construction Field app is used for machine inspections and for sharing the results of those inspections.
Donneral says intervals may need to be adjusted, which typically means shortening the intervals. "Customers must understand that intervals can change in severe-duty environments or when using certain attachments," such as those requiring high flow or those creating lots of dust.
More money-saving tips
Steger says it's critical to monitor track sag. "Undercarriage costs get astronomical in a hurry."
He says extended warranties give customers a better means to predict and control costs. "They all have exclusions, so make sure you understand what your extended warranty covers."
And he says the range of attachments provides ways of getting higher utilization – and therefore higher income – from the machine and operator you already have working for you. "An excavator is a hydraulic pump on tracks," he says.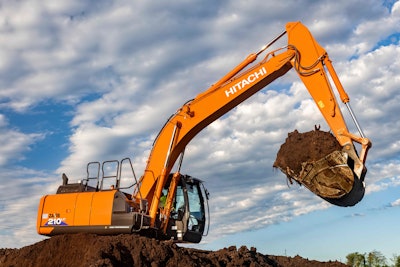 Moncini urges repair before failure. Waiting for failure always results in unexpected downtime and other costs and inconveniences, but some failures, such as those of the hydraulic system, are catastrophic and involve lengthy and costly repairs.
He advises best practices in managing diesel exhaust fluid: keep it clean, keep it in DEF containers, don't mix DEF from multiple containers and keep DEF out of direct sunlight.
Electric fans are also becoming the norm. The Cat 320 has five variable-speed reversing fans for zone-specific cooling and closely matched response to demand. Understand how electric fans work to optimize cooling efficiencies, reversing cycles and other features.
Joel Escalante, excavator product specialist, Hyundai Doosan Infracore, says sharing telematics information with operators can help them understand the big picture and their role within it. "Owners can use a telematics fuel report to show how much fuel that employee is using in different power modes." (Doosan has four modes: Economy, Standard, Power and Power+.)
"Also review telematics data and identify operating trends among employees," he adds. Call attention to idle time and encourage employees to reduce it.
Finding the right machine
"Look at the big picture," advises Peter Bigwood, general manager of Mecalac North America. "Don't just look at machine specs or purchase price. Know where each machine fits into your complete operational strategy."
In the range of excavators greater than 10 metric tons, Mecalac has two wheeled models and, with the recent introduction to North America of the 15MC, now has one tracked model.
Mecalac excavators feature a three-piece boom and stick design that adds to their versatility. This allows them to function not only as excavators but also as compact track and wheel loaders, often exceeding dedicated machines' performance in those applications.
For example, you can deploy pallet forks over obstacles and below grade. "Having one machine that's extremely versatile provides lower overall costs than having two or three dedicated machines, even if the purchase price of those individual machines is somewhat lower than a single Mecalac excavator," Bigwood says.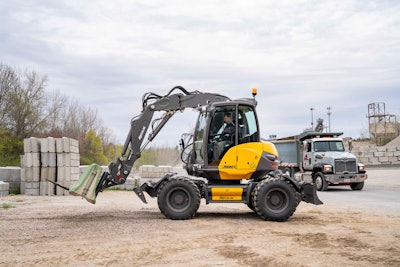 Kim also encourages customers to look at where their excavators fit in the big picture. "Make sure your excavator matches the job and equipment it will be working alongside."
A machine that's too small will be working too hard, and a too-big machine is a waste of resources. In a production environment, "right-sizing the excavator to the material and to the hauler will optimize cycle times and productivity."
Donneral encourages customers to have annual inspections done by the dealer. "They see many more machines in the course of a year than do the customers' service technicians. They will give special attention to specific areas where they have seen problems on other machines."
And finally, know that this discussion is ongoing; advances in every aspect are arriving regularly. The 355 X4S from LBX, for example, is the first in the company's new S Series that will include Eco as a fourth work mode and includes improved LBX RemoteCare telematics.
Purchasing a used excavator
A used machine can be a good option if you're having difficulty procuring a new machine due to ongoing supply chain challenges.
Here's how the resale market is shaking out for used crawler-mounted hydraulic excavators. (Hint: You may have missed a better sales window earlier in the year, but now might be a good time to buy.)
The average price for a used excavator in all size classes hit a five-year high of $165,089 in January 2022, according to data from EquipmentWatch.
While prices have steadily retreated since, to an average of $157,626 in May 2022, used equipment prices remain elevated due to the reduced volume of inventory available. The average price is calculated based on resale listings in the EquipmentWatch database.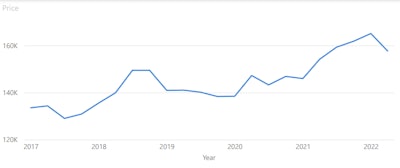 The higher prices used excavators are fetching can also be correlated to the lower average age of equipment.
The average age of used excavators has hovered around a five-year low of 7.25 to 7.53 years, from the fourth quarter of 2020 to the second quarter of 2022. This is a dramatic decline from an average age of 12.5 years reported in the first quarter of 2017.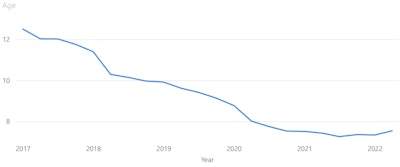 Since February 2022, the fair market value for used excavators has been on the decline. Over the last 12 months, prices saw the biggest drop in April 2022, a decrease of 3.77% from March.

Fair Market Value (FMV) is the monetary value of an asset that can be expected in a transaction with a single seller and single buyer, neither of whom are under any compulsion or time restriction to complete the transaction. FMV for heavy equipment is most closely associated with the private, resale market, as opposed to the public, auction market.
EquipmentWatch, a heavy equipment data and intelligence provider, is owned by Randall Reilly, parent of Equipment World.