Equipment World
Develon, formerly Doosan Infracore, has launched its largest excavator, the 100-metric-ton DX1000LC-7, for heavy-duty construction and quarry work.
The excavator is designed for production and allows the operator to prioritize boom or swing action to speed up cycle times, depending on the task, said senior product specialist Joel Escalante at ConExpo 2023 for the machine's debut.
For instance, while loading trucks at a 180-degree angle, an operator would prioritize swing. That sends more hydraulic flow and pressure to the arm for faster movement between material and truck. The company says the DX1000LC-7 has the highest swing torque in its class.
For an operator performing deep trenching, they would prioritize boom, which is the standard setting, for lifting the boom faster out of the trench to dump.
The excavator comes in two available configurations: standard and mass excavation. The mass excavation, ME, version has a shorter arm and boom for such tasks as mining reclamation. The ME version can also come with an 8.2-cubic-yard bucket instead of the standard 7 cubic yards.
Develon gave the swing bearing a cross design instead of ball bearings for added strength, Escalante says. "Because it is stronger, it gives you longevity. And it allows you to be tough on the machine because you have higher breakout forces."
Develon says it added reinforcement to the machine's wear points and key stress points.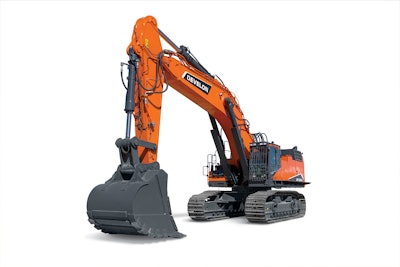 Another new feature for the DX1000LC-7 is an intelligent boom float function. Escalante explains that this eliminates the need for a motor grader when moving massive amounts of dirt and top loading trucks. "Normally, when people bank this way, they have a motor grader keeping the path clean. With the boom float, you don't need a motor grader, because the operator controls the bottom of the bucket flat on the ground as he picks up, so it always keeps the path clean."
In the cab, the operator gets an air-ride seat that can be heated and cooled. The seat has multiple adjustment. The armrests are adjustable as well.
The excavator has a push-button start, an 8-inch touchscreen LCD monitor and newly designed, larger foot pedals for ergonomics.
A shortcut function on the joystick controls such things as wiper adjustment, audio mute, camera control and activates the intelligent boom float.
The excavator runs on a 629-horsepower Perkins engine and features D-EcoPower for optimizing hydraulic and engine power to save on fuel and increase efficiency. It has four power and four work modes. The engine uses a diesel particulate filter and diesel exhaust fluid for meeting Tier 4 Final emissions standards.
Customers can choose a breaker filter option, which protects the machine should a hydraulic hammer attachment be operated at incorrect hydraulic flow and pressure. Escalante explains that sometimes operators change the factory settings, but if they do so incorrectly, they can break the hammer. The breaker filter prevents the broken pieces from contaminating things like the excavator's main control valve, coolers, cylinders and the oil.
Other options for the excavator include a 360-degree camera system with a separate monitor, a hydraulically removable counterweight for transporting, auto-lube, two-way auxiliary hydraulic flow, cab guarding, additional work lamps, a rotating beacon and straight travel.
The excavator comes with unlimited access to Develon Fleet Management telematics for remote machine monitoring via an online account. Dealers can also use the system for preventive maintenance reminders and troubleshooting customers' equipment.
Quick specs
For standard arm configuration:
Engine: Perkins, 629 gross hp @ 2,000 rpm
Operating weight: 220,903 lbs.
Bucket breakout force: 88,185 lb.-ft.
Arm breakout force: 78,850 lb.-ft.
Maximum digging depth: 28 ft. 10 in.
Maximum digging reach: 45 ft. 11 in.
Bucket capacity: 7 cu. yds.