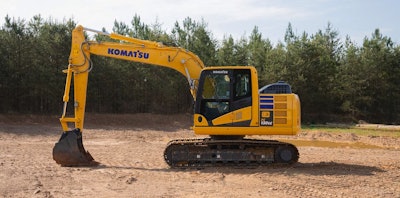 Komatsu
Komatsu has launched the PC130LC-11, a longer undercarriage version of its midsize PC130-11 excavator that it unveiled in 2020.
The 8% boost in track length gives the new LC model 20% more lifting capacity than the PC130-8, the company says. The PC130-8 was discontinued on the U.S. market in 2011. Komatsu introduced a modernized dash-11 in 2020 as an under-29,000-pound, entry-level model between its small and midsize excavators.
The "LC" and standard PC130-11's share similar specs; however, the longer tracks are designed to increase stability and lifting capacity. The LC version has 46 shoes on each side, up from 43 on the standard model; two carrier rollers on each side, up from one; and eight track rollers on each side, up from seven.
"The upgraded PC130LC-11 excavator can easily handle a wide variety of utility work or small construction jobs," said Andrew Earing, Director, Tracked Products, Komatsu. "It provides a versatile workhorse for you as your business expands and grows."
The LC model also gains some weight over the standard PC130 by about 400 pounds.
Other specs on the two models are similar, including the 97.2-horsepower Komatsu engine that achieves Tier 4 Final emissions standards with a Komatsu diesel oxidation catalyst and positive regeneration. Both models deliver a 12% reduction in fuel use over the PC130-8 and have standard auto-idle shutdown for increased fuel efficiency.
The conventional tailswing PC130-11s feature steel castings in the boom foot, boom nose and arm tip to help spread working loads away from high-stress areas. A large one-piece hood opens to ground-level grease points, engine oil and fuel filters.
Standard equipment on the PC130LC-11 include: automatic A/C, 7-inch high-resolution LCD monitor, rearview monitor system, suspension seat, AM/FM radio with aux, USB and Bluetooth wireless technology, LED lights, floor mat, intermittent front windshield wiper and washer, large ceiling hatch, pull-up front window, removable lower windshield.
Optional equipment include: KomVision surround camera system and sun visor.
Quick Specs
Engine: Komatsu 97.2 hp at 2,050 rpm
Operating weight: 28,440-29,010 lbs.
Bucket capacity: 0.34-0.78 cu. yds.
Max hydraulic flow: 64 gpm
Max drawbar pull: 27,560 lb.-ft.
Max travel speed: 3.4 mph
In-cab sound level: 71 dB(A)