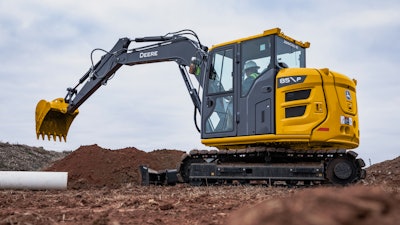 John Deere
The future generation of John Deere excavators is on the horizon.
Following the dissolution of the agreement between Hitachi and John Deere, the upcoming new machines will be owned, designed, and built by John Deere.
Click here to learn more about the future generation models: Video: John Deere Going "All In" on its First "All Deere" Excavators
In the meantime, the company continues to add technology to its current generation machines, with the latest models due to hit jobsites: the 85 P-Tier and the 510 P-Tier.
Under the tiering system, Deere has dropped the letter at the end of the model's name that signified the machine's generation. In place of that letter is one of three letters meant to identify its performance and technology tier: a G, P, or X-Tier to represent economy models, advanced models, and electric or hybrid diesel-electric technology, respectively.
Enhancements include a 270-degree camera system integrated into the monitor, improved performance, reduced maintenance costs, and reduced fuel consumption.
The two new models are examples of current products that John Deere can quickly move to market.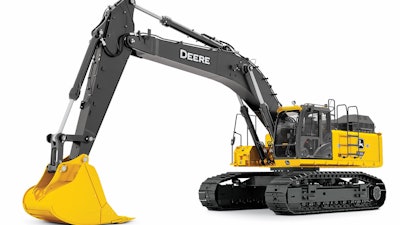 510 P-Tier
Coming in at 51 metric tons, the company said, the 510 P-Tier is a replacement for the current 470 P-Tier model.
The updated excavator includes a variable undercarriage and the ability to handle buckets 5 cubic yards and above.
According to the company, the 510 P-Tier is designed for mass excavation or deep underground applications.
By using a more efficient powertrain, including integration of E-fans, the new model has 25% lower maintenance costs, 15% lower repair costs, and 20% lower fuel consumption.
"It has lower fuel consumption, better cost of maintenance, and better reliability than we've ever been able to deliver before in this size class," said Aaron Klauer, global product manager, mid- and large-size excavators, John Deere.
85 P-Tier
Compared to the 85 G-Tier model, the new 85 P-Tier boasts an 18% engine horsepower increase and the addition of a turbo for high-altitude performance.
Hydraulic performance improvements include increased pump torque and improved dig forces.
"This is a completely brand-new machine for most customers," said Justin Steger, solutions marketing manager John Deere. "This size is extremely popular, whether it's a lead machine or a support machine, because it's not too small, but it's also big enough to be productive."
Also, he noted that due to its size, the 85 P-Tier is easily transportable.
"It's got a lot of some of the exciting features of the larger excavators that are now starting to trickle down to the smaller excavators," Steger said.
The new machine comes in at just over 67 horsepower, an 18% increase over the previous 85 G-Tier model.
"We've added 5% additional hydraulic flow to run more attachments with more flow requirements," Steger noted. "We've also increased machine stability by 10%. So, whether it's power, performance, or stability, this machine that was already a productive machine is taking productivity to the next level."
Turbo also was added to the end to get more power and improve altitude performance.
"We're getting more diverse jobsite applications, higher altitudes, and better performance," Steger said.
Another upgrade is the 8% larger redesigned cab, which includes 6.5 inches of additional floor length.
"We know that more comfortable operators are more productive operators," he said. "We've also cleaned up the floor by taking the swing boom foot pedal, moving that up to the joystick, so now even as I'm operating, if I need to reposition my feet, I've got plenty of room to do so."
The cab also includes basic creature comforts like a new high-back seat and ergonomic toolless armrests.
In addition, the 85 P-Tier features an 8-inch monitor with Bluetooth capability, attachment control capability, and jog dial navigation. Steger said it also includes the sealed key switch path for machine control features from other models.
Trickling down from some of the larger excavators, the machine has a 270-degree camera system integrated into the monitor.
"These cameras integrate into the monitor so there are no additional monitors or additional clutter in the cab, and the operator can focus on what's at hand," he said.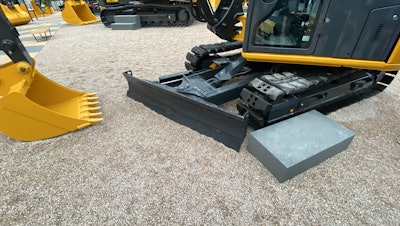 As for additional benefits, one option is the angled blade with float.
"Angled blades decrease backfill time by roughly 20%, to make you more productive because now we can direct material when you are backfilling or trench that we just dug," Steger said. "Where float comes into play is when you're back dragging. You set the blade down, you put it in float, and the machine is naturally going to follow the contour of the land to just clean it up when it doesn't need to be precise."
He noted that the idea is to just clean things up and get on to the next job.
"That's where float comes into play and it's going to make operators really happy," Steger said.
The last difference between the 85 P-Tier excavators and their predecessors relates to service.
"Ground-level daily service checks are in the DNA of every John Deere machine," Steger said. "We try to do that as much as possible."
There are five service compartments on the 85 P-Tier, and each is larger and grouped in ways that make sense compared to the G series machine.
"You name it, you can access it, and not only can you see it, but you can also get a wrench on it," he said. "This makes it easier, and the easier it is to service, the more uptime on the jobsite."