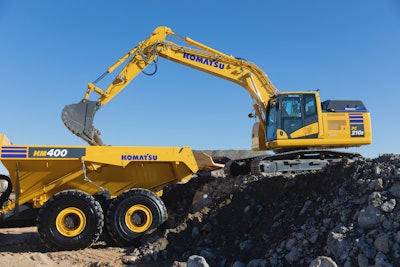 Komatsu
Electrification of construction equipment is nothing new to the industry at this point.
Many heavy machinery manufacturers have released prototype, production, or concept versions of numerous electric, hybrid-electric compact machines such as mini excavators, compact wheel loaders, skid steers, and compact track loaders.
Komatsu's entry into the electric realm was unveiled more completely at ConExpo-Con/Agg 2023. Prototypes and concept electric machines including the PC30E mini excavator, the PC01E micro excavator, and a fully electric prototype of the company's WA70 wheel loader were displayed.
First displayed at Bauma 2022, the company's showcase piece is the PC210E mid-sized electric excavator. A pilot program with contractors is expected to be initiated in the latter half of 2023 for the 20-metric-ton electric excavator.
"This excavator stands out by integrating a Proterra-powered lithium-ion battery that enables clean, eco-friendly operation of up to eight hours," said Andrew Earing, director of product and technical services at Komatsu. "Being able to harness this emission-free electric power will enable your construction business to work comfortably in various work environments without worrying about exhaust or noise emissions."
Only a handful of other OEMs have announced development of battery-powered machines of that size due to the challenges in charging time, performance, overall runtime, and price.
Same thing, different engine
Like its smaller electric machines in development, Komatsu said, the PC210E is identical to its diesel counterpart, the PC210LC-11, in performance and general specifications.
The excavator has 451 kWh of battery capacity, designed for runtime of up to eight hours when fully charged, depending on the application.
"The eight-hour runtime would be dependent upon the application case," said Taimoor Khan, Komatsu sustainability and decarbonization product manager. "An eight-hour runtime takes into account loading and unloading. Continuous runtime would vary depending on the application going from six hours up to nine hours on a light-duty application."
He said operators could give it a 30-minute fast charge at lunch and push the range closer to 10 hours.
Komatsu is working with Proterra on multiple charging solutions, which are also still in the development stages.
Khan said the transportable Komatsu Generation 2 Charger would plug into the main power grid at a jobsite. It has an input range from 400-1,140 V and an output of 300-900 V, with a universal CCS (AC/DC) charge plug.
Khan said the PC210E can fast charge with a 150 kW charger from zero to 100% in three hours. With a 300 kW option, it will charge from zero to 100% in 90 minutes.
Should a jobsite be off-grid, Khan suggested the Proterra portable charging concept. Effectively a battery container, it would be able to charge the excavator multiple times.
Like its diesel counterpart, the PC210E can be outfitted with the Smart Construction Retrofit, which gives operators in the field and managers in the office access to 2D and 3D designs to improve grading performance and overall efficiencies.
As to the question of price, that is still under consideration. "We're looking to partner with some customers as a pilot to get a better understanding of the value proposition that this machine will bring, and then we can discuss pricing," Khan said.
Recognizing that price is impacted by the upgraded technology, Erring noted that Komatsu understands that such upgrades are not a "one-size fits all" solution.
Sustainable future
In general, the PC210LCE supports Komatsu's global sustainability targets of a 50% reduction in CO2 emissions by 2030 and complete carbon neutrality by 2050.
"As we become more aware of climate change and its negative effects on the earth, this excavator is designed to help move your business toward realizing a more sustainable future with zero exhaust gas emissions while still working effectively and efficiently," Earing said.
He noted that the PC 210E opens the door to expand a contractor's business to indoor sites, congested residential and commercial areas, and sites with restrictive noise and exhaust regulations.
"Using this machine also helps your operators reduce their fatigue and work more productively, with less noise and zero engine vibration, as well as lessening the harmful risk associated with exhaust emissions," Earing said.
Komatsu and other OEMs continue to explore other clean technologies and renewable energy sources such as hybrid and electric vehicles, clean diesel, hydrogen combustion, and hydrogen fuel cells.
"We're in this to understand the needs of our customers and to make sure we provide the right solutions today and tomorrow as we step through this transition period together," Earing said.
Quick Specs
Approximate based on prototype comparison to PC210LC-11
Operating weight: Up to 53,882 lbs.
Battery capacity: 451 kWh
Motor output: 123 kW
Bucket capacity 0.66-1.57 cubic yards
Max. digging depth: 21.9 feet
Max lift capacity: 40,850 lbs.
Bucket breakout force: 33,510 lbf