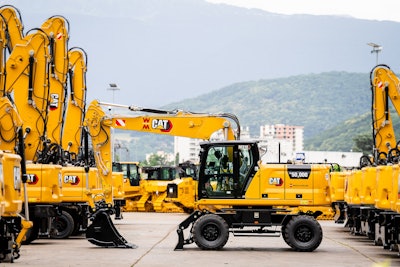 Caterpillar
Caterpillar wheeled excavator models are looking pretty good for being 39 years old.
The product line started in 1984 when Caterpillar, Eder, and Zeppelin Baumaschinen, offered four models. Eight years later, the line became a 100% Cat product with a designated wheel excavator team.
"Offering quick movement on the job site and from site to site without damaging the ground, the wheel excavator proved to be a game changer for contractors working in congested areas and markets with mature infrastructure," said Brian Abbott, vice president of product management for Cat's excavation division. "The advanced hydraulic design, plumbed differently than conventional excavators, allows them to go beyond digging to operate a range of hydraulic work tools to increase application flexibility."
This year, Cat is celebrating a milestone with the production of the 50,000th wheeled excavator, a Cat M318 Next Gen model, only 11 years after the first 25,000 units were recognized.
During a ceremony held on June 20 at the Cat facility in Grenoble, France, representatives of Cat and Zeppelin presented the commemorative 50,000th Cat M318 to representatives from longtime customer Wolff & Müller Holding GmbH & Co.
Founded in 1936 and based in Stuttgart, Germany, the company owns more than 100 Cat machines for use in structural and industrial construction, civil engineering, steel construction, building renovation, road construction, and foundation work.
At the ceremony, Wolff & Müller's head of logistics service unit Torsten Schuckert and manager of machine and device technology service unit logistics Siegfried Cammerer were present to accept the new machine.
"We are very pleased about our partnership with Zeppelin and Caterpillar, which has existed for almost 70 years and is constantly expanding," Schuckert said. "The reasons for the good cooperation are, in addition to the innovative machine technology, the excellent nationwide service and, above all, the appreciative, personal contact with each other."
When first unveiled, Europe and South Korean customers were the first to adopt the new solution. Over time, Cat's wheeled excavators have grown in popularity across the globe.
Starting with only four models, Cat's line of wheeled excavators has expanded to eight models (Cat M314 to M322) for markets with higher emission regulations; one model (M315 GC) designed for China; three models, (M315 to M320D2) for those adhering to lower emissions standards; the M323F railroad-specific model; and four materials handlers (MH3022 to MH3040).
The M318 is considered the flagship of the line based on its size and performance. Able to work in tighter spaces, the M318 offers the capabilities to deliver on larger jobsites.
According to Cat, recent upgrades further increase fuel economy, swing torque, visibility, and maintenance savings.
In addition, the machines now offer the full suite of Cat technology including Cat Grade, Cat Payload, and Cat E-Fence.
Quick Specs
Engine: Cat C4.4
Net power: 174 hp
Weight: 43,980 lbs.
Maximum travel speed: 21 mph.
Digging height: 19.3 ft.
Reach at ground level: 30.2 ft.
Vertical wall digging depth: 15.1 ft.