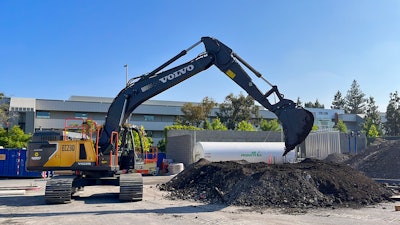 Volvo Construction Equipment
Turner Construction Company is conducting a pilot test of Volvo Construction Equipment's 23-ton EC230 Electric excavator on a project in Silicon Valley.
The mid-size excavator, which is not commercially available yet, will be used on a light manufacturing reconfiguration project for Applied Materials. The excavator will perform backfilling, excavation, compaction, material movement and utility placement tasks on site. The project is expected to be completed by October 2024.
"Turner is a great organization for us to partner with to test the capabilities and benefits of a zero-emission machine that is a major advancement in bringing sustainability solutions to our industry," said Scott Young, acting president of Region North America, Volvo CE. "Both of our companies are industry leaders pushing innovation to build a cleaner world."
Evan Walker, Turner Construction Company project executive, added: "We're really excited to provide operator feedback to equipment manufacturers and help support the low-emission equipment market. This is definitely in alignment with our company values to create a healthy, prosperous and sustainable future for people and the planet."
The pilot is part of Turner's overall effort to reduce the carbon emissions of its operations, said Turner Sustainability Manager Emi LaFountain. "Electrifying as much equipment as possible will yield a lower-carbon, quieter, healthier and ultimately safer jobsite."
To overcome the charging limitations that are typically seen as a barrier to using electric equipment on a jobsite, Sunbelt Rentals is providing a mobile, off-grid energy storage solution.
"A battery energy storage system (BESS) is ideal because the power can be quickly delivered to the machine with ease in remote locations without requiring the machine to move for charging," said Brent Coffey, director, product line management for Sunbelt Rentals.
A 600-kWh BESS will power a mobile fast charger that is connected to the EC230 Electric. Volvo CE says that the excavator can be recharged over a lunch break to provide sufficient power for a full day's work.
The EC230 Electric has launched in Europe and China and is expected to be available in North America in 2024 after customer testing is completed. The machine has the same digging forces and lifting capacities as the EC220, the diesel-powered equivalent in the Volvo CE lineup. WM is also conducting a pilot in waste applications on the East Coast.
The EC230 Electric will join six other machines in Volvo CE's lineup of electric equipment, including three compact excavator models, two compact wheel loader models and an asphalt compactor.