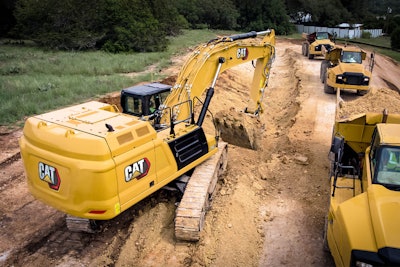 Caterpillar
Equipment manufacturers have mostly moved past the challenges of developing engines to meet Tier 4 Final emissions standards and have turned their attention to making their excavators more productive, easier to operate and technologically advanced.
Examples of design improvements include such features as E-fencing to keep boom, bucket and arm within set parameters, loads of camera views, including at the bucket level, and people detectors.
Models are also being launched with various tailswings to match the working environment, hydraulic and in-cab touchscreen systems to make attachment changes faster and easier, and speeding up swing and other movements for greater efficiency and productivity.
In this report, we take a look at the latest models from 14 manufacturers: Caterpillar, Case, Bobcat, Develon, Hitachi, JCB, John Deere, Kobelco, Komatsu, Link-Belt, LiuGong, Mecalac, Takeuchi and Volvo.
Caterpillar
Cat had a three- to four-year cycle of introducing new models, transitioning from the C Series to the D Series and then from E to F Series. Once the machines were fully evolved to meet Tier 4 Final emission standards, however, the company moved to the Next Gen Hex platform, which focused more on refining than redefining.
For example, the 336-08 and 340-08 have 6-inch wider stances than their predecessors – 3 inches of additional spacing on both sides. This small change yields greater stability, allowing the use of slightly larger buckets and providing greater lift-over-side capacities.
The 352-08, which replaces the 349, has a heavier counterweight, more engine and hydraulic horsepower and is available with a removeable counterweight option and a fixed gauge or variable gauge.
Models from the 313 to the 395 share technology, from Cat 2D E-fencing to Payload, have the same cab and optional steer stick. GC versions are the exception, with their more basic feature sets.
The four-camera option provides 360-degree views, and adding three more cameras allows the use of People Detect, a 270-degree alert for people near the excavator. Optional inspection lighting illuminates compartments and back-of-cab lighting of the engine compartment.
The 315, 325 and 335 are reduced-tailswing models with the foot of the boom moved closer to the machine for greater lift capacity.
Cat Grade with Assist is standard, and a single GPS system is available as a cost-effective option for customers who want to sample the feature or know they'll have limited use for the traditional dual-GNSS setup. The single GPS setup requires the machine to be reoriented after being moved by swinging 30 degrees either direction. The single GPS can be upgraded to the dual system at any time.
Cat Payload can now differentiate based on loading or dumping locations so that not every load is added to the measurement. For example, the operator can track the payload going to a dump truck while not adding in the loads going to a tub grinder.
"You're able to easily sort materials now," says Ryan Neal, product application specialist, excavators, North America, Caterpillar.
Case E Series
The Case E Series consists of seven models and two new class sizes. Features include a 10-inch monitor that can be configured to show machine data and camera views simultaneously while also allowing access to controls. Hydraulic Flow Control Balance allows operators to proportion hydraulic flow between arm-in and boom-up movements or between arm-in and swing.
Excavators – even large models – are often used as tool carriers, and the advanced electronics on the E Series allows the setting and storage of performance factors for several attachments.
"When operators want to switch attachments, they simply press a button to automatically change the attachment settings, then connect the attachment to the machine and get to work," says Diego Butzke, product manager, Case Construction Equipment. "Swapping attachments for a particular job at the push of a button is a significant advantage compared to calling in someone with a flow meter to measure flow and pressure to ensure the attachment is getting what it needs."
OEM-fit Case SiteControl offers 2D and 3D machine control designed by Leica Geosystems.
Develon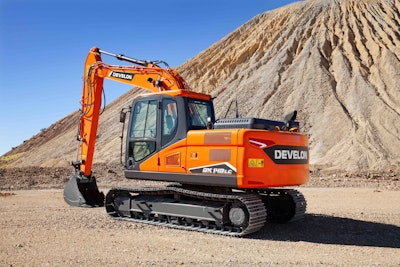 Jake Sherman, Develon product and dealer marketing manager, says the DX140LC-7 is a good example of the company's excavator strategy.
The LC-7 is the standard model, and the DX140LCR-7 is a reduced-tailswing version.
The DX140LC-7K will be the newest iteration, making its way to dealers in the coming months. (Develon is the new name for the former Doosan Infracore.)
The transition to dash-7 models is complete for most Develon excavators. Standard features of -7 models include electrohydraulic controls, rearview camera and LED lighting. Develon Fleet Management telematics is also standard and includes GNSS access, making it easier to add 2D and 3D systems. One- and two-way hydraulic piping to the tool attachment point is another standard feature.
The optional AVM (All-Around View Monitor) provides a 360-degree view of the machine and its surroundings. Heating and cooling for the standard air suspension seat is another option. Power boost is available to the operator at the touch of a button or can be set to auto-sense, where the excavator automatically gets increased hydraulic power to meet short-term needs.
The DX140LC-7 and DX255LC-7 feature Fine Swing, which provides greater control when slowing at the end of the swing and reduces the pendulum effect of craned objects and materials. The DX225LC-7 has advanced electronics for use with 2D and 3D machine control as well as grade assist, bucket angle setting, swing assist for repetitive tasks and limiting for swing, ceiling, floor and arm out.
Develon unveiled its first 100-metric-ton excavator at ConExpo 2023, the DX1000LC-7. It is suited for pit and quarry work as well as large earthmoving and excavation projects.
JCB 220X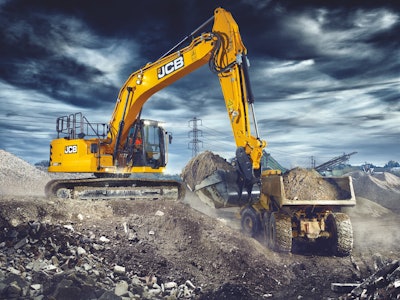 Javier Marin, product manager, heavy line, JCB, says the 220X is representative of the company's line of six excavators with its larger diameter hydraulic hoses. They provide increased flow, which reduces engine demand and improves fuel efficiency.
High-flow auxiliary hydraulics are standard, with medium- and low-flow options available. The dipper limiter keeps the bucket from striking the body of the excavator and can be reset when bucket sizes are changed.
Of JCB's six models, four are conventional tailswing and two have reduced tailswing.
The undercarriage is a fully welded, X-frame design. The engine is a JCB EcoMax.
JCB uses KYB and Kawasaki hydraulic components. The Advanced Tool Select stores settings for up to 10 attachments. A flow diverter and two-way plumbing are at the end of the stick, which can also be configured to one-way flow. LiveLink telematics are standard for five years.
GPS-ready for Topcon is an option on the 220X. A 7-inch monitor, 11 HVAC vents, joystick and button placement on the seat base and electrohydraulic controls are designed to deliver a quality operator experience, JCB says.
John Deere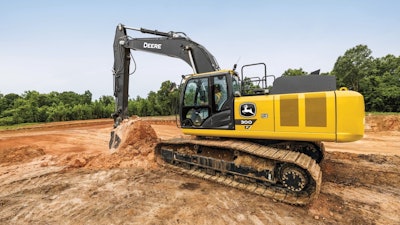 Deere has been hard at work on rolling out its tiering strategy, and Justin Steger, the company's solutions marketing manager for site development and underground, says the transition to P-Tier is complete for excavators. P-Tier is Deere's standard model.
The company offers a 200 G-Tier in the 20-metric-ton size class. G-Tier machines have fewer features while retaining the same design and construction elements of similar models.
Deere's X-Tier concept excavators, with the company's most advanced drivetrain technology, have been on display at the Consumer Electronic Show and ConExpo, but none is in production at this time.
Deere's 130 through the 380 P-Tier excavators have gotten upgraded undercarriages, chain tensioners and access to the tensioner grease zerk fitting. The point where the tensioner mounts to the idler pulley has been improved to reduce chain snaking and further reduce the risk of de-tracking, the company says.
"Undercarriage is a high-cost component," says Steger, "so efforts to control costs here make a big difference."
The 130 through the 470 P-Tier machines now come with a standard bucket camera system, which debuted at this year's ConExpo and hit the market July 24. The fixed camera mounts on the stick just below where it meets the boom. It gives a view of the bucket or other ground-engaging tools where operator sightlines are otherwise obstructed. It uses a dedicated display positioned just above the standard monitor. While the camera is fixed, the monitor provides pan and tilt views, "view offset" to look left or right of center and also contrast control. The enhanced view helps in most applications, especially for seeing the bottom of the excavation and for ground-level truck loading, Deere says.
The 250 through 380 P-Tier excavators have electric fans instead of hydraulic on all three cooling systems – engine, hydraulics and fuel. This results in around 7% better fuel economy with no loss of productivity, according to the company.
Komatsu PC900LC-11
Introduced at ConExpo 2023, the Komatsu PC900LC-11 replaces the PC800LC-8 for higher-speed production.
"The 800 was well known for being strong and reliable and was well suited to demolition and material handling," says Kurt Moncini, senior product manager, Komatsu North America. "But the demand now is for high-volume, high-speed production-class machines to fill 40- and 45-ton articulated trucks in four passes."
Engine horsepower is up 10%. Arm breakout force is 14.5% higher. Bucket breakout force is up 11%, and swing speed is 14% faster.
Although the undercarriage remains largely unchanged, the swing bearing is larger and has more bolts on both the inner and outer bearing mounts. It also has two independent systems, each with its own motor and hydraulic circuit.
The revolving frame structure has thicker plates. There are two arm cylinders instead of one.
Buckets for the 900 are larger than for the 800. Controls are electrohydraulic, and the hydraulic system has electronic monitoring for increased performance and efficiency, the company says.
Overall production has been increased up to 48%.
The cab, seat, armrests and monitor have all been upgraded. Four cameras providing a top-down view are standard. The swing radius is shown on the display in red, and a 2-meter buffer zone is shown in yellow.
Walkways are on both sides of the excavator with tie-off points, and an illuminated walkway runs through the rear. Filters are grouped, and hydraulic filters are in a single plane, rather than stacked, for easier access. A 24-volt grease pump with hose and reel feeds from a bucket.
The PC900LC-11 weighs 100 metric tons. Counterweight removal has been simplified, and with the counterweight, arm and bucket removed, the excavator's weight drops to around 155,000 pounds for easier transport.
Link-Belt X4S Series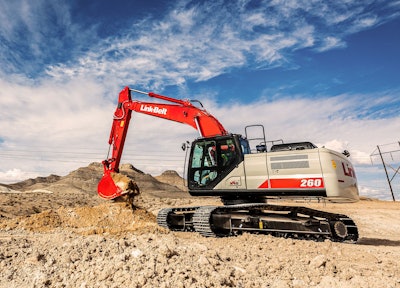 LBX Link-Belt has introduced its X4S Series, building on the success of the eight-model X4 lineup, which is still available.
The X4S Series adds six new models with redesigned cabs, 10-inch monitors and new dual-band modems for improved performance of RemoteCare telematics communications. The warranty period is five years, 5,000 hours full coverage, and five-year, 10,000-hour coverage on the structure.
Notable in the X4S Series are the 170 X4S, the 190 X4S and the 220 X4S. The latter has an Isuzu engine rated at 160 net horsepower. For the 170 X4S and 190 X4S, Link-Belt went with Yanmar engines rated at 120 net horsepower.
"The X4 Series was our line of Tier 4 Final machines," says Darren Hoskins, manager of product and innovation, LBX Link-Belt. "They remain available because they are robust, well-configured machines that serve customers well.
"The X4S Series machines offer additional comfort, refinement and features that many customers are seeking in the latest-model excavator."
LiuGong F Series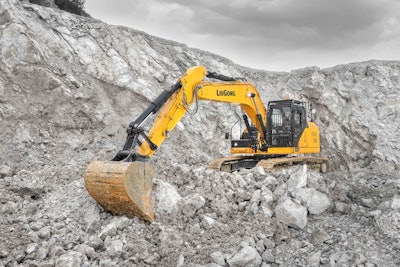 LiuGong's new F Series excavators get a number of improvements, most noteworthy is the move from pilot controls to electrohydraulics.
"EH controls give better control and accuracy," says Jim Joy, product manager, excavators, LiuGong. "But the real story is the wide range of additional features enabled by electrification."
Attachments are set up on the in-cab monitor by the operator; whereas, before they were hard-wired in or installed by a technician. Auto idle, auto shutdown and work modes are other new features, also managed through the monitor.
Power boost gives 9% more pressure and force for about 8 seconds at the touch of a button. The system can also auto-sense the need for a power boost.
Lift mode disables auto idle to prevent unanticipated changes in engine speed while suspending a load during a lift job. There are four joystick patterns available, also managed through the touchscreen monitor.
Work modes are Power, Standard and Economy. Trenching is one example where Power mode is likely the best choice, he says. "But for support machines or in applications such as setting traffic barriers, Standard or Economy modes likely provide the performance required but with lower fuel consumption."
LiuGong continues to use suppliers, such as Cummins engines, Kawasaki hydraulics and Nabtesco final drives. "This helps establish LiuGong's reputation for quality and reliability in markets less familiar with our brand," says Joy.
Mecalac 12MTX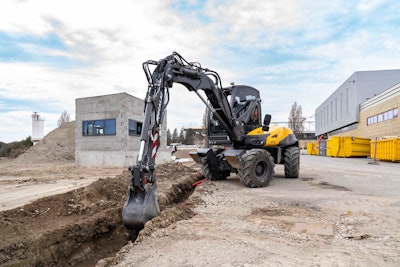 With a 21,384-pound operating weight, the Mecalac 12MTX is technically a 10-metric-ton machine. But breakout and lift specs are more like those of a 12-metric-ton excavator, hence the "12" in the model's name.
It has a unique three-part boom and stick design and a leverage bar that extends back from the base of the boom to create its higher-class performance, the company says.
That three-part boom and stick plus the articulated frame, four-wheel steer and integrated angle offset boom make the 12MTX ideal for tight spaces. The boom is on the left side of the operator, which at first seems like the "wrong" side. But with the cab on the right, the operator has a much better view for ditch work, roadside mowing, shoulder maintenance and other side work in countries where drivers are on the right, according to Mecalac.
The design also has the operator entering and exiting the cab on the curb side for safety. All this plus a 20 mph roading speed make the 12MTX ideal for municipalities and contractors working in urban environments, the company says.
The versatility of the Mecalac design requires greater operator expertise than for traditional excavators, "but the 12MTX can replace multiple machines and operators, so the investment in machine-specific training pays off with lower overall operating costs," says Peter Bigwood, general manager, Mecalac North America.
An electric version of the 12MTX is already in use in several European countries and will be available in North America in the first half of 2024. The electric and the diesel models will be identical in design and performance but will have different paint schemes.
Takeuchi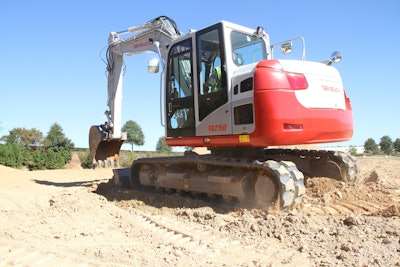 The 15-metric-ton TB2150 is Takeuchi's largest model. It and its reduced-tailswing version, the TB2150R, run on Deutz TCD3.6L4 engines rated at 114 horsepower.
The cab features an automotive-style interior with high-back air suspension seating with heating and a 7-inch color monitor that also provides the display for the standard 270-degree camera.
Safety features include an overload alarm and boom and arm holding valves, which keep those structures in place if there is a loss of hydraulic pressure. Takeuchi Fleet Management telematics are included for two years.
Pilot controls require low effort and provide good feedback, the company says. There are three work modes: Eco, Standard and High Altitude.
Three standard auxiliary hydraulic circuits ensure compatibility with a wide range of attachments. The high-flow circuit delivers up to 59.2 gallons per minute. The second circuit provides up to 14.5 gpm, and the factory-installed third auxiliary circuit serves as a dedicated coupler circuit "to make attachment changes faster and easier," says David Caldwell, national product manager, Takeuchi-US.
Volvo EC500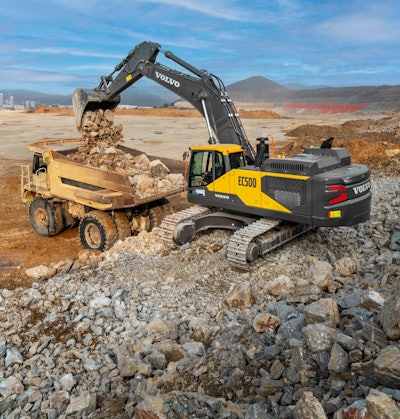 A prototype of the upcoming EC500 was unveiled at the Volvo CE booth at ConExpo 2023. This 50-metric-ton machine is a good match for Volvo's A25G and A35G articulated trucks for work in building and road construction, utility work, quarry and aggregate operations, landscaping and agriculture, the company says.
Operator-assist features include Volvo Dig Assist and Lift Assist and Volvo Active Control, an automated grading system that is part of the Dig Assist suite of tools. Electronic joysticks give the operator better control. For example, the hydraulic pumps can be coordinated or operated independently, such as controlling the boom without affecting track speed. Comfort Driver Control allows movement forward, backward and with steering inputs using the joysticks.
Volvo Smart View with Obstacle Detection provides a real-time, 360-degree view to the operator. The camera system in the EC500 is improved over previous models, and a new radar detection system has been added.
Production of the EC500 is expected to begin in the fourth quarter of 2023, according to Sejong Ko, product manager, excavators, Volvo Construction Equipment.
More models
The latest models from Bobcat, Hitachi and Kobelco below: