Not all excavators are created equal.
The future generation of John Deere excavators will be all owned, designed, and built from the ground up by John Deere.
"We are beyond excited about the future of our excavator lineup being strategically designed and built for tomorrow," said Aaron Klauer, global product manager, mid-and-large size excavators, John Deere. "We are constantly listening to the needs of the industry, and our future-generation excavator models not only leverage what we've learned from our customers but also utilize John Deere's decades of global excavator experience to bring the most innovative and game-changing machines to market."
With complete design control of the future generation machines, he said, it allows Deere for the first time to be all in.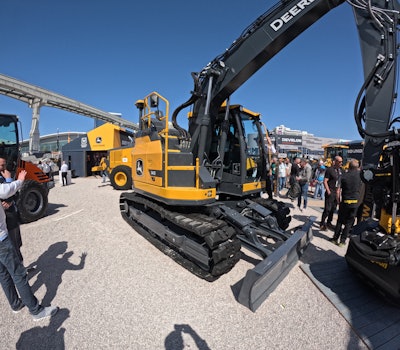 The all-new lineup of excavators from the company made its debut at ConExpo-Con/Agg 2023 in Las Vegas. Machines on display at the show included a 145 P-Tier, a 210 P-Tier, and a 360 P-Tier.
"I've been at Deere for 15 years and I've been to a lot of these different events in a lot of different capacities," Klauer said. "It's always fun, but there's was a tremendous amount of intensity and pull for these machines. There has been for a while, and I think people were excited to finally see them in the flesh and know that new stuff is coming."
John Deere has a detailed testing and production schedule it is working toward but is not sharing it with the public.
"What I can tell you is that we're planning wide-scale pre-production testing with dealers and customers later this year," Klauer said.
The three machines at the show were merely an example of what is to come.
"Our intention is to maintain a full fleet of excavators like we have today," he said. "Of course, we're going to have a staggered timeline with different models being introduced."
The anticipation is that most of the new models will fall under the P-Tier designation in the company's current naming strategy.
Under the tiering system, Deere has dropped the letter at the end of the model's name that signified the machine's generation. In place of that letter is one of three letters meant to signify its performance and technology tier: a G, P, or X.
Each letter represents a set level of features, with G as the economy model; P includes advanced features, and the X-Tier denotes the company's hybrid diesel-electric technology and most advanced features.
"We do that stuff based on the market need," Klauer said. "You can kind of imagine P-Tier is standard for us to participate in that space. If there are different areas where we feel an X-Tier or a G -Tier would fit the market well, we would look to bring those models in too."
In the meantime, he said John Deere can add technology to its current generation machines.
"Long term down the road, we will have a full global lineup of future generation excavators," Klauer said.
All in, all Deere
In March 2022, the long-term joint agreement on the development of excavators between John Deere and Hitachi ended.
"We have nothing but great memories from that relationship," Klauer said. "It served us extremely well for a long time. It was just the right time for both companies to make that change and we're excited looking forward."
With full design control, he said, John Deere has been able to handle things a little bit differently than it has before.
"Most notably, we're able to leverage a lot of technology and expertise from across our entire John Deere enterprise," Klauer said. "Whether it's coming from a wheel loader, a piece of road-building equipment, or even agriculture equipment, we're now able to utilize that leverage faster than we've been able, to meet the changing needs of our customers."
In addition, John Deere also can leverage pre-existing partnerships and agreements to deliver the most impactful machines for its customers.
"Helping to provide a competitive edge for our customers, our future John Deere excavators will be designed to make your job easier and safer, with the contractor's bottom line in mind," Klauer said.
As a result of the ground-up redesign, a lot of things will be more common to existing Deere equipment.
For example, he cited the common full left-size service access as being defined as a Deere advantage.
"Those are the same types of things that we can now leverage for that more consistent feel to our customers," Klauer noted.
Value propositions
The company has primarily focused on the value propositions of the new machines.
First and foremost, for John Deere is dependability and durability. "We know that if the machines don't meet those needs, then it doesn't matter what it can do," Klauer said. "It must stay up and running. More than anything else, that is a critical requirement."
Indicating that John Deere already excels in this area with its current machines, he said advances on the future generation of excavators try and take it to another level.
"An example of that is we have new pin and bushing joints on the front of the arm, we've got upsized undercarriage components on many of the models, and we've got stronger, boom and arms for harsher and more severe applications," Klauer said.
Secondly, John Deere is aiming to have an unrivaled level of performance.
"We're targeting performance, these machines are going to be EH controlled, and we're targeting to be best in class, best in the industry in real performance when compared side by side," he said.
Third, is the redesigned cab and overall elevated operator experience.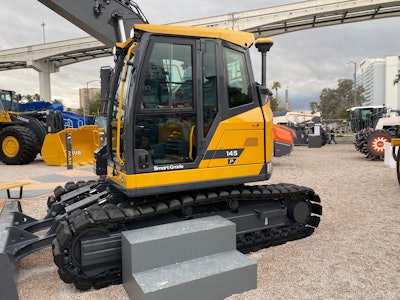 "We understand the importance of attracting and retaining talented operators," Klauer said. "That's why we are prioritizing an elevated operator experience through a new cab, controls, displays, and technology."
The future generation machines will share a cab design up and down the line-up, including the reduced tail swing machines.
"Today on an RTS machine, generally when the back is sunk in, the cab has to shrink along with it to make room," Klauer said. "This is the first time that anyone is going to have a full-sized cab on an RTS machine."
He said several customers that run RTS machines sat down in the cab at the show and were enamored with the amount of space.
The brand-new modern design included an exclusive all-in-one display and command arm.
"That'll make our cabs the most intuitive, user-friendly cabs in the industry," Klauer said. "What's nice about that is there is no need to add secondary monitors, everything is integrated into the machine. And it can be adjusted based on what the operator wants, making it easier to use that new technology as it emerges."
Speaking of technology, the fourth value proposition point for John Deere is to differentiate with technology, using concepts and technology from across Deere's enterprise and integrating it into the excavator designs.
"For customers that are interested, we're adding grade control to all of the models that we have, we're going to be adding obstacle intelligence systems and all of these machines will be connected to our operation center," Klauer said.
All the excavators will offer SmartGrade technology as a factory option and field upgrade kits. Customers can choose from 2D guidance, 3D guidance, 2D SmartGrade Ready Control, and SmartGrade 3D Control, including over-dig protection and in-cab real-time distance to target.
These grade management options allow customers to choose a level of technology that's right for them with the ability to upgrade as their business grows.
"Lastly, but certainly not least, we're looking to make these more customizable and upgradable than they ever have before," Klauer said. "We talked about the tech; the base machine can accept any of the tech we have easier than it ever has before. We're talking software only, or software with a few external pieces of hardware, so for that second sale, or even down the road, if you get to a job that you might need it, it's easy and relatively reasonable to upgrade."
From a customization standpoint, he said it's all about getting the right piece of equipment to the right customer.
"A good example of this is the integration of the tilt rotator into our factory," Klauer said.