John Deere has unearthed the 75 P-Tier compact excavator as the next model in its tier lineup.
Justin Steger, solutions marketing manager of John Deere construction and forestry division, says the 75 P-Tier is a complementary machine to the 85 P-Tier excavator released at ConExpo 2023, with a few key differences.
Click here to learn more about the future generation excavator models: Video: John Deere Going "All In" on its First "All Deere" Excavators
At just under 20,000 pounds, Steger says, these machines with 67 net horsepower are big enough to get a lot of work done yet small enough for easier transport.
The primary difference between a 75 and 85 P-Tier excavator is the configuration of the boom.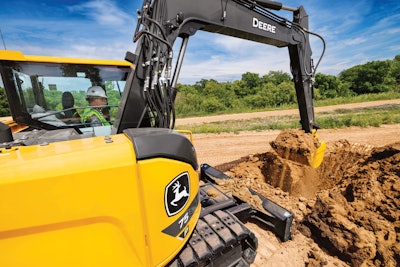 Steger says the 85 P-Tier has a swing boom in the front for a reduced tailswing design to get into tighter spaces, making more versatile.
The trade-off in versatility comes down to performance.
"On the 75 P-Tier, we have a more traditional offset boom, which gives it a little bit better machine stability, as well as makes truck loading a little bit easier just from the digging geometry and how that boom is configured," Steger says. "It's really a matter of the type of work that you typically do and choosing the right machine for you."
Power and performance
Compared to the 75 G-Tier model, the new 75 P-Tier boasts a 17% engine horsepower increase and the addition of a turbo for high-altitude performance.
Under the tiering system, Deere has dropped the letter at the end of the model's name that signified the machine's generation. In place of that letter is one of three letters meant to identify its performance and technology tier: a G, P, or X-Tier to represent economy models, advanced models, and electric or hybrid diesel-electric technology, respectively.
For the 75 P-Tier excavators, hydraulic performance improvements include increased pump torque and improved digging forces.
Two productivity modes allow operators to choose the digging style that fits the job. Power Mode delivers a balance of speed and fuel economy for normal operation, while Economy Mode reduces engine speed and helps save fuel.
"We've got about 10% better dig forces, better overall machine stability," Steger says. "Whether it's power, performance, or stability, this machine is well equipped to be very productive for our customers."
Creature comforts
Another upgrade for the 75 P-Tier machines is the 6% to 8% larger redesigned cab, which includes 6.5 inches of additional floor length.
"We know that more comfortable operators are more productive operators," Steger says.
The cab also includes a new high-back seat and ergonomic tool-less armrests. All the controls have been moved up to the joystick, allowing for more room for operators to position their feet with the removal of the swing pedal.
In addition, the 75 P-Tier features a new 8-inch monitor with Bluetooth capability, attachment control capability, and jog dial navigation.
"That's a big improvement that customers said we kind of want that modern screen in our excavators of this size class," Steger says.
Trickling down from some of the larger excavators is a 270-degree camera system. "These cameras integrate into the monitor so there are no additional monitors or additional clutter in the cab, and the operator can focus on what's at hand," he said.
An angled blade with float is an available option, which reduces backfill time by roughly 20%. "The float function is nice so when you get the job done, you can quickly clean up by back dragging it when it doesn't have to be perfect," Steger says. "You set the blade down, you put it in float, and the machine is naturally going to follow the contour of the land to just clean it up."
Easier Service
The last difference between the 75 P-Tier excavators and their predecessors relates to service.
"Ground-level daily service checks are in the DNA of every John Deere machine," Steger says. "We try to do that as much as possible."
Fluid-level sight gauges can be checked at a glance.
"You name it, you can access it, and not only can you see it, but you can also get a wrench on it," he says. "The easier it is to service, the more uptime on the jobsite."
On the left side of the machine is the battery compartment, air filter, and cooler cleanout. "We've got much-improved engine access over our previous G Series model," he adds.
Behind another door is a filter bank with nearly every filter on the machine in one location. The right side of the unit opens to reveal the hydraulic lines.
"You got access to your control valve, your hydraulic sight gauge, all that stuff," Steger says.
In addition, 500- and 5,000-hour engine- and hydraulic-oil service intervals decrease downtime for routine maintenance.
"Between better performance, a larger cab, and better serviceability, we're really happy with the updates we're able to bring with our P-Tier 75 excavators," Steger says.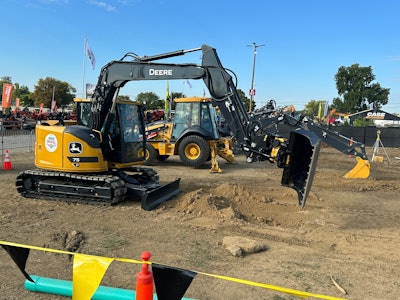 Tilt It
"We've got a really popular size class with a lot of new and exciting updates, and now ... we can add the Engcon tiltrotator to the front, and now we can have the best of both worlds," Steger says.
The tiltrotator allows operators to rotate attachments 360 degrees as well as tilt side to side 45 degrees.
For setup a hydraulic quick coupler is on the end of the stick, then the tiltrotator and then another hydraulic quick coupler to allow for changing of attachments.
"If you're going from a bucket to an attachment, and you want to be able to tilt and rotate it, you can do that and if you don't need the tiltrotator and you need better lifting performance or better breakout force, you can drop the tiltrotator off and you can put your bucket or attachment right on the quick coupler on the end of the stick," Steger says. "You have the flexibility to have a lot of versatility and that's primarily during backfill operations."
Quick Specs
Operating weight: 18,858 lbs.
Engine: 67 hp Yanmar
Tailswing radius: 4 ft. 7 in.
Dig depth: 15 ft. 3 in.
Max reach: 22 ft. 6 in.
Dump height: 18 ft.
Bucket dig force: 13,264 lbf.