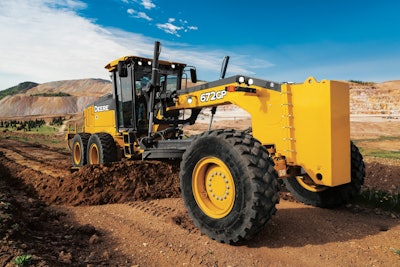 John Deere
The basic functions of the motor grader haven't changed over the years, but the industry's four major manufacturers have stepped up to bring in a host of technologies to make them easier on operators and more productive. The sizes of graders and features offered on the machines are also changing, adapting to contactors' shifting demands.
Case has seen a push away from large graders to mid-size models to fill a demand for power with less bulk yet all the bells and whistles of the big machines.
Cat has rolled out its smaller, lower-cost GC models that can be upgraded with a variety of options to meet contractors' changing tastes.
John Deere delivers a suite of six automated features for a free trial period, and contractors can decide which ones to keep.
And Komatsu has focused on operator comfort and unveiling new features over time rather than in one fell swoop.
To see the latest on the motor grader market, read on.
Case: A move to mid-size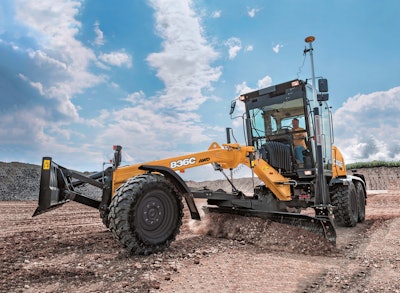 Diego Butzke, product manager, Case Construction Equipment, says there is growing demand for smaller models as cities get bigger and worksites grow smaller. But what are traditionally "small" graders are too small. Demand growth is for smaller machines with performance scalable to full-size models.
"We're focused on bringing models to market with a shorter overall frame length but with front articulation and tight turning radii that make them ideal for commercial and residential grading and paving projects but also with the power and capacity for traditional road and bridge work." He says these full-featured, mid-size models also work well for snow removal in rural areas.
Butzke mentions an asphalt paving contractor in Wisconsin who says large graders are too big for their operations, but small models "can't cut, can't grade, can't carry the material." He says that contractor believes the added weight of a mid-size model is the solution he needs.
Convenience store-gas station sites and box store parking lots are places where Butzke says the Case 836C and 856C are the right size. "Customers for whom these are their bread-and-butter jobs can't justify the cost of the much larger models, neither the initial acquisition nor the ongoing O&O costs."
In general, Butzke says, Case is intent on improving the operator experience, as grader operators are often in the same machine for the entire shift.
"Controllability, comfort and ergonomics, and space for tools, lunch and other items all figure into this." He says changes to cabs will be seen as Case rolls out a new series of motor graders in 2023 and 2024.
Cat: A lower-cost machine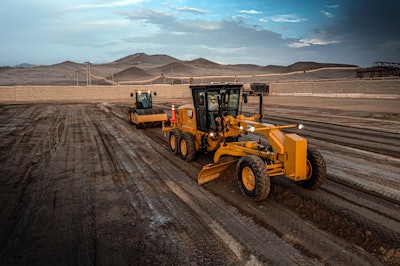 The newest models from Cat, the 120 GC, 140 GC and 140 CG AWD, show the design philosophy of the GC machines, says Eric Kohout, product application specialist. They are designed for reliable and comfortable performance at a lower price.
The graders have a torque converter but manual shifting, which makes it unlikely they will stall. The no-spin rear differential engages when the grader is going straight but automatically unlocks in turns, unlike a traditional locking diff that must be released by the operator to negotiate turns. All-wheel drive on the 140 GC AWD is on or off, and the front wheels pull at the same speed as the rear.
Cab options include the base cab, a low-profile cab and Cab Plus with additional features. The 120 GC has the next-generation cab with improved HVAC and, on joystick machines, automatic climate control. The C pillars have been relocated from the corners of the cab to a position behind the operator for improved visibility.
A digital blade slope meter is standard. Blade slope can be automatic or set by the operator. It is compatible with total station, sonic and GNSS systems (Trimble is standard, but the grader can be spec'd for use with Topcon). An attachment-ready option can be added.
An e-fence feature controls the range of motion of the drawbar, moldboard, articulation and other components to guard against contact with the tires, ladder or other machine structures. The factory-set safety margin can be adjusted by the dealer to meet customer requirements.
The high-performance circle has been redesigned and borrows from the technology used on excavator slew bearing assemblies. This eliminates shoes and wear inserts and maintains better accuracy. The circle-to-drawbar interface now has just three grease fittings.
Deere: 6 Auto features to keep – or not
Deere introduced Smart Grade mastless 3D machine control in 2019. The key enabling technology was encoded cylinders, allowing for precise positioning information. Matt Goedert, Deere solutions marketing manager, dozers and motor graders, says those encoded cylinders are standard on every electrohydraulic grader leaving the factory (mechanical controls are still available on all models), even those without factory Smart Grade. This enables a suite of six automated features:
Auto Articulation ensures that the rear tandem follows in the track of the front wheels when steering more than 7 degrees.
Auto Pass raises and rotates the blade at the end of the pass in preparation for the return pass with the press of a button.
Auto Shift Plus eliminates the need for an inching pedal and clutch, so the operator can slow the machine even to a standstill using only the brake, and launch using only the accelerator. This is accomplished by modulating the torque on the direct-drive transmission.
Blade Flip is engaged by double-tapping the circle rotate button to automatically mirror the blade position. It mirrors the rotation angle in standard grading and all metrics in cross-slope grading. There are presets that can be configured by the operator using the monitor.
Machine presets are especially beneficial to municipalities and other customers who are often roading their graders. One button can set several parameters to a selected function or mode, such as blade stow, ripper up, lights/beacon on and Auto Shift Plus on. Recently added is the ability to allow for wings in the blade stow for snow removal.
Machine Damage Avoidance sets limits to prevent contact such as the blade to the tires or the top of the table against the saddle. There is a pop-up on the monitor that permits momentary override.
The suite of all six features is available for free for 500 hours on all new electrohydraulic machines. On used models properly equipped, the availability is for the remaining hours to 500. Owners can sample the features during this time and choose those they wish to keep when the demo period is up. Those features are then downloaded remotely to the grader. A pop-up appears on the display at 50, 300 and 450 hours to remind operators that these features are available. Another appears at 490 hours providing notification of the coming end of the free trial.
Deere had a prototype of its next-generation grader cab at ConExpo. Features include a heated and ventilated seat, easier height and fore/aft adjustability of the armrests and controls, an 8-inch touchscreen monitor and relocation of controls to a centralized position at the operator's right hand.
As for alternative power sources, "Sustainability goes beyond batteries," says Goedert. Deere is looking at alternative fuels, hybrid and diesel-electric drive options; its 850 X dozer, introduced at ConExpo, and 944 X wheel loader are diesel-electric.
Komatsu: Continuous upgrades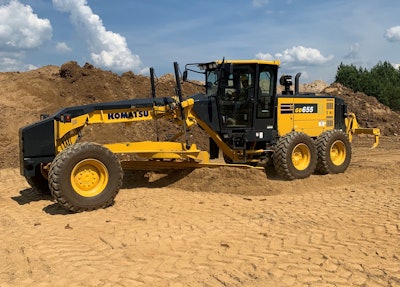 Komatsu offers two graders in North America, the GD655-6 and GD655-7. "Komatsu has made running changes to both models in recent years," says Nathan Repp, product marketing manager, Komatsu. 2D cross-slope technology is now standard on the GD655-7 and includes memory settings. This allows the operator to maintain road crowns and shoulder grades more quickly and efficiently.
The hexangular cab layout maximizes space and visibility. A premium air suspension seat is standard. Low-effort fingertip controls on the GD655-7 help reduce operator arm movement and fatigue.