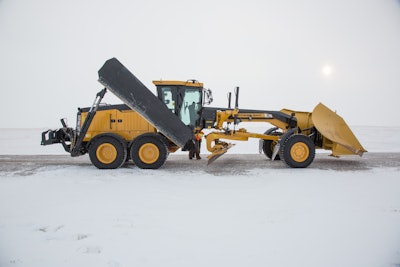 Sany
Sany has rolled out a new all-wheel-drive motor grader for North America, the SMG200AWD.
The model joins the tandem-drive SMG200C-8, which was unveiled at ConExpo 2020.
The new all-wheel-drive model debuted at this year's ConExpo. The company is following the same theme with its latest model of keeping it simple while delivering loads of standard equipment.
Like the company's earlier model, the SMG200AWD comes with a 253-horsepower, 8.9-liter Cummins diesel engine. With its all-wheel drive, it gets high traction for grading roads and clearing snow and ice. The moldboard is 14 feet wide and has a cutting depth of 28 inches. A 12-foot moldboard is optional.
The FOPS and ROPS cab comes with air conditioning and is designed for high visibility to the moldboard. The air-ride seat is heated.
The grader is controlled by two joysticks mounted to the seat. It is also equipped with a steering wheel that takes priority over the joysticks for driving the grader on-road.
The SMG200AWD has three drive modes: four-wheel drive, six-wheel drive and front-wheel assist only.
The circle bearing is designed to be low maintenance with no wear items that need to be replaced, the company says.
Other standard features on the grader include:
Ripper and scarifier
Front auxiliary hydraulics
Wet disc brakes
Transmission and rear brake line guards
Multifunction LCD screen
Front and rear LED lights
Reversing fan
Rearview camera
Front counterweight
AM/FM radio with Bluetooth capabilities
Sany designed the motor grader to be easy to service, with ground-level access to filters, etc.
The grader comes with a 3-year/3,000-hour warranty.