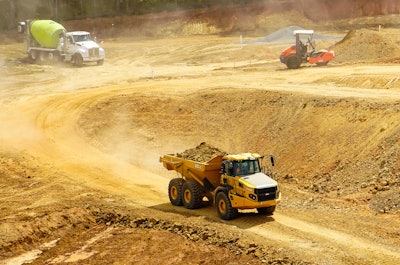 Bell
Articulated dump trucks have been getting lots of attention in the past year, with ADT sales rising 23%.
Demand for artics is expected to continue into 2023, and manufacturers are striving to deliver.
Robert Hussey, product manager, Komatsu, says the market in general, including Komatsu, is still recovering from the effects of the pandemic when sales initially dipped.
"When customers saw the world was not coming to an end, they sought to buy the trucks they hadn't bought in 2020 plus those they planned on buying in 2021," he says.
Dealers had moved trucks from their rental fleets to the sales side to try to meet this surge in demand and are now trying to rebuild both their sales and rental inventories. Meanwhile, inflation has promoted a sense of urgency to buy now before prices rise higher.
Komatsu has responded by building its HM400-5 at its plant in Chattanooga, Tennessee. "We'll maintain delivery of trucks made in Japan but augment that with trucks from Chattanooga in order to meet demand," says Hussey.
Contractors looking for a new articulated dump truck in 2023 who haven't shopped for one in a while will see a lot of new features designed to increase productivity and efficiency, make operation easier and reduce fuel costs.
To help you on your hunt, here's a look at some of the latest ADTs on the market:
Bell focused on fuel
Diesel fuel prices fluctuate, but over the long term, the trend is always toward higher prices. Even in periods of relatively low diesel prices, fuel is a major component of a customer's operating costs.
"Fuel can be 40% of a machine's daily operating cost," says Brad Castle, Bell Equipment product manager.
Reducing fuel use while preserving or even enhancing productivity and reliability has been Bell's focus for its articulated dump trucks. There is also the benefit of reduced carbon emissions.
Correctly matched components are essential to the strategy of reduced fuel consumption. Bell uses Mercedes Benz engines and Allison transmissions. The transmissions use FuelSense software with equation-based shifting for better climbing and acceleration as well as reduced fuel use. FuelSense does automatically what drivers of manual transmissions try to do. In high-demand situations, FuelSense practices progressive shifting so that each upshift lands the engine in the meat of its power band. In less demanding conditions, FuelSense effectively short-shifts to keep engine speeds – and fuel consumption – low.
Bell E-Series trucks have proprietary software to control retarding, cooling and charging of accumulators. The fan is electronically controlled for reduced parasitic loads, especially in periods of high ambient temperatures. In addition, Bell uses high-strength, lightweight materials wherever possible.
Bell Fleetmatic telematics monitors idle time laden and unladen. Analysis of excess idle time can point out inefficiencies at the tipping area or loading area to clear bottlenecks and ensure loading tools and trucks are properly matched.
Cat choices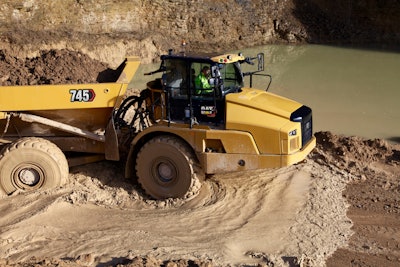 Scott Thomas, product application specialist, Cat, cites four advanced features that are standard on all Cat artics.
Assisted Hoist will shift the truck to neutral, use the service brakes to bring it to a stop if it's in motion and to hold it in place, set the engine to 100% output and raise the bed. Assisted Hoist can be engaged if the truck is stationary or traveling up to 2 mph, and the option is toggled to On (default is Off at startup).
Stability Assist monitors the tractor and dump body separately, since either can initiate a rollover if it exceeds the balance moment. When the potential for rollover is detected, Stability Assist provides a visual and an audible alarm if the truck is in motion, and it inhibits lift if the truck is stopped.
Automatic Traction Control requires no input from the operator. All three axles have ATC, and there's interaxle ATC, as well. The system integrates with the steering circuit so ATC is not fighting against steering in turns, as locking diffs do. ATC relies on wet disc, multi-plate clutches to proportion torque according to traction at each wheel.
Automatic Retarding Control does automatically what a skilled operator would do: select the correct gear, use the service brakes to reach that gear, engage the engine compression brake at the right level (Off, Low, Medium or High) and actuate stabbing service brake application if needed due to engine overspeed. Because ARC is scalable, not simply on/off, it also works on flat and level surfaces without the sudden jolts associated with traditional engine braking or transmission retarding. It also can vary in forcefulness on the move to match changing conditions. The system gets input from inclinometers, load sensors and speed sensors.
Cat offers customers a choice in its bare chassis options, of which it now has five: the 725, 730, 735, 740GC and the 745, which was added four years ago. They are available with or without lift cylinders. Popular applications include water tankers and fuel and lube trucks.
Cat also offers two ejector models, the 730EJ and 740EJ.
"The whole point of the ejector models is to minimize carry-back of wet and sticky materials," says Thomas. "Otherwise by your third pass, you find your 40-ton truck is now a 35-ton truck because of incomplete dumping."
Other ejector benefits include greatly reduced risk of rollover and use in mines and other areas with limited overhead clearance. Ejector models can also spread on the go, which can reduce the need for support equipment.
"It takes six passes with a D6 to spread the pile from a 745," Thomas says. "Using the truck to spread material cuts that significantly."
Doosan design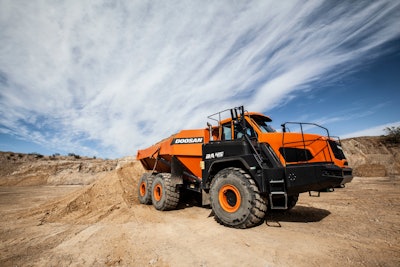 Doosan offers two models, the DA30-5 and DA45-5 (which replaced the DA40 in September 2020). Jay Patel, product specialist, Doosan, says the time-honored design features of Doosan artics still work very well.
The tractor units are more compact, enabled by a more compact engine and driveline. This results in a tighter turning radius and reduced cycle times while preserving a spacious cab interior. The turning ring is in front of the articulation joint so the tractor can oscillate independently of the rear. That design and the sloping rear section keep the mass centered, even in turns, and results in more even tire wear.
The rear drive uses a tandem bogie instead of two axles, keeping all six tires in contact with the ground, even in extreme conditions. This results in better handling and improved power delivery.
Doosan artics use four types of braking. The engine exhaust brake is the primary braking force. There is a transmission retarder; oil-cooled, wet disc service brakes on the front and middle axles; and a driveline-mounted disc parking brake that engages automatically on shutdown and must be cycled off at startup.
Standard features include autolube; a tiltable cab that provides access to the transmission in less than 5 minutes using a frame-mounted cylinder; telematics; and rearview camera. Also standard is a payload measuring system, which provides tonnage information in the cab and green-yellow-red lighting atop the cab to assist the loading operator. A top tailgate is easily removable when hauling rock and other materials that don't sift or shift. A body heater using engine exhaust is an available option.
The DA30-5 and DA45-5 are not in need of any major revisions or even any significant refinements, yet Doosan is deep into the development of the Dash-7 models that will replace them.
"It's not that current models are lacking in any way," says Patel. "It is Doosan's corporate culture to continue to seek out new technologies and new improvements and integrate them into our products as a normal course of business."
Features likely to be included on Dash-7 models are All-Around View, as found on Doosan excavators, and the optional ultrasonic detection system found on its wheel loaders and excavators.
Komatsu coverage
At first glance, the array of Komatsu coverage options seems daunting. But closer examination reveals it to be a logical stair-step approach to increasing uptime:
Komatsu Care arrived with T4i models.
The standard Komatsu warranty and Komatsu Care Complimentary cover repair and preventive maintenance on new trucks.
Komatsu Care Advantage provides extended repair coverage.
Komatsu Care Plus provides extended PM coverage.
Care Plus II extends both repair and PM coverage.
Care Plus III is repair, PM and wear parts, such as injectors and starters.
Specific terms apply to each; customers are advised to consult with their dealers for details.
My-Komatsu is a customer-facing portal that makes it easy to access and manage Komtrax and other data related to the customer's Komatsu fleet, including alerts and recommendations, manuals and parts books and the ability to order serial-number-specific parts from the dealer.
Next-generation trucks to replace the two current models, the HM300-5 and HM400-5, are currently in development. In the meantime, Komatsu has been making incremental improvements to the existing models. The DEF Keep-Alive system purges the DEF lines on shutdown to prevent freeze damage, even if the operator hits the battery disconnect before the purge is completed. Once done, the purge system shuts down to prevent battery drain. Fog lights and an amber beacon are now standard equipment.
Current models have de Dion front suspension and a rear hydro-pneumatic suspension for improved ride quality and performance. Rather than using locking diffs, the trucks use the Komatsu Traction Control System. An interaxle lock splits power 50/50 to the front and rear. If slip persists, KTCS applies the independent service brake to wheels that are slipping.
"The system strategically sends power to the wheels with traction while maintaining the ability to steer even in poor underfoot conditions," explains Robert Hussey, product manager, Komatsu.
Hussey points out that Komatsu trucks have front entry; the side entry on others' trucks exposes operators to potential pinch points in the articulation joint. "Rigid frame mining trucks all have front entry. Why not artics?"
Both trucks also offer Economy mode, which was not used much in the past. But that's changing, says Hussey, as contractors face rising fuel and other costs. The trucks also have auto-idle shutdown with a user-settable delay of up to 60 minutes.
Liebherr: One truck, many features
Liebherr's lineup of ADTs consists of just one truck, the TA230 Litronic. While the model list is short, the feature list is not.
Automatic traction control is standard. The large slope angle on the front of the truck yields a high approach angle and makes it easier to load the truck onto lowboy trailers with steep ramps. The engine is sloped 7 degrees, which allows a steep hood angle, improving operator visibility. Extensive glass areas further improve visibility. The dump body is straight and has a low loading edge for fast loading and good material retention.
Autolube is standard. The electro-hydraulic-opening hood gives easy access to daily maintenance points, all of which are accessible from the front of the engine. Fuel fill is set lower than on other ADTs.
The cab has ergonomic controls with standardized Liebherr control pads. Operating conditions and faults are displayed on the 9-inch touchscreen monitor, where all operating functions can be controlled. A backup camera is standard and has a high-resolution display.
"We have a comprehensive dealer network throughout the United States," says Chris Crews, national product manager, Liebherr. "Dealers include training in their many support services, and we also have a training center at our Newport News, Virginia, location."
Volvo: Full line, full features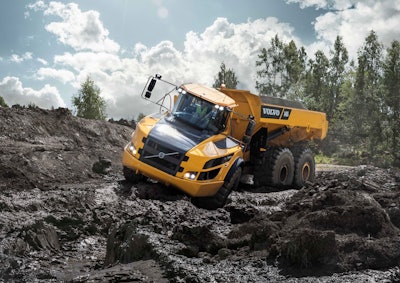 Volvo has seven ADTs, from the 28-ton A25G to the 61-ton A60H. It also offers hauler chassis that can be built up as flatbeds, water tankers, ejector dump bodies and platforms for hook lifts.
Doug Phillips, product manager, Volvo Construction Equipment, points out several standard features.
Hill Assist holds the hauler in place on steep slopes without the need to engage the parking brake. It engages automatically when the truck comes to a stop on a slope and disengages when the operator presses the accelerator.
Dump support is also standard. It displays the side slope to the operator, who can then set allowable parameters for safe dumping. Dump support can be set to off, to on with an alarm, and to on with alarm and complete bed stop. Dump support complements the load and dump brake technology that are also standard on Volvo ADTs.
Haul Assist includes onboard weighing with deep data. It shows active payload (what's already in the bed), target payload, accumulated payload (total amount transported) and cycle counts, among other data. The operator can give display preference to the feature of greatest interest. For each value, the operator can set a target, and Haul Assist will display progress toward that target.
Project mode allows operators to set up projects by adding dump zones, material types and other relevant information. Trip meter mode provides a payload counter, cycle time counter and other production information. The productivity report is created in Volvo Co-Pilot (an in-cab tablet) and can be downloaded via memory stick or by 4G to the cloud.
Traction control is standard. With it, the back axle is freewheeling until needed for traction, which reduces fuel consumption. There's also a terrain memory feature, which uses GNSS. It stores the location of areas with poor traction and automatically engages traction control in advance of those areas in subsequent runs.
In 2020 Volvo updated several features on its G-Series trucks. These standard features include cruise control, downhill speed control and Optishift. Optishift smooths out directional changes and is activated when the operator changes the direction of the gear lever.
Volvo has a full suspension model, the A45GFS. It is designed for heavy hauling in severe conditions. Six sensors monitor truck movement and stabilize it based on ground conditions. The front suspension has two accumulators that adapt suspension performance to payload and ground conditions. The rear has two sets of accumulators, one for loaded travel and one for unloaded travel. The crossflow between accumulators provides a much smoother ride for greater operator comfort and improved payload retention.
"And finally," says Phillips, "we are proud to be testing the world's first fuel cell ADT prototype, the HX04 – or as we call it, 'Electric Charlie.' This will provide valuable insights into the opportunities for hydrogen technology in off-road heavy equipment."
The HX04 can be charged with 12 kilograms of hydrogen in about 7.5 minutes, which is good for approximately four hours of operation. Fuel cells create their own electricity, so the HX04 is, at its heart, an electric truck. Unlike other electric designs, hydrogen fuel cells have uptime, range and fueling time similar to those of traditional internal combustion vehicles.