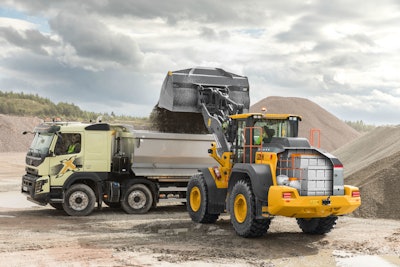 Volvo CE
With a growing lineup of electric compact wheel loaders and excavators available, the next step for Volvo Construction Equipment is to continue addressing sustainable options in the mid-size range of machines.
In conjunction with Parker Hannifin and CE Engineering Solutions, Volvo has developed a solution to convert its L120 wheel loader to electric. The 20-ton L120H Electric Conversion will be commercially available for selected customers in Europe in 2023.
Using the conventional diesel machine as the base, which will still be available to customers, the electric conversion model will deliver the same performance as its diesel counterpart, minus emissions, and a significant noise reduction, the company says.
"There is no time to wait; we need to deliver solutions that allow our customers to achieve their decarbonization goals," said Carl Slotte, head of sales region Europe at Volvo CE. "Change starts here."
Powered by 240 kWh batteries, the L120H Electric Conversion provides a runtime of approximately five hours in most medium-duty applications. Volvo customers and other OEMs have found that actual machine time is closer to four to five hours across a full eight- or nine-hour workday in most cases.
Volvo says the battery is estimated to charge from 0-100% in 1.5 to 2 hours.
Standard features, such as Comfort Drive Control, Load Assist with On-Board Weighing and radar detection with the Collision Mitigation System, will be available on the L120H Electric Conversion.
In addition, the machine will be supported by dedicated electro-mobility applications that allow the operator to check the battery and charging status and to preheat the cab.
Depending on market demand, Volvo says, there remains a possibility to convert existing customers' L120H wheel loaders to electric in the future.
Plugging in
Slotte said Volvo's commitment to partnership allows the company to take a leading position in transforming the industry with electric solutions. Working with CE Engineering Solutions and selected electro-mobility partners has accelerated the development and availability of commercialized electric solutions across all segments and applications.
Volvo CE has set out in its commitment to achieving net-zero greenhouse gas emissions by 2040 with significant emission reductions as early as 2030 as part of the Science Based Targets initiative. The latest collaboration to expand its line of electric wheel loaders follows Volvo CE's investment in Dutch manufacturer Limach, announced back in June, to broaden the company's electric excavator portfolio.
"Working together, we are scaling up our portfolio of electric machines, extending the versatility of our range and transforming our industry towards a carbon-neutral future," Slotte said.
The partnership goes along with Volvo CE's development of technology as its electric lineup grows.
Currently, Volvo offers the L25 Electric and L20 Electric compact wheel loaders and the ECR25 Electric, ECR18 Electric, and EC18 Electric compact excavators.
In addition to those models, at ConExpo-Con/Agg 2023, the company will display the EC 230, its first mid-sized piece of heavy equipment to be electrified. It has a 600-volt battery and is a 23-ton excavator.
The EC 230 has been out in Europe, on customer trials and the company has been promoting it there. It is now coming to North America for customer trials in 2023 and is expected to be commercially available in 2024.