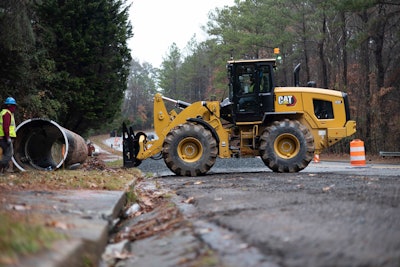 Caterpillar
Full-size wheel loaders aren't known for their versatility. They are loaders, after all, and that's about all they do. Even so, manufacturers are finding ways to make them better.
Here's a look at the latest models on the market – from Case, Cat, Deere, Develon, Komatsu, Liebherr, LiuGong, Volvo, Hitachi, Wacker Neuson, Mecalac and Yanmar. All are equipped with advanced features designed to make life easier for operators and more productive for contractors.
Case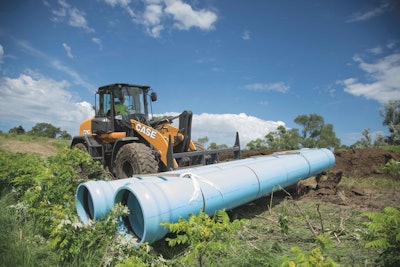 With its G Series loaders, Case has focused on the operator's station, making it more comfortable, productive and intuitive. A touchscreen display simplifies operation, along with adjustable electrohydraulic controls and configurable, programmable buttons.
Optimized power modes tailor performance to match the application and operator preferences. Control response, hydraulic flow and tip-off characteristics can also be adjusted.
Payload accuracy varies with time and range of motion through the lift cycle; so Case has made the optional payload accuracy feature less dependent on these factors for greater accuracy in real-world use. The tire pressure monitor is also more accurate and consistent. Operators can set front and rear pressures independently and adjust the tolerance before an alert is triggered due to over- or underinflation.
Brad Stemper, North America director of product management at Case, says that in the 120- to 350-horsepower range, Case offers Z-bar and parallel lift, XR extended reach and XT toolcarrier configurations.
Caterpillar
Cat had its largest booth ever at ConExpo 2023. Part of that giant effort was the introduction of three new wheel loaders: the 926, 930 and 938.
Improvements were made in every aspect – so many, in fact, we can't cover them all in this report. (For a more in-depth look, click here.)
Cat's overarching theme is powerful but simple tech. "Like a cellphone," says Jamie Ramsey, product application specialist. "Just pick it up and use it."
Several changes improved visibility. Cab HVAC was repositioned to open up glass space. Optional joystick steering takes the steering wheel out of the operator's line of sight. There is optional rear object detection and an optional 360-degree camera. The standard rearview camera has greater pixel density and a wider view.
The communication slider and its associated framework are gone from the left door. "No one used it anyway. Even with the slider, most operators just opened the door," says Ramsey.
The standard "operator not present" feature senses if the operator is not in command of the loader, whether from inattention, emergency or other cause. It brings the machine to a controlled stop, locks out everything and sets the parking brake.
Enhanced communication with the operator includes not just audible alerts but banners on the monitor with more information. The "i" (information) button brings up a QR code that can be scanned with a smartphone, and that information can be readily updated as needed.
The ambient light sensor turns road lights on and off, while the optional LED lighting package includes daytime running lights. Auto temperature control is available and rapid defrost is standard. Three joystick options provide up to five programmable buttons.
Bucket metering provides controlled tilt and shake for material spreading. Payload hardware is now standard – it used to have to be spec'd as part of the ordering process – and a 250-hour trial period is included. The feature can be turned on and off during the trial period to preserve trial hours for applications where the value of the feature is best assessed.
Rimpull control has been automated and is now known as "auto wheel torque." Sensors on the loader linkage know when the machine is in the pile, and the system modulates front-wheel torque to minimize slipping.
The 926 and 930 have traditional differential locks. The 938 has a different type of axle and auto diff lock, which can be overridden by the operator.
Develon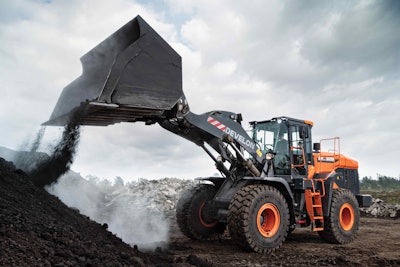 Develon (formerly Doosan Infracore) is focused on upgrading its products to its -7 Series, which is now complete for wheel loaders.
Develon's unique Transparent Bucket, which gives the operator a view in front of the bucket, is part of the feature set. The optional Around View Monitor system has three cameras and multiple sensors to give the operator a 270-degree view around the machine. AVM also uses color-coded caution boxes to alert the operator to objects near the rear of the machine and indicate the proximity of those objects.
"Part of the move to the -7 Series has been Develon's ongoing strengthening of relations with industry-leading suppliers," says Jake Sherman, product and dealer marketing manager for Develon. As examples he points to the Dana axles on 200 loaders and ZF axles on all others.
Other smart technologies on the -7 loaders include Situation Awareness Technology that monitors machine activity and adjusts engine output to match the demand of hydraulic and drive systems, Smart Guidance System that analyzes operator behavior and offers tips for improved efficiency, and Load Isolation System to improve stability while moving for better load retention, improved operator comfort and shorter cycle times.
Sherman says Develon can configure loaders to match customers' needs. Bucket size and type, beacons, full-size rear fenders and lighting options are among the more popular options. Most of this is done à la carte by the dealer when spec'ing the new loader from the factory. Dealer-installed options enable further customization.
John Deere
Deere continues to expand its three-tier structure of G, P and X. The 644 G has been out for a few years and is now joined by the 444 G and 544 G.
Luke Gribble, solutions marketing manager for Deere, says the company has an ongoing assessment of market demand. Additional G-Tier models, which are base models with fewer features and creature comforts than the P-Tier models, could roll out in the future. "But right now, these meet customers' needs quite well. The two tiers serve two distinct markets."
"The engines, transmissions and axles are all the same," adds Gribble. "The core of the machine is the same robust design on G-Tier loaders as on premium P-Tier models."
P-Tier versions of the 444 and 544 have been available since 2020. Examples of P-Tier features include more leg room in the cab, optional heated and ventilated seating and optional automatic temperature control.
Deere's SmartWeigh system eliminates frequent raising and lowering of the boom. Bucket capture height can be set anywhere between 15% and 90% of boom height, and data can be captured at any boom speed. Calibration does not require a known weight, making calibration faster and easier with no need for outside assistance.
SmartWeigh is currently available on the full line of P- and X-Tier utility wheel loaders and production-size P-Tier models. SmartWeigh can be spec'd fully operable from the factory or as a 250-hour trial period. The X-Tier carriers Deere's most advanced technology.
In response to customer demand, select models can be equipped with Deere's new Advanced Vision System, which integrates two cameras on the sideview mirror frames for improved visibility to the sides of the machine. The cab display provides an integrated view from all cameras. Also available is Object Detection technology with high-resolution camera and dedicated display. Vehicle trajectory logic overlays the projected travel path when the loader is moving in reverse.
Two additional safety features are in development. SmartDetect combines cameras and machine learning to give operators a better understanding of their surroundings. SmartDetect with Assist brings the machine to a stop before making contact with a person.
Deere's 644 X and 944 X diesel-electric models have been in use for some time and have accrued more than 3 million hours of operating data. At ConExpo, Deere introduced the 744 and 824 electrically variable transmission option; powershift is standard. The machines will be in the market in 2024.
Komatsu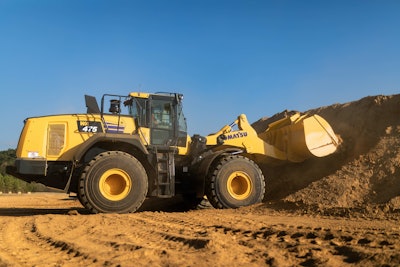 Matt Moen, product manager, wheeled products at Komatsu, cites two trends.
First, as wheel loaders become more competent and efficient, customers are seeking to downsize. "A smaller loader now does the work that used to require a bigger machine," says Moen.
He also notes that interest in waste and scrap packages is increasing. These packages include such modifications as enhanced guarding, including a guard for the rear grille, and machines that are ready for the addition of fire suppression systems, both wet and dry. "These aren't new markets," says Moen, "but these packages are examples of how increasingly specific features optimize a loader for a specific application."
He also points out that following the development of Tier 4 Final engines, R&D resources have shifted to other areas. For Komatsu, those have been broadly grouped into useability and automation.
Smart Loader Logic is an example. It matches torque output to each phase of the load cycle for peak productivity and reduced fuel consumption. Auto Dig is another.
Moen says acceptance of tech features can be low, especially for experienced operators. But, he adds, "Most seasoned operators will adapt if they give the technology a chance."
Komatsu offers yard loader arrangements on several models of wheel loaders. These include low-profile tires, heavier counterweights and larger-bore bucket cylinders, all designed to support the use of larger buckets.
The Komatsu Hydromechanical Transmission (KHMT) is a continuously variable transmission. It tailors performance characteristics of the transmission to the task, as loading and traveling have different requirements. KHMT can provide fuel savings of up to 30% and additional horsepower.
Liebherr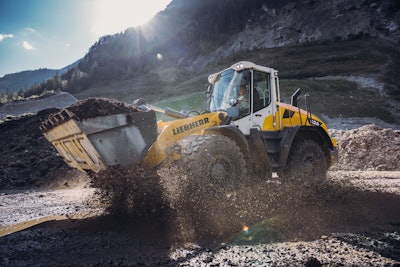 Gen 8 wheel loaders from Liebherr can be equipped with Skyview 360, giving the operator a full 360-degree view around the machine for enhanced safety in congested or confined worksites.
Truck Payload Assist allows the operator to load a truck to a specific weight and separate materials by pounds. Operators can assign the type of material, such as riprap or sand.
Chris Trampush, product manager at Liebherr USA, says the optional personnel detection system improves site safety with audible alerts when people or objects are nearby and provides brake assist for additional safety.
LiuGong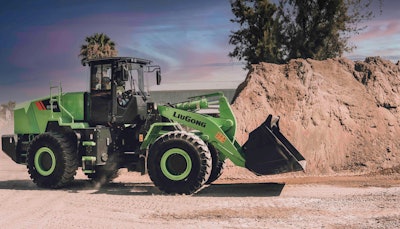 LiuGong has a European Stage V-compliant engine for all wheel loaders except the 877; these models have "Hv" in the model nomenclature (such as the 848Hv).
In addition to having Stage V engines, which also meet Tier 4 Final standards, the loaders have new axles, cabs, transmissions and electrohydraulic controls.
LiuGong has announced the coming of two new battery electric models, the 862H-E at 5 cubic yards and 870H-E at 5.5 cubic yards.
LiuGong is working with Topcon and Cummins to provide a comprehensive diagnostics package that includes the ability to deliver "push" notifications. The platform would primarily provide firmware updates and allow owners to request updates, or "pull" notifications. This would ensure timely updates and that machines are operating with the latest configuration.
LiuGong is relying on Cummins' leadership position in developing alternative fuels, such as hydrogen and liquified natural gas. Globally LiuGong has over 2,000 electric machines, such as the 856H-E MAX 4.58-cubic-yard loader, with more than 2 million hours; some of those machines have over 15,000 hours with no rebuild. One customer did a detailed analysis of owning and operating costs of their LiuGong electric wheel loaders and found a 60% reduction in total O&O costs, the company says.
While Cummins engines are found in all LiuGong loaders, ZF provides axles and transmissions for a majority of diesel and electric models in higher regulated markets.
Wheel loaders are one category where LiuGong is pursuing autonomous and semi-autonomous operation.
"Autonomy allows one operator to oversee the operation of several pieces of equipment," says Chris Saucedo, senior vice president, strategy and customer solutions, LiuGong North America. "This enhances productivity and reduces costs while also keeping personnel out of harm's way in dangerous operating environments."
Volvo
The newly updated L350H, which was on display at ConExpo, is Volvo Construction Equipment's largest wheel loader in North America. Features include a lockup torque converter, Reverse by Braking and OptiShift.
Hydraulic cylinders are about 0.375 inches smaller in diameter; pressure is increased 435 psi so hydraulic force remains the same, but cycle times are reduced as there's less cylinder volume to fill and empty during the loading cycle.
There is an auto battery disconnect through the ignition switch. During 3 minutes of idle at shutdown, the turbocharger is allowed to cool, and DEF lines are purged, after which the engine is stopped, and the battery is disconnected. That idle time can be set by the operator, and the operator can also press "Escape" to bypass the function. An "OK" symbol illuminates when it's safe to proceed with shutdown.
The L350H has new axles and rims and a dry parking brake. "Wet parking brakes are inside the transmission," explains Eric Yeomans, product manager, wheeled loaders, Volvo CE. "That creates parasitic drag and greatly increases brake service and repair costs."
The dry parking brake on the L350H has three calipers and is mounted on the front differential. On other models, the dry parking brake is on the transmission output shaft.
Safety features on Volvo wheel loaders include collision mitigation and proximity detection. An audible alarm increases in volume and intensity as it gets closer to an obstacle. Between 1.5 and 10 mph when reversing, the system will apply the brakes automatically when an object is detected.
The new radar has 150 degrees of coverage and requires OptiShift for full functionality. An adjustable speed control accepts multiple maximum speeds depending on location on the worksite as determined by GNSS.
More on the market
Here are some more offerings from Mecalac, Hitachi, Wacker Neuson and Yanmar: